eating this: steak au poivre
Apparently when my mom was pregnant with me, all she ever craved and screamed for was steak au poivre. She so fancy. I am not the best with meat. There have been few occasions when I've cooked steak for my boyfriend and we've sat down and said "holy shit that's amazing". I guess I'm better with fish. This was another one of those cases.
The sauce was really delicious, VERY strong and VERY peppercorn-y, but I'm not sure I'd try this recipe again. I think next time it'll be Steak Diane.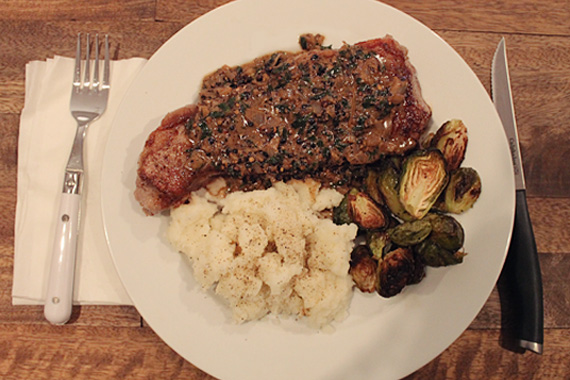 The one time I ordered groceries online, I purchased one shallot. Well online, that means one POUND of shallots. I never thought we'd go through them all, but coincidentally everything I've cooked in the last two months seems to have shallots in them. This was the end of our bulk shallot stash. SAD FACE!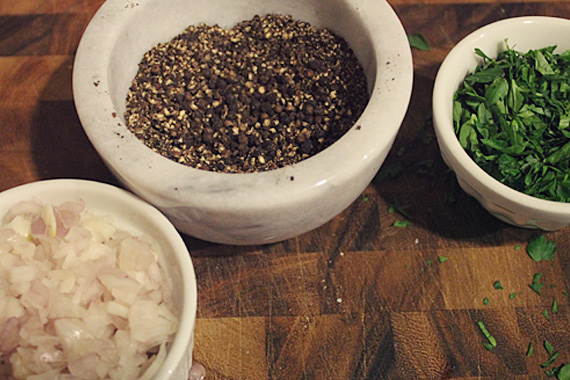 Steak Au Poivre
(adapted from The Spinning Plate)
2 thick-cut steaks
1/4 cup vegetable oil
1 cup shallots, finely chopped
1/2 cup flat leaf parsley, chopped
1/4 cup black peppercorns, very roughly ground
1/2 – 1 cup chicken stock
1/4 cup brandy (or cognac)
1/4 cup heavy cream
1 tbsp butter
a couple dashes of worcestershire sauce
kosher salt and pepper to taste
Preheat the oven to 400 degrees. Let the steaks reach room temperature, season them liberally on both sides with Kosher salt and pepper. Heat vegetable oil in a large, heavy, oven-save skillet over medium-high. Once the oil just begins to smoke, set steaks in the skillet. Sear on one side until brown, 2-3 minutes. Turn off stove and flip the steaks.
Move the skillet into the oven, placing it on a lower rack near the flames. Bake until the finger test yields a medium rare, anywhere from 4-7 minutes, depending on the thickness of the steak. Pull the meat out of the oven when it's still rarer than you'd like, as it will continue to cook as it rests. Remove steaks to a plate and tent with foil.
Return the skillet to stove. Over medium heat, soften shallots in beef drippings and 1 tbsp butter. Deglaze with brandy, scraping stuck-on bits off the bottom of the pan. Add peppercorns, parsley, stock, cream, and Worcestershire sauce and simmer over medium-high heat until the sauce thickens and begins to pull away from the skillet. When your spoon can leave a trail, it's ready. Season with salt.
Plate steaks. Pour any remaining juices back into the sauce. Spoon sauce generously over steaks. We served with brussels sprouts and garlic mashed potatoes.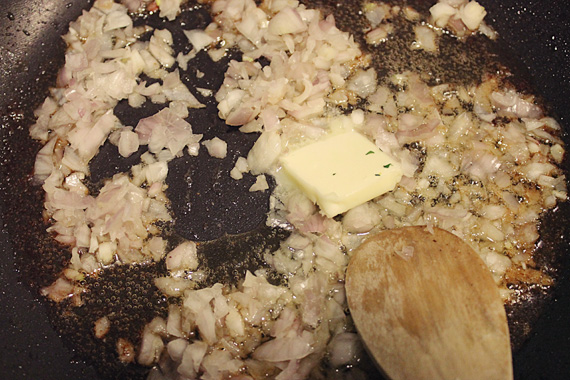 mmmmmmmm… shallots.