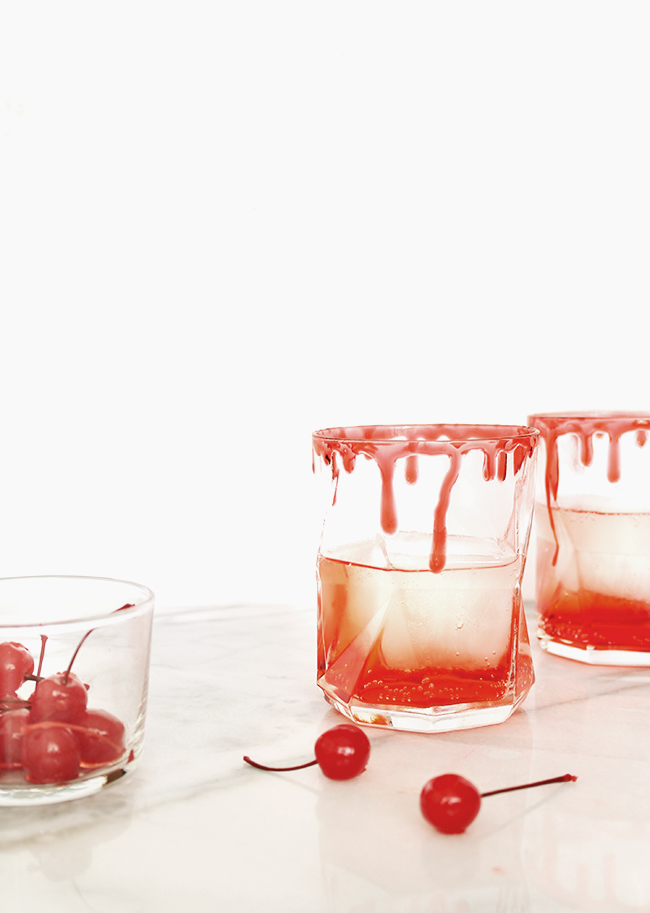 i'm getting super festive today! even though i think we're just gonna be handing out candy after our move this year, i love celebrating halloween — and i'm way more into the creepy stuff than the orange and black.
so in the spirit of creepy – i wanted to make a fun cocktail that will not only creep out your guests, but probably gross them out too. because these things are pretty messy, but they look cool and bloody! i decided to make spiked shirley temples because they're red and because i still have a deep love for them from childhood.
SPOOKY SPIKED SHIRLEYS
grenadine
vodka
lemon lime soda
corn syrup
red food coloring
01. in a bowl, mix together the corn syrup with a couple drops of food coloring. dip your glass into the bowl and let a little excess spill off before turning your glass right side up.
02. stick the glasses in the freezer for about 10 minutes.
03. in a cocktail shaker, mix together 2/3 cup soda, 1/4 cup vodka and a dash of grenadine. pull your glasses out of the freezer, pour over ice.