as if you could have escaped the incessant urgency about sales this week, i rounded up some deals i think that are worth shopping!
i know how overwhelming these sales can feel, i kinda always end up buying things later, once the sales have stopped unfortunately, because my brain can't handle the pressure of deciding if i need anything on sale and i panic and spiral and have to move on.
but there are some really good deals of course!
here are some home things i use and love, and i'll continue to add new finds as i see em.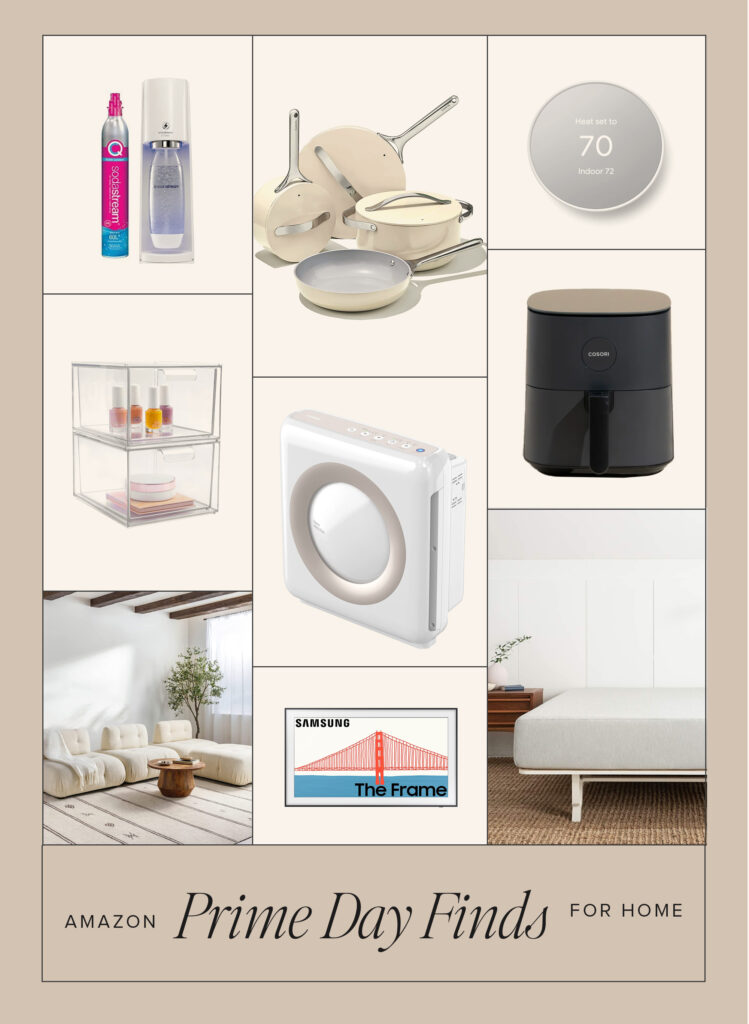 i did change to an aarke soda maker (which isn't on sale), but i still love sodastream possibly more? i haven't officially done a post but i do think they function they best and
i love my cookware set! it's expensive but you get a lot in the set and i love how they design everything to function together.
we have one and love it. it looks so good and functions well, love that we can turn down the AC from our phones before we get home etc.
these drawers are just so useful for inside a cabinet or underneath the sink.
gid researched far and wide to find the best one, and it looks good too!
this was the brand i used for my first air fryer. i ended up switching, but they since redesigned this model and it looks so good!!! i definitely recommend.
so many cute rugs and many different styles from moroccan to traditional etc.
you know this is the deal you gotta take advantage of if you're in the market for one. they only go on sale sporadically and the prices on them today are so good!
we love this mattress!! it's in arlos room and it's the coziest one in the house.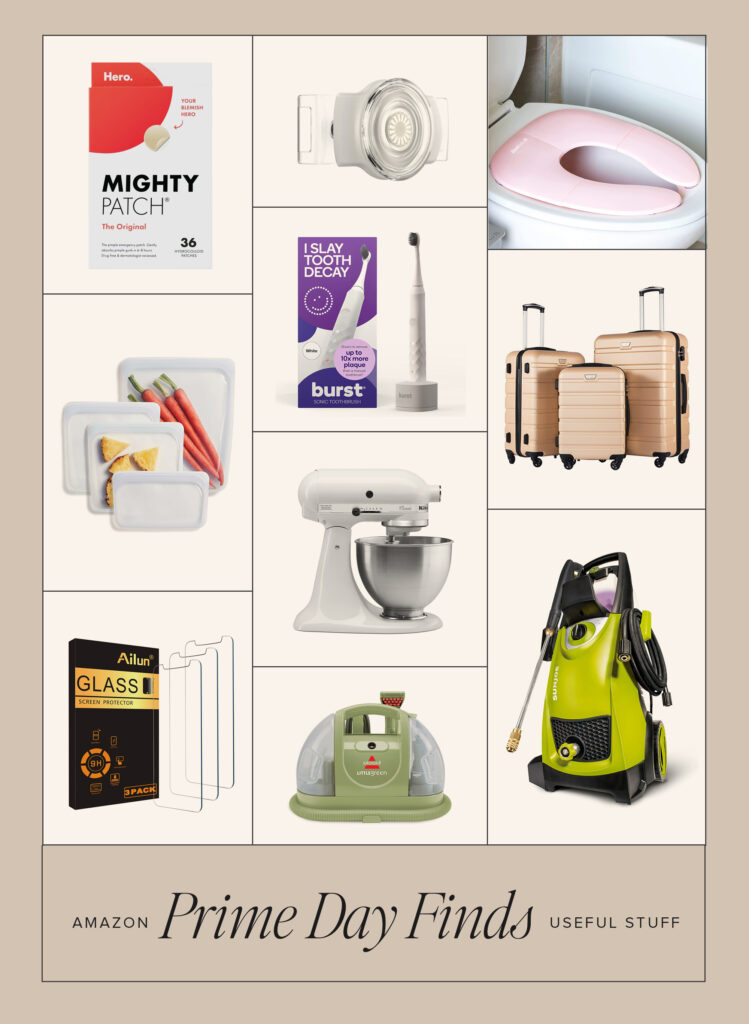 because zit stickers aren't cheap but they are CRUCIAL TO LIFE lol.
i get asked about this a lot! it's a popsocket for me to hold my phone, but i love that i can slide it up and down and easily remove it as well to use in tripods etc.
we have this and love it. it folds down small so you can easily bring on trips with you or even in your carryon, but for little kids butts and big toilets, it's a must. i always bring it on vacations with me.
i've tried other brands but they really aren't as good– i love the thickness of stasher bags and they're typically very expensive so buying on sale is the best move!
i have been wanting this toothbrush because my electric one is ALWAYS dead no matter how many nights a week i charge it. i've heard amazing things about this one so this might be the thing i buy today.
i love this luggage set because it is so easy to spot coming down the carousel. plus we've had for YEARS and they are in really good condition still.
i love our mixer so much, we don't use it as much these days now that arlo isn't into baking so much, but i pull it out almost every time we bake. i got a glass bowl for mine which i love, and they're on sale too!
i'm one of those people that always has a screen protector on their phone (which is almost always cracked in one spot at least lol) but i drop my phone or my kids drop my phone so often that these are crucial for me. i always have a few on hand so that we can swap out for a new one when they get cracked, so much cheaper than replacing my actual screen every time!

we got this on prime day last year haha — and it's amazing. tbh i don't use it as often as we should, but it's crazy how much it crap we get out of our couch when we clean it.
we also got this on prime day once haha — if you have a backyard and don't have a power washer, trust me you'll be stoooked to have one. our concrete gets insane dirty and this thing gets it all out.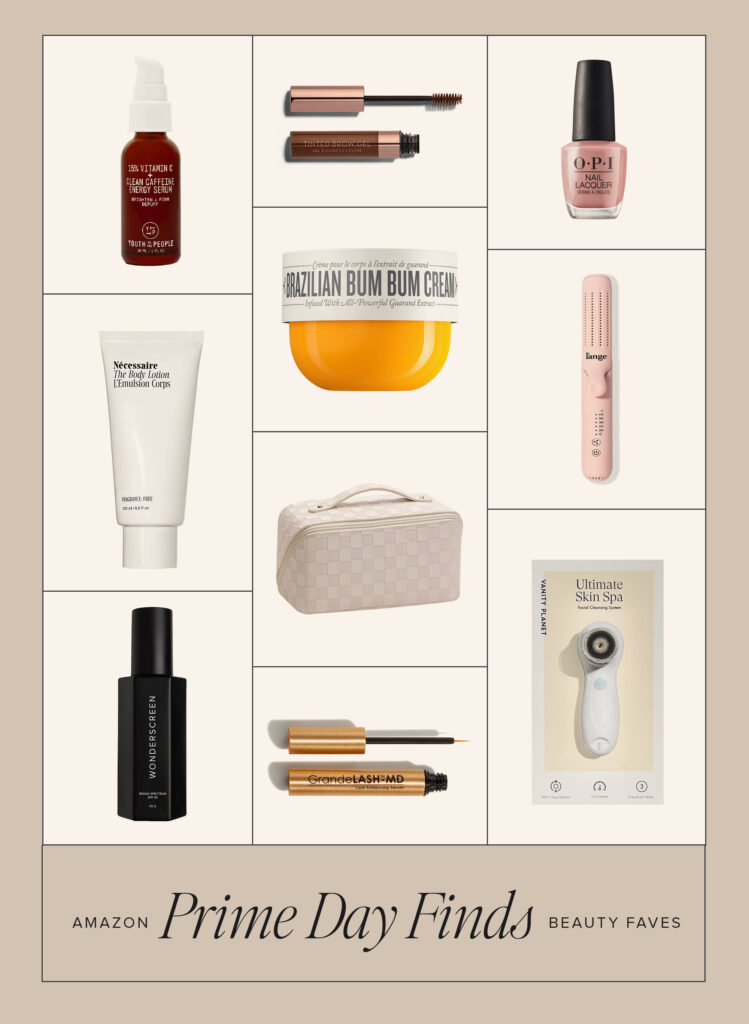 i love this stuff but it's so expensive!!
this is the one i use! i feel naked without it.
dulce de leche is one of my all time favorite shades — i use it for almost every single pedicure i get haha.
i love this body lotion– it's unscented and goes on so nicely.
i also love the hand lotion and keep it in my nightstand — it's on sale too!
i got this cream recently so i can't speak to if it actually works yet but it smells SO GOOD.
it's a curling iron AND a flat iron in one!!!!
i love these makeup cases that open like a doctors bag, you can actually access and see everything. super large so you can fit everything and i love the checkered pattern.
this sunscreen is super lightweight and doesn't have a white cast and it's not greasy!!
this is supposed to be an amazing eyelash serum and it's been in my cart for a week! i'm buying this for sure. once i started using eyelash serums my eyelashes have never been fuller and my life is actually different haha.
i use this in the shower everyday and love ittttt. it comes with a head for your face and a head for your body (i only use the body one when i feel bumpy and want to exfoliate everywhere)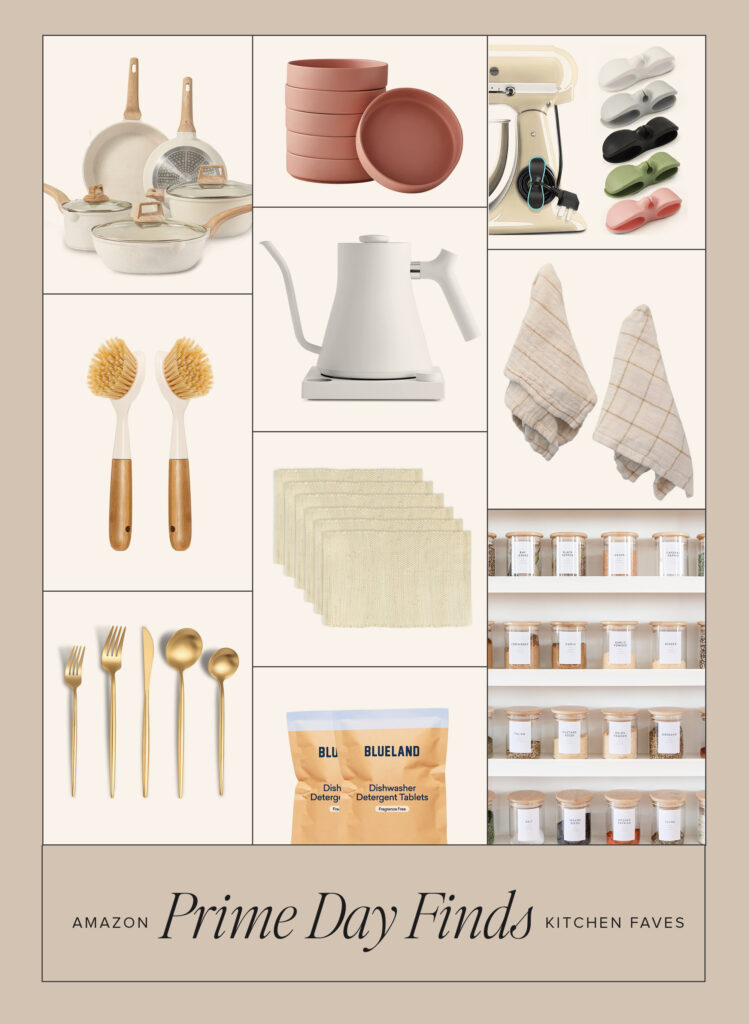 if you're on a budget but still looking for a beautiful cookware set, this is super well reviewed!
these are SO PRETTY! and lots of colors.
i need these for everything on our counter, so useful.
once you go dish brush, you CANNOT go back. these are the ones we use and they work so well for washing dishes and you don't have to get your hands all sponge smelling.
the best looking electric kettle if you're a tea drinker!
i love these napkins. they are so thick and soft and the pattern is so cute. they could also double as super nice thick kitchen towels too.
the prettiest placemats — i love the woven texture they add to the table.
OBV i gotta share this one!! such a good price, we dish wash them too and they're fine (top rack only). i have in both gold and matte black.
a really good time to stock up on these!
because a pretty spice rack is important for mental health lol.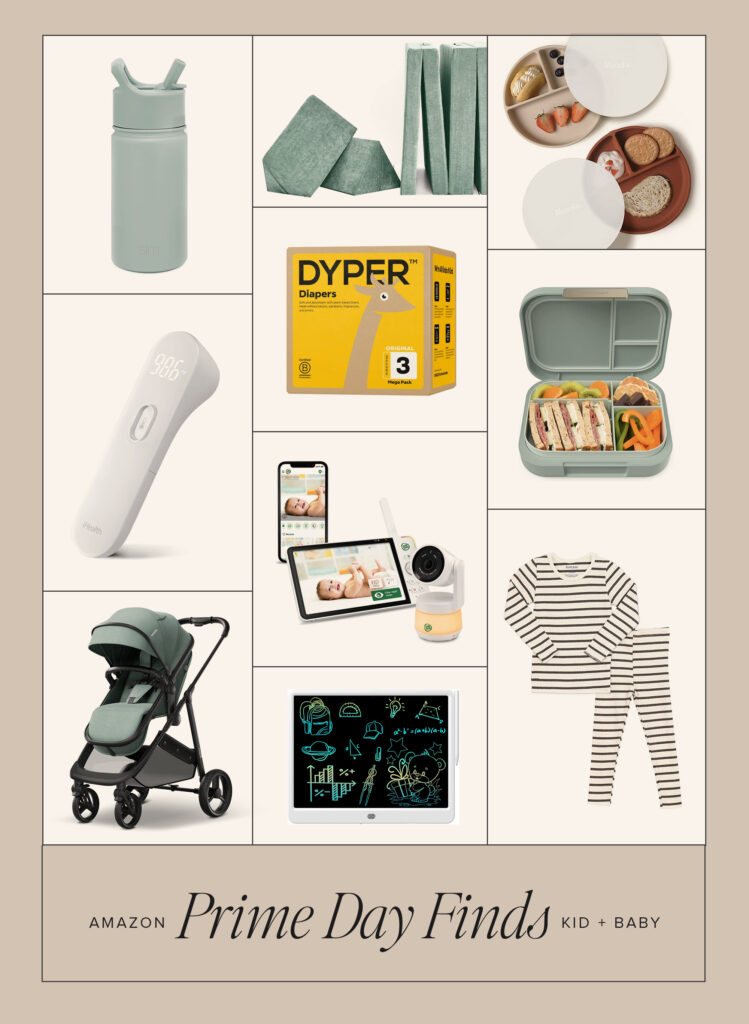 such a well reviewed kids bottle and it looks good which is so rare! i think i might get this for arlo because he needs a new one.
i've always wanted one of these convertible play couches and i like this green color!
i love that these have lids! and i hate buying any kids
i mean, thats a big discount!!
i really like these diapers, we used them when izzy was a newborn.
i switched arlos lunchbox to this one when he needed more space for more food this year, and i love it.
also these cute little sauce containers are on sale too!
i looked for a long time for a monitor that had both an app and a screen and this was one of the only options, bonus points because the screen is HUGE!
i've always had my eye on this stroller, it's SO PRETTY!!!
we have these everywhere, arlo loves them and they're perfect for the car, travel, restaurants etc. we like that this one is so massive (and white lol)


we know arlo lives in the skeleton pajamas, but these are always the ones i've been buying him all his life. they're so cute and cozy and they have some very cute floral ones too also on sale!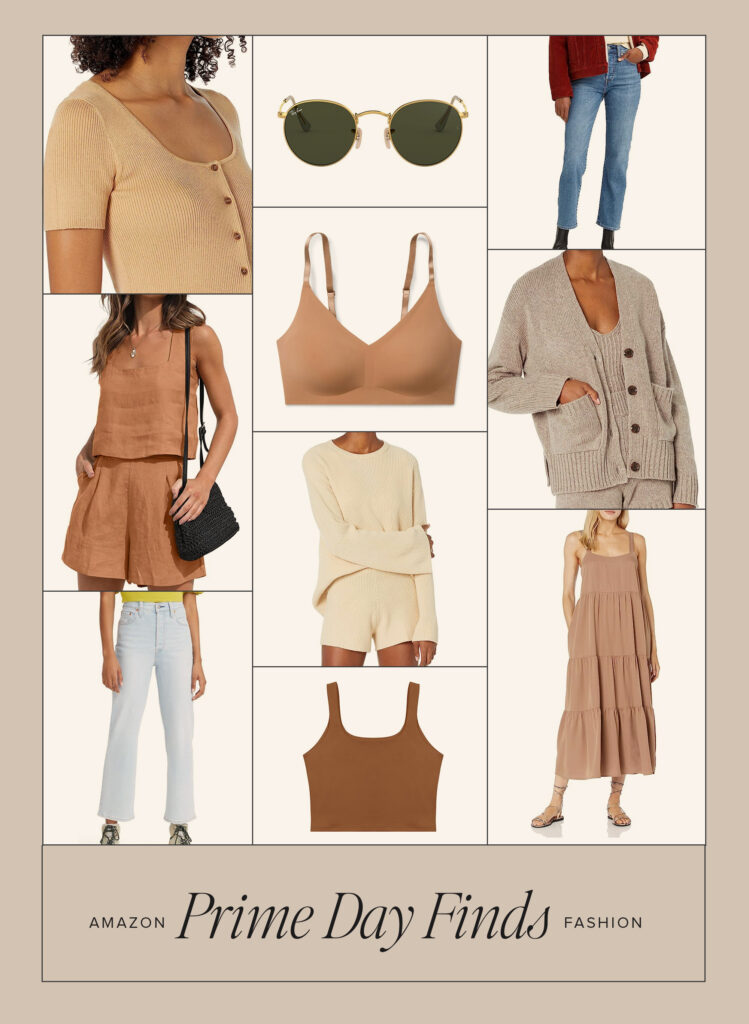 you probably know, i'm a fan of this style haha.
when i used to wear jeans i loved these.
i love a linen set and i love all the colors this one comes in.
they make such comfy bras, and i love that you can adjust the straps however you need to.
i have been eyeing this cardigan foreveerrrr. it looks like this perfect one i stained and it comes in white too (and other colors but i want the white)
i've heard that this is so cozy and it's so cute paired with the matching shorts.
40% off!
i love a cropped tank with my typical high waisted soft pants and this one comes in a lot of cute colors. i have this ribbed one i wear all the time thats also on sale!
have eyed this one forever too! this style is always so comfy but also flattering.
also you can always check my amazon storefront here as well!