our 4½ year olds favorite ipad apps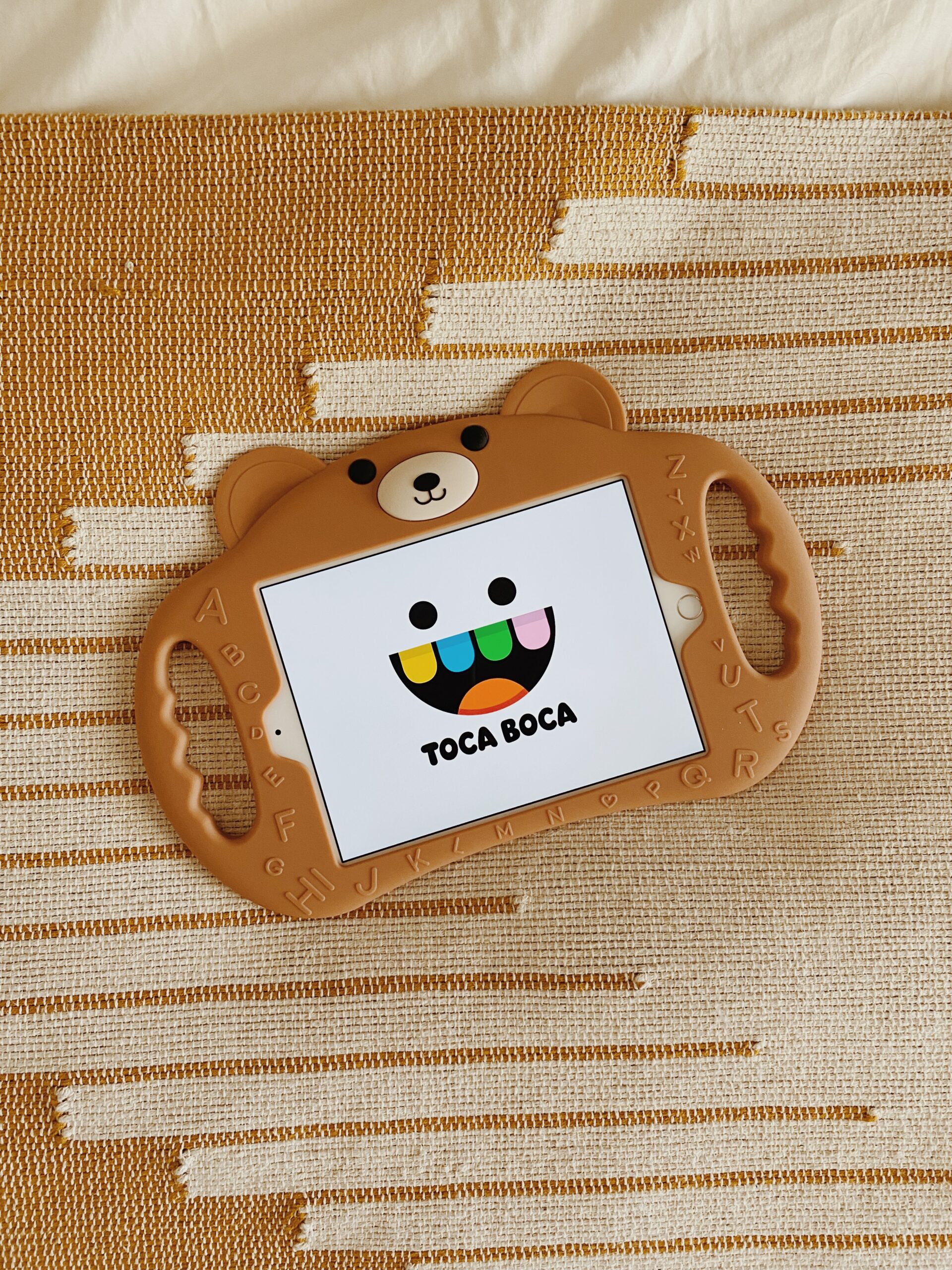 i've been asked so many times for arlos favorite ipad games, so first i'll warn you that there are a LOT of games listed here– because we've downloaded many and he likes many (this is what gid does for a living so he's passionate, i had him help me write this post too!)
our screen time rules
we have to limit ipad time for arlo, because he could literally play for 10 hours straight if we allowed it. and usually he gets really bent out of shape when it's over so we've had to really take it easy.
i'll never forget the day we spent like 9 hours at urgent care and the ER having arlos ear cauterized and he didn't seem to care one bit– at like 11pm we're like "arlo lets go home" and he's like "why???" hahah so that's just a good example of how much he enjoys it.
so we allow him to play a couple of times a week after school max— usually just for a stint while i'm cooking dinner and we make sure to give him plenty of warning that time will be up soon. sometimes he cries when it's over and sometimes he manages his emotions and hands it over smoothly. some days when we're driving home from school he'll ask if he can play ipad and when i say no he'll have a giant tantrum. so we're not in a perfect ipad groove for sure lol.
on vacations or at restaurants, rules aren't as important. we've definitely let arlo play through entire travel days and it's fine– even though he does go a little nutty. on plane rides, i usually try to encourage him to take a break from the games and watch a movie and that usually helps. i think the stimulation of playing these ipad games is a lot for his little brain and he just loves it SO MUCH but needs breaks.
anyway, we aren't in a perfect ipad routine, but we try to have him play games that are either educational or good for his imagination etc.
apps he loves at age 4-5
toca life world
all the toca boca games are so fun! they aren't free, but they are GREAT. arlo could play toca world for hours because there are endless things to do.
toca life world is great because arlo can mostly do everything that he tries. he can drag everybody around and tap everything, and each thing has a little interaction or animation. you collect and feed your little guys or just play with the app like a dollhouse. it even lets you make little movies where you can do voiceover. has in-app purchases though and you kid will definitely ask for them once they get used to the app haha.
toca kitchen 2
kids can experiment with different cooking techniques and its very freeform. you can boil something and then cut it and then fry it and then cut it and then put sauce on…and then cut it!! he loves it.
crayola create and play
lots of activities and arlo got lost in this one pretty fast. you can do the obvious stuff like color and draw, but you can also make little sculptures that you "print" and display in a virtual room. has some mini games that are dumb but fun. one of them is great, and sort of teaches programming logic (you set up a series of arrows that lead a ball to bounce into a target when you press "go")
scribblenauts
so this is a video game originally i think, and you solve problems by creating objects from scratch. you can create anything you can think of so it's really good for imagination– but you need to be able to type the objects. since arlo can't read yet, this is technically advanced for him but he loves it and i think it's probably good practice that he tells me the object he wants and then i tell him how to type it.
dr panda town
toca life world adjacent. most of the same ideas just with different characters and personality. arlo preferred this one for a while I think because it was more abstract and he liked being surprised by the little differences between this and toca.
dr panda kitchen
same vein as toca kitchen!
dr panda ice cream truck
you get the gist.
dr panda candy factory
candy factory is a step by step process for making candy with different properties and there's NO explanation, but its fun to see what happens when you experiment. using machines and pressing buttons and whatnot.
sago mini world
also sort of similar to toca. open ended play.
Teach your monster to read
we were so excited about this game but it's the same thing over and over after you play for a little bit. but it's cute and a reading game!
amaya kids cars + amaya kids boats
very simple racing games that he's seemed to like for a really long time now. you can design your car and then race them.

and apps he loved from age 3-4
toya tap 1-2-3 go
the toya games are mostly color/shape/size sorting practice. mini games with different themes, but they all do that.
animal rescue
mini games based on helping animals out of vehicular / weather-related catastrophes. puzzle pieces, shape/size sorting, and some mindless tapping.
pokpok
kids interactive toy thing designed by some fancy apple game designers. lots of discovery in this one and def held arlos attention on travel days (especially the little interactive town map thing)
kiddopia
subscription game so we start on the first travel day of a vacation and cancel when we get back. it works out to like $10/vacation. LOTS to do on this one unless you have the free version, but arlo loved this from age 2-4. he only got bored because they don't really update it much. lots of animal doctor stuff and mini games to mess around with. no activity takes longer than a few mins, so there are also lots of good stopping points (which is valuable when you're policing screen time).
also i just saw him playing this the other day so maybe it's still on his current list after all!
monkey preschool lunchbox / preschool monkey explorers
these are a throwback (read: old app) but we got referred to this one and it was arlo's jam for a while. VERY impressive how he figured out the puzzles and the various little quiz games even at 2-3 y/o. we'd just watch and be like, whoa he just did that by himself whoaaa haha
bimi boo car games
we don't know why he ever liked this one, but he loves it and sometimes you have to let them lead. you drag a car around for a while lol.
bimi boo drawing for kids
a very simple drawing app that arlo actually still will use from time to time!
pbs app
lots of mini games and they're free! if your kid likes pbs shows, definitely download this and pre-download the games before traveling.
---
and what he loved even younger
dave and ava
unfortunately — we showed arlo dave and ava when he was tiny and he got HOOKED. i've heard from lots of moms whose babies didn't like anything that theirs also loved it– i'm not sure what it is about these dumb nursery rhymes but they're like baby crack. be warned. (also the app is $20!!)
---
and of course, some cute ipad cases!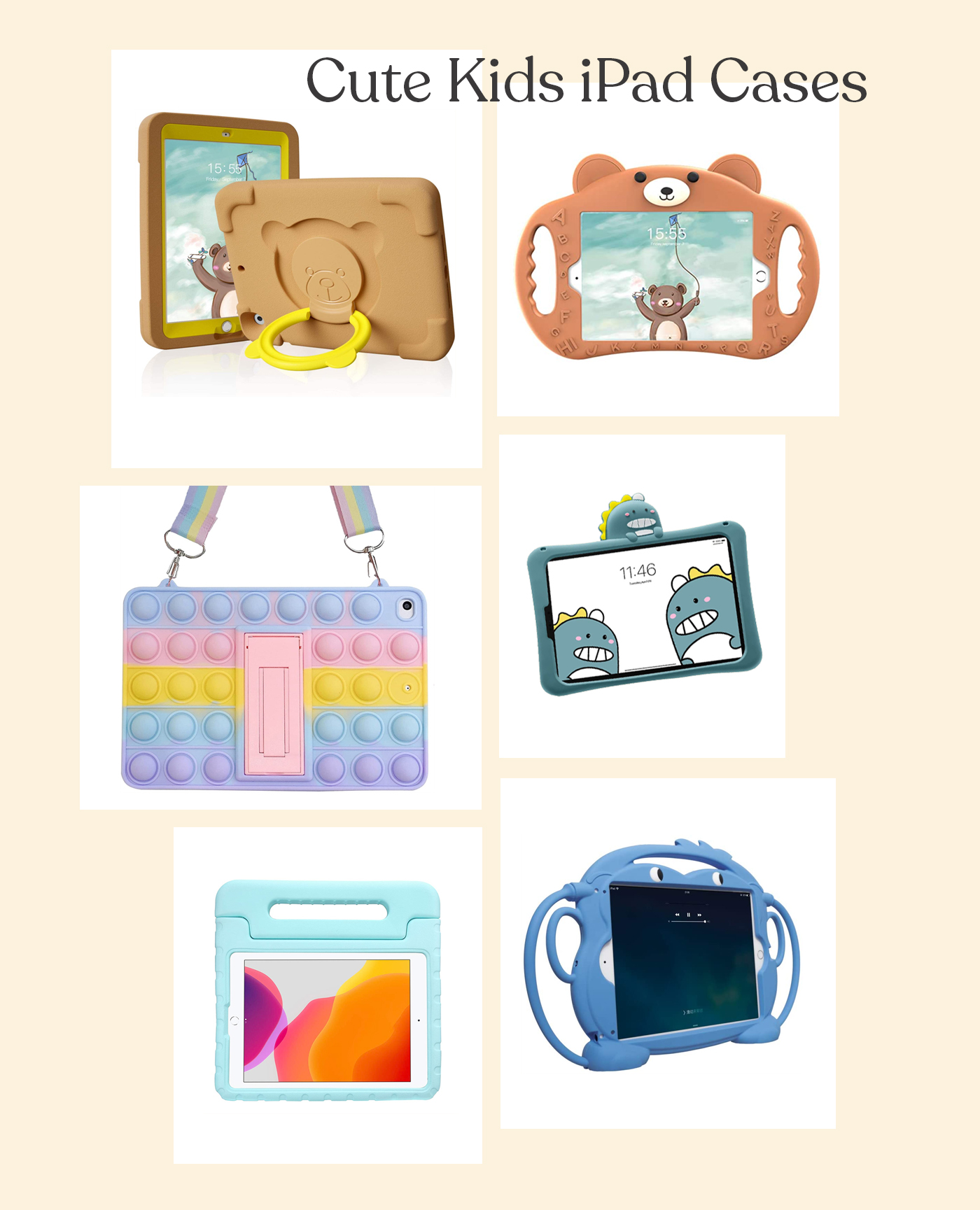 well, there aren't that many cute options for kids ipads, but these are some of the cuter ones i've found!
---
i'll continue to add any if he discovers new ones, and if you have any to suggest that your kid loves, please leave in the comments!