last minute mothers day gift guide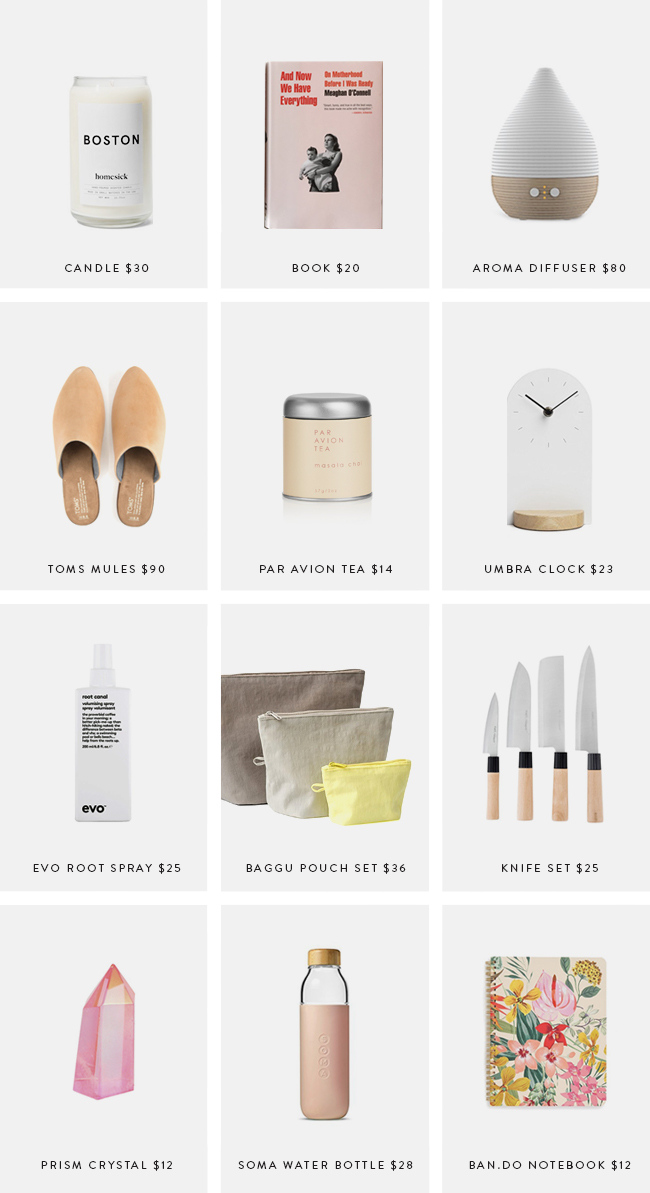 you know the drill! mother's day is this weekend and i have a whole new perspective on the holiday. we've always celebrate my mom(s) typically with a homemade brunch and we've given her a small gift or flowers and a nice mushy card… but THIS YEAR IT'S MY TURN. you hear that mom?! MY FIRST MOTHERS DAY AS A MOTHER! i'm really hoping to be sitting back in a chair with arlo and gid fanning me and feeding me grapes but i guess we'll see how it turns out.
anyway, if you forgot to get a gift for your mom or if you want to send a subtle suggestion to the gift givers in your life, here are a bunch of amazon prime options that will come in time. 
01. a homesick candle of wherever she's from — such a good gift!
02. i've heard this book is great and so helpful for new moms and moms to be.
03. i realized lately i want an aroma diffuser in every room.
04. i got these leather mules lately and they are absolutely perfect.
05. moms drink tea. i don't, but i believe all other moms do.
06. if you're really struggling, a simple minimal clock is a cute simple minimal gift.
07. no woman has ever complained her roots have too much volume. i want this root spray!
08. i personally have like 19 different pouches in the diaper bag, they are so so crucial.
09. they're sushi knives technically, but i love the look of this knife set!
10. for the hippie crystal loving mom, or just the mom who likes pretty crystals.
11. the prettiest glass water bottle in my favorite shade of pink.
12. you can never have too many cute notebooks, duh.