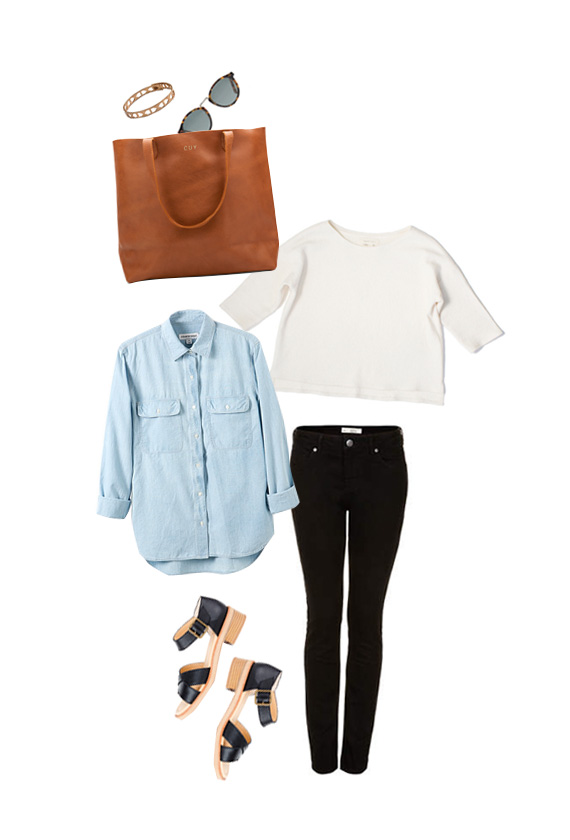 bracelet | sunglasses | tote | sweater | chambray | jeans | shoes
i have this horrible habit of shopping at forever 21. i've been addicted since high school. but the other day when we did a load of laundry and noticed just how many clothes sitting out that weren't dryer safe — i decided to try to call it quits. i'm an adult.
i am no longer buying stuff at forever 21 and h&m … ok that's a lie. i will probably still buy certain things for last minute occasions. but i have another bad habit of wearing the same thing over and over. back when i was really going hard on f21 – i was in my early 20s and went out all the time and cared about having new clothes. well i'm almost 30. i no longer need disposable clothes, right?

i've decided to purge hard and only buy items that i truly love and that i can hopefully wear for many years. that's the only way i can reason with myself to spend the extra money. i've decided that if i have a steady rotation, i really only need like :
— a half dozen nice tees
— 2 pairs of jeans
— a couple of button downs and sweaters
— a daytime bag
— a nighttime bag
— a couple of dresses (gonna just stick with black)
— a few favorite accessories that don't turn my skin blue
btw – i bought that cuyana leather tote and am SO happy with it. i use it everyday. do you spend more on nicer items or buy disposables?