The following post was sponsored by Whirlpool

I received product and compensation, but all opinions and copy are my 
own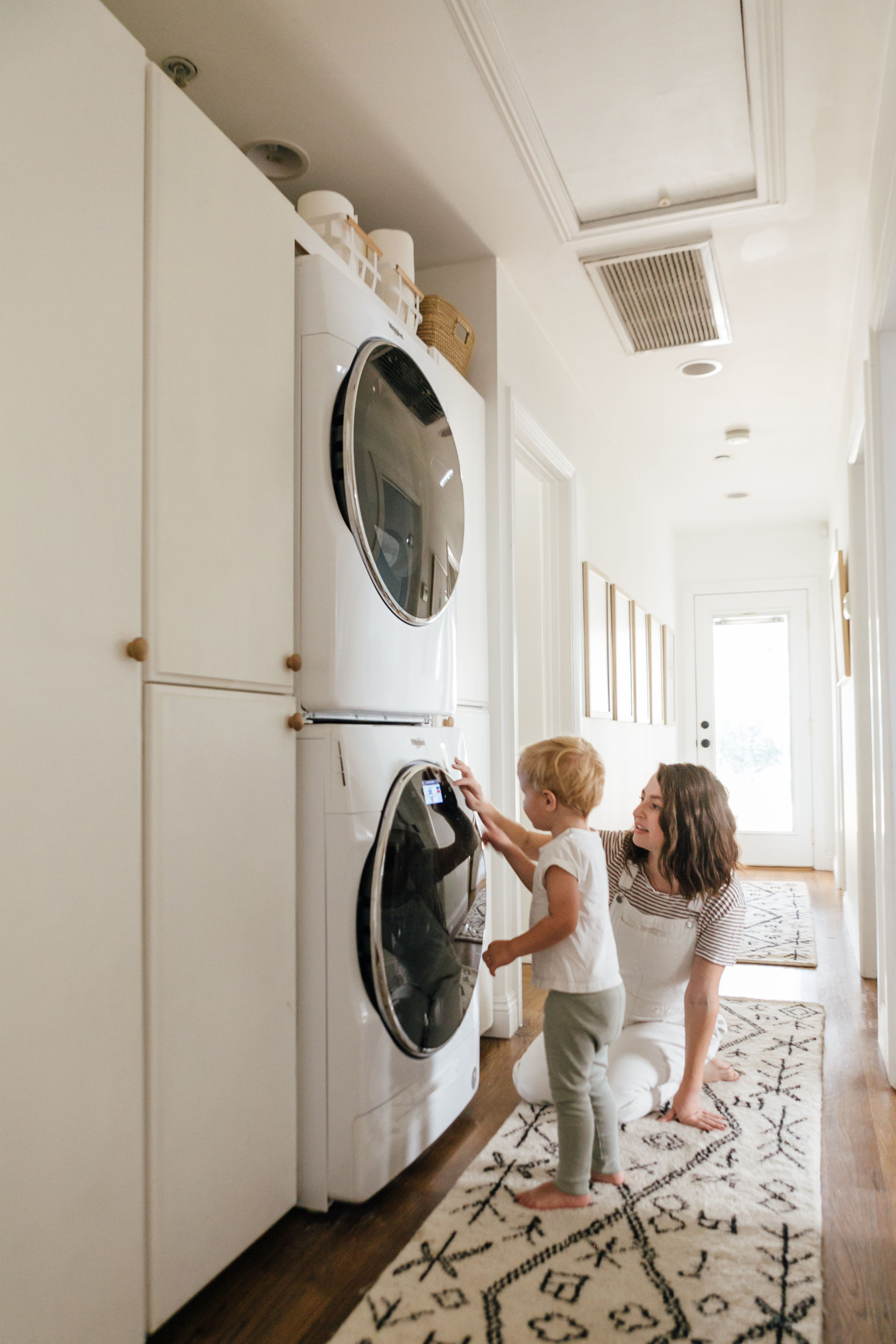 obviously every mom is DESPERATE for more hours in the day, despite how every hour in the day can feel like actual eternity when you're home with your babe– its a real catch 22 lol. after doing this mothering thing for 2.5 years, i have definitely improved in the productivity department versus that first year where i was just keeping arlo alive basically.
i know it's sounds sooo influencer-y, but i am actually being serious when i say a lot of people have asked me this year for an attractive washer and dryer sitch, and i am so happy to report we now have one with our Whirlpool® Smart Front Load Laundry Pair. our laundry area is right in plain sight in our hallway, so looking good is a must– but i am also really so happy with them functionally. it has a really easy to use (and well designed) touchscreen, and an app that allows you to start and schedule loads from your phone (you can even assign a task on there so it notifies your husband to empty the dryer– because you know he's not planning on remembering that on his own). my fave though is the washer allows you to pre-load your detergent and fabric softener for up to 40 loads*, thus inspiring a whole post of time saving hacks for moms!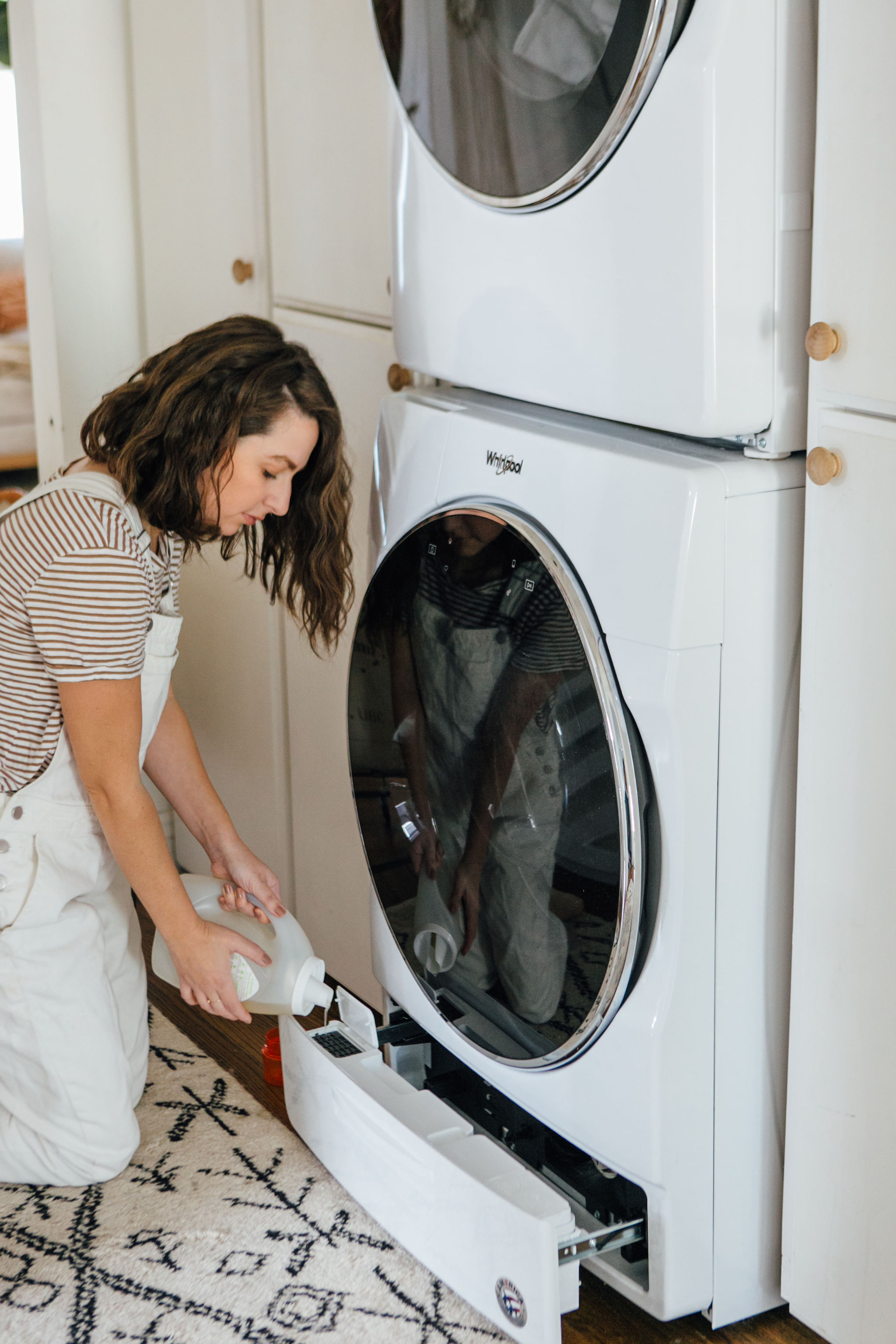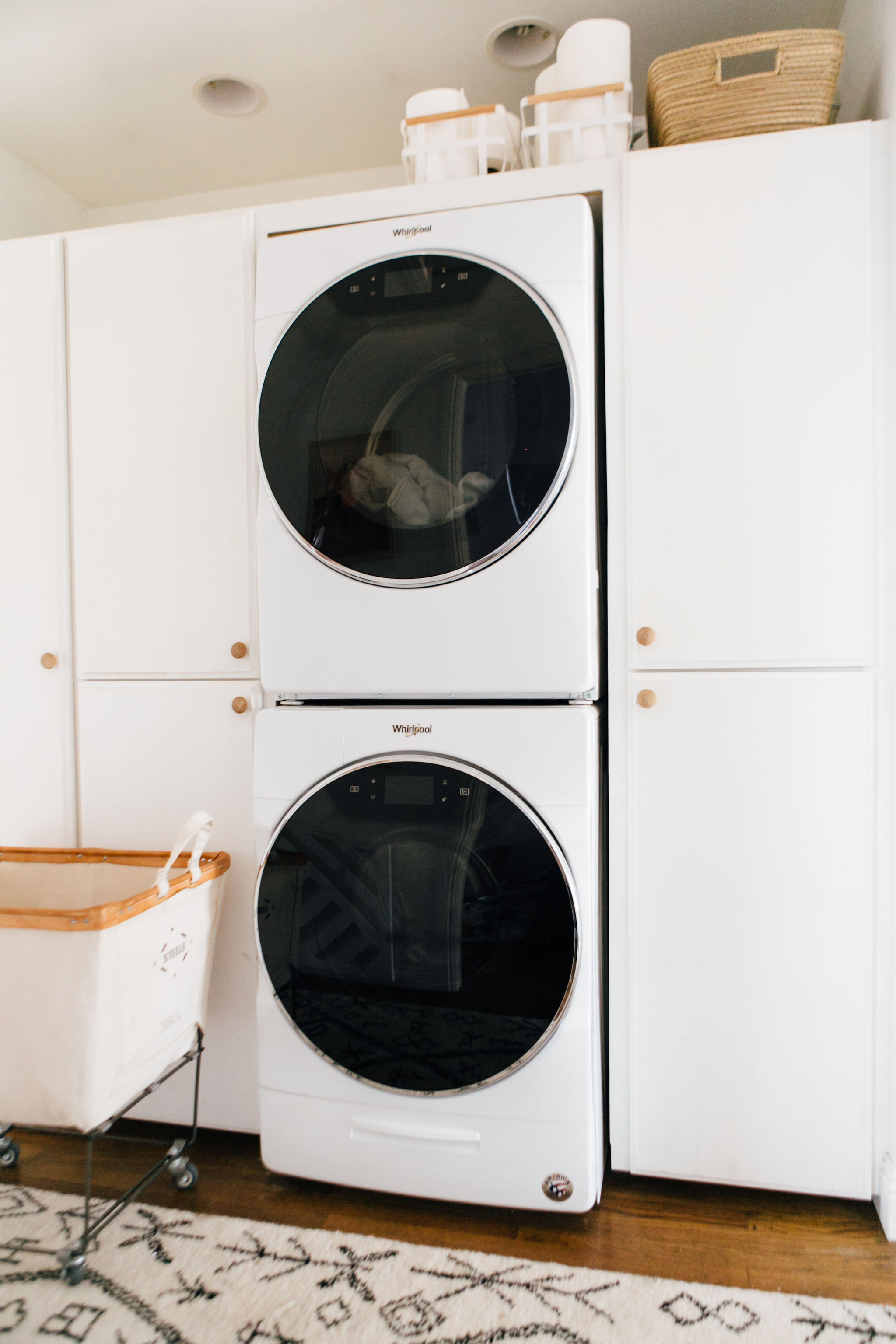 01.

save the extra step 
(and mess) 
every time with the Whirlpool® Load & Go™ XL Plus Dispenser
when we first got the Smart Front Load Laundry pair, i was like ok yeah thats a cool feature, but it wasn't until a few loads in of not having to fill the detergent drawer that i realized HOW chill skipping that step really is. and idk if i'm alone here, but i would literally spill detergent every time i do laundry so it's even better not doing that. the drawer comes completely out when it's time to refill so you can even do it over the sink and avoid the spills entirely! i love that you just pre-load your detergent, and then the machine even notifies you when it's running low. most loads i'm doing are as i'm trying to do 5 other things (at least), so i can throw everything in and start it. SO SIMPLE and then leaves some extra time to do something important with your little one, like letting them hitch a ride in your laundry basket haha.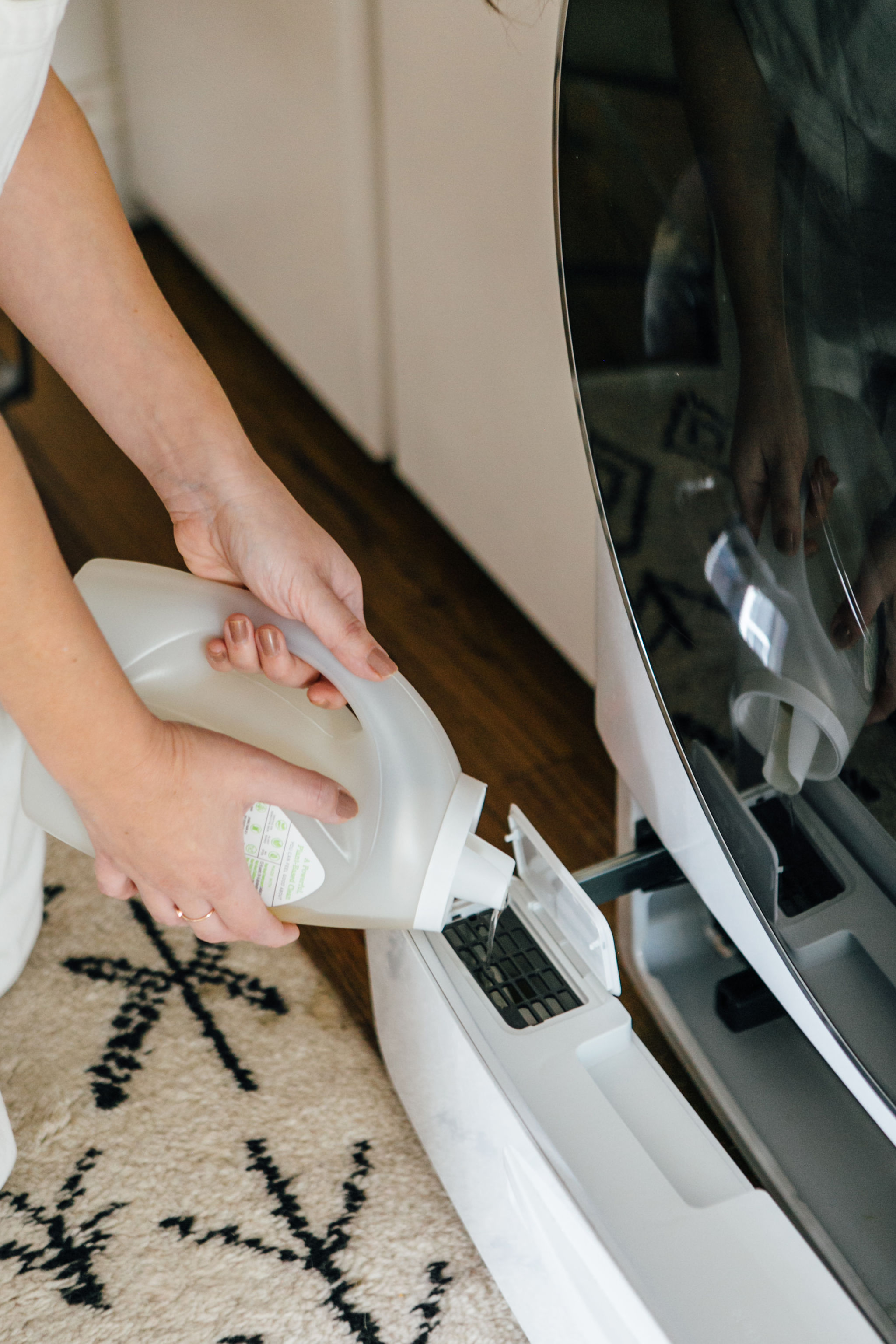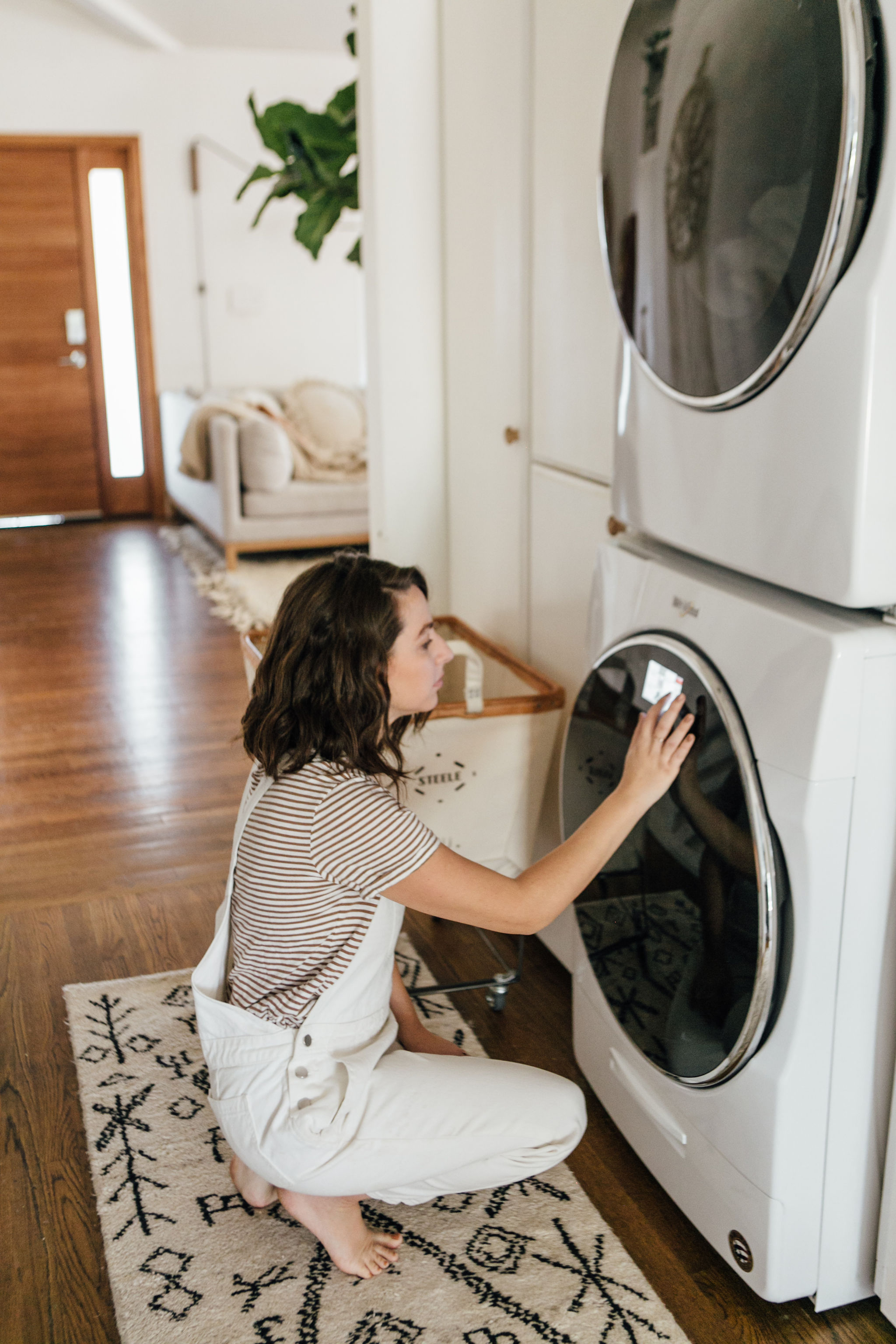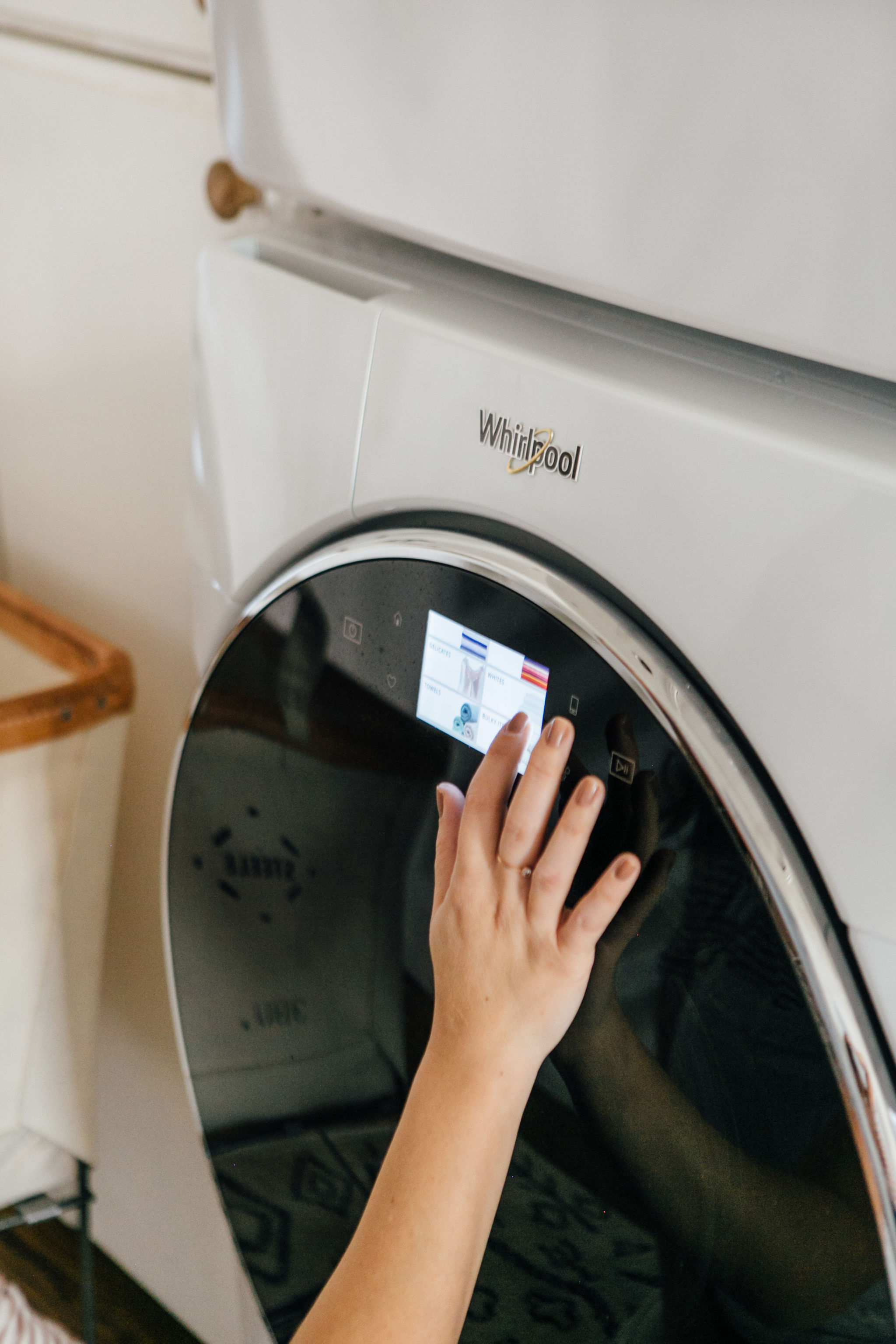 02.

order all your household essentials on a subscription service so you never have to do a last-minute run to the store
ok yes it creates more of a cardboard problem (which is already a giant problem in our house), but there were soooo many times when arlo was really tiny and we'd run out of some household item that i'd need to pack him up and take him to the store for. even though he's a lot easier to travel with nowadays, i love the ease of knowing everything will arrive and i don't have to worry about them. we have SO many things auto-delivered: diapers, wipes, cat food, pouches, paper towels, toilet paper, coffee pods, laundry detergent. and it has seriously improved my quality of life.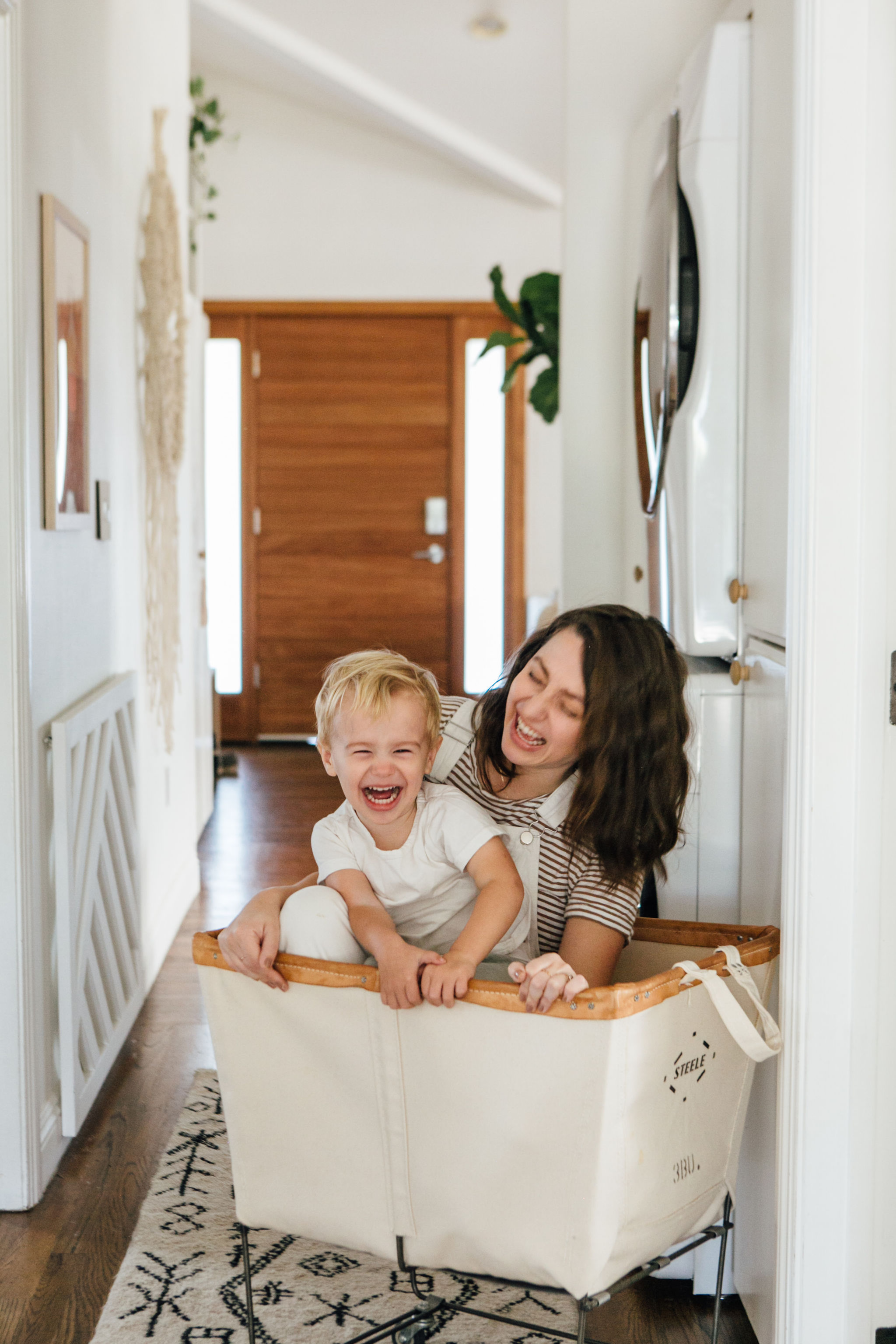 03.

cook the same dinners! it makes grocery shopping easier, causes less stress and is so much easier than reading a recipe every night
if you follow me on IG stories, you've probably made fun of me for how often we eat the same dinners. not only does it make grocery shopping such a breeze because i don't have to even think about it, but cooking is quick and easy. i've also heard this effectively saves money while shopping because you're not buying new spices and ingredients etc. granted i don't want to eat chicken thighs with cauliflower and sweet potatoes every night for the rest of my life, but if you find a few recipes you all truly enjoy and they're easy to make, add them to your weekly rotation and choose a night (or two) to experiment with a new recipe. i've been meaning to make a running list of my go-to meals as well as some subs that i've made so that i have them all easily accessible before grocery shopping. i also sort of always forget the alternative dishes i make and hence go back to the basics.
sort of on the same note, getting a deep freezer for our garage has been such a game changer too. it's already overflowing unfortunately (we seriously have a hoarding problem), but it's so nice to know there are frozen dinners and meats that can be thawed at a moments notice.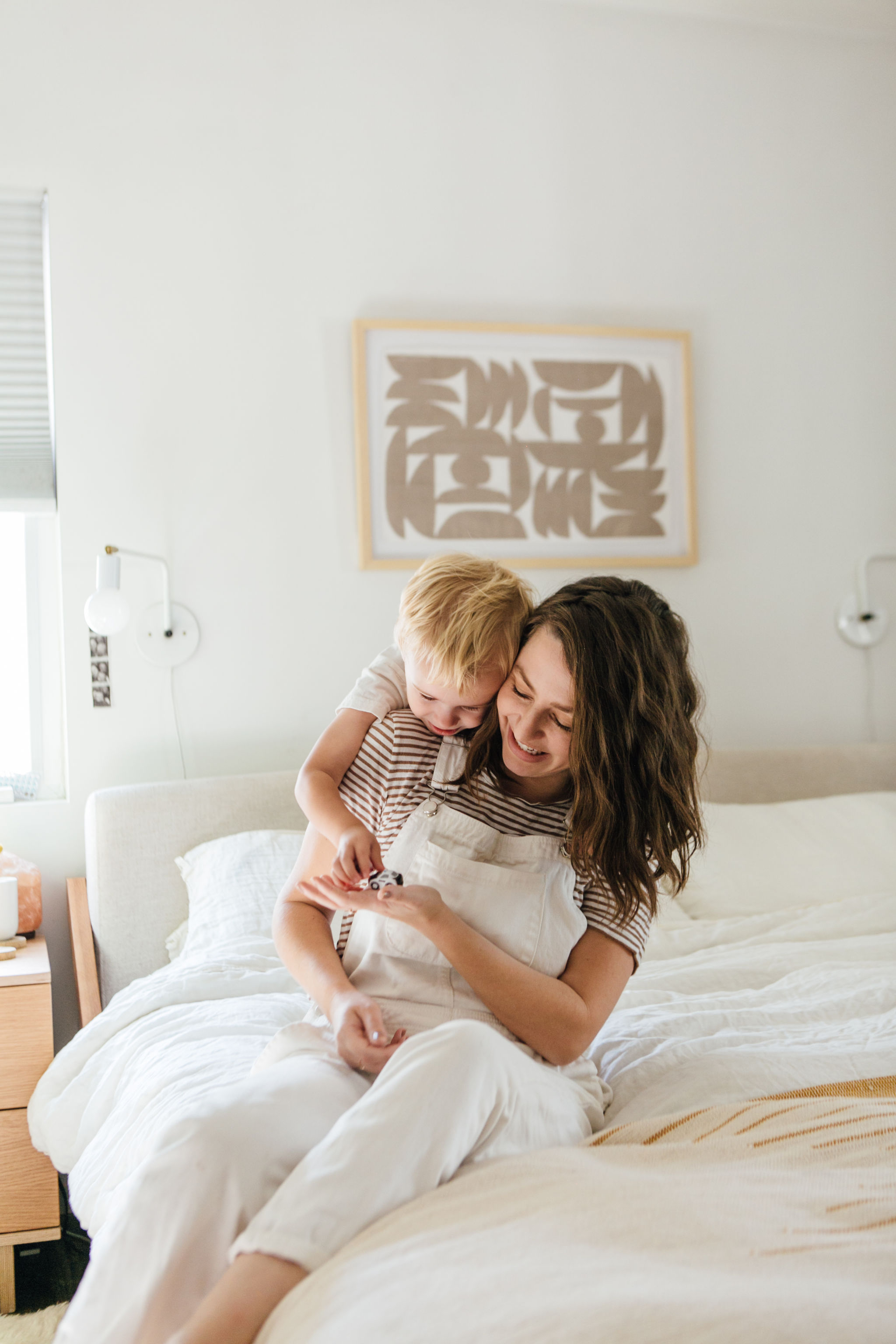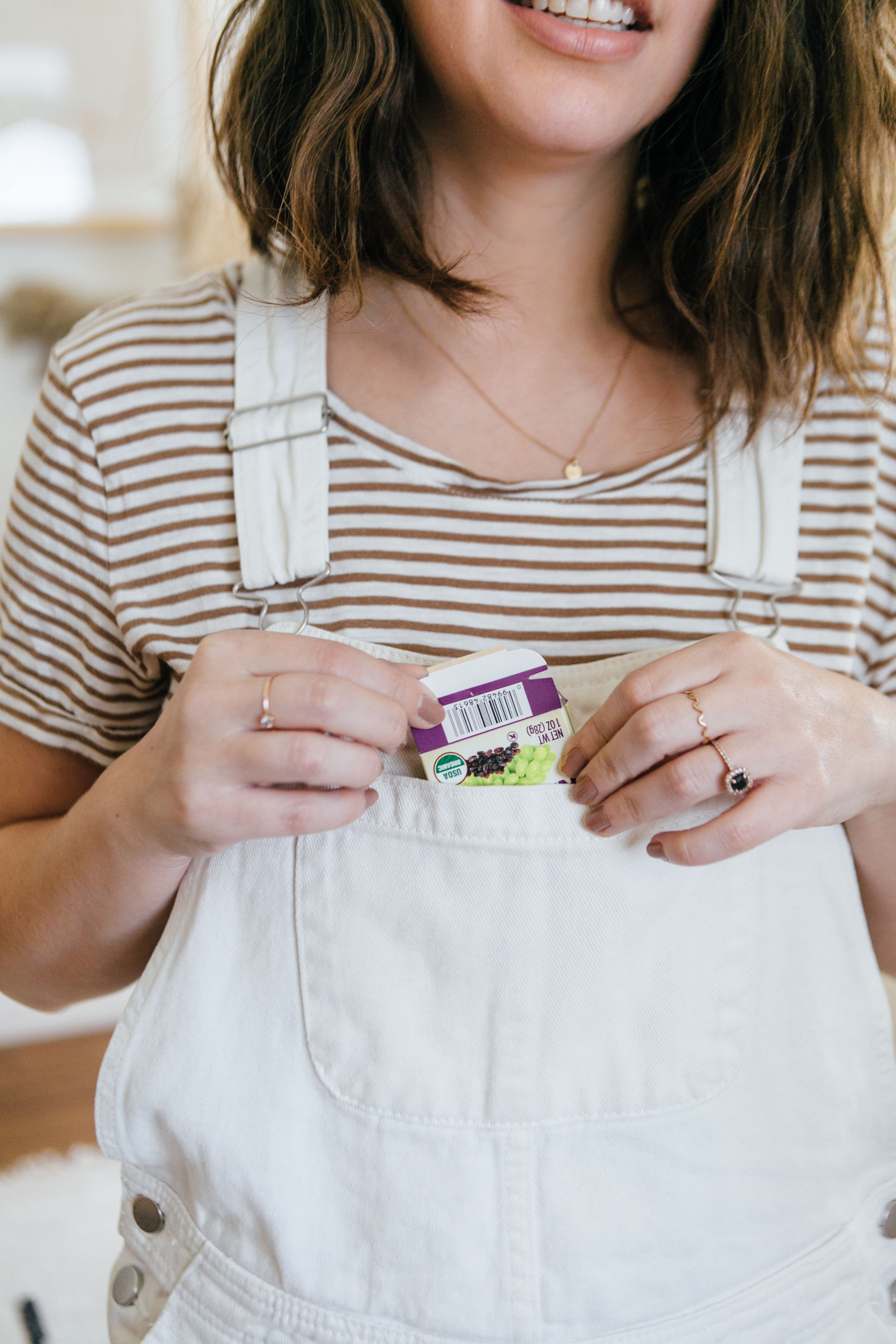 04.

find your mom uniform (mom-i-form?) and wear it daily
once i started actually getting dressed and leaving the house, i basically just wore the same overalls everyday because they're the perfect mom attire — pockets that fit pouches, your phone and 5 boxes of raisins! plus there is something about overalls that makes you look more put together than just a t-shirt and jeans, no? plus i found them really flattering on my post-partum pooch. i still do outfits on repeat now that i drop arlo off at preschool, who wants to pick out an outfit everyday when you're not going anywhere fancy anyway?! besides overalls, i usually stick to the same oversized sweatshirts and am usually wearing linen pants because i prefer wearing pajamas all day. and i save my getting dressed cute for date nights now!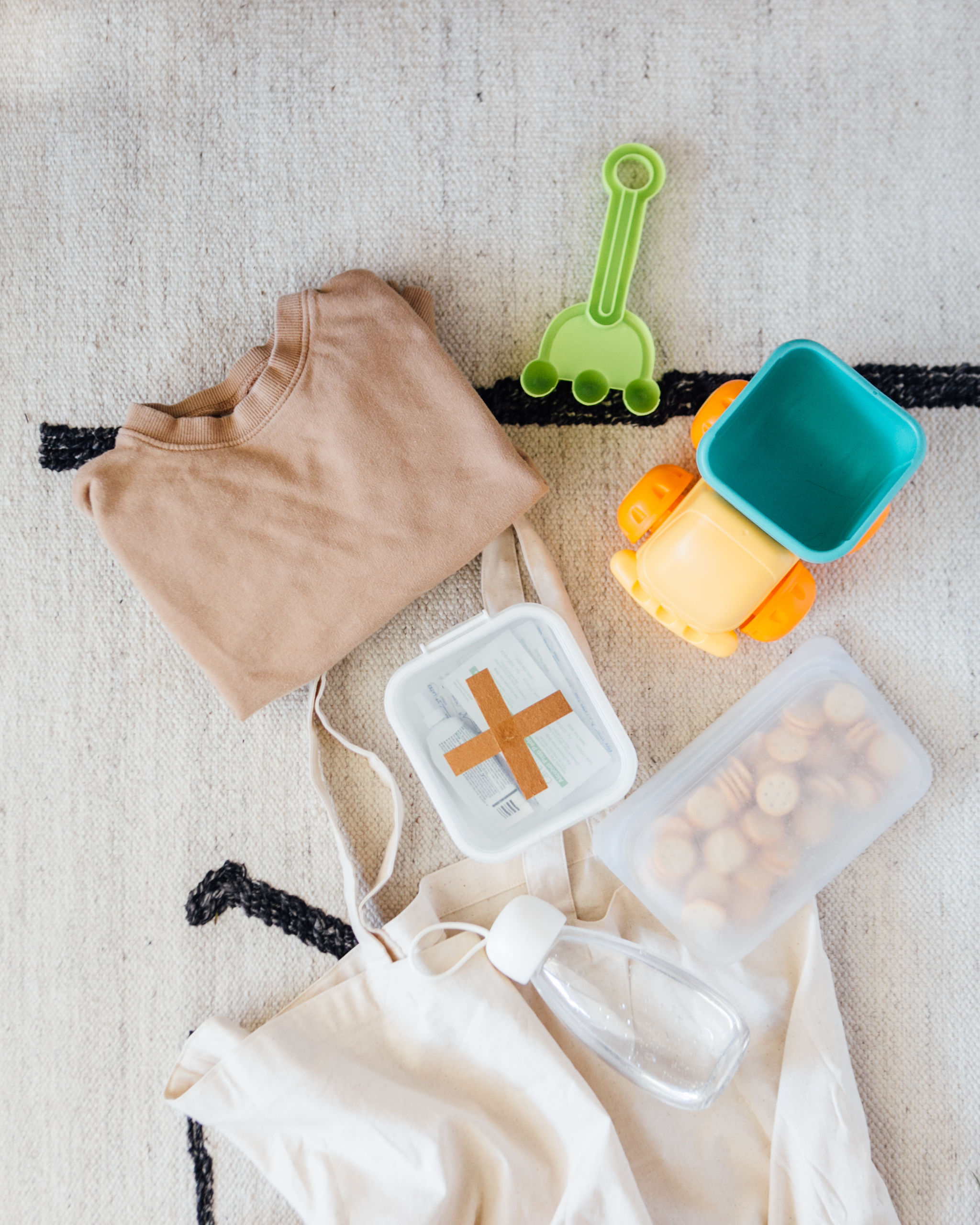 05.

keep the car stocked with essentials and a designated playground bag so it's always packed and ready to go
while my car is an utter disaster, i always try to make sure the trunk has everything i need on the go. there have been many a time where i realized i was without something i needed, so now i have a diaper changing station in the trunk, a giant bag of snacks, a spare outfit, and a first aid kit. we also keep a playground bag in there with MORE snacks and his sand toys so i never have to worry about remembering it.
---
i hope these tips were helpful for any of you new moms! it definitely took me longer than i expected to find a groove– and tbh there are still days where i feel like i have no idea what i'm doing and realize we haven't left the house or bathed arlo for waaay too long, but he's super fun to hang out with so i know i'm doing something right at least.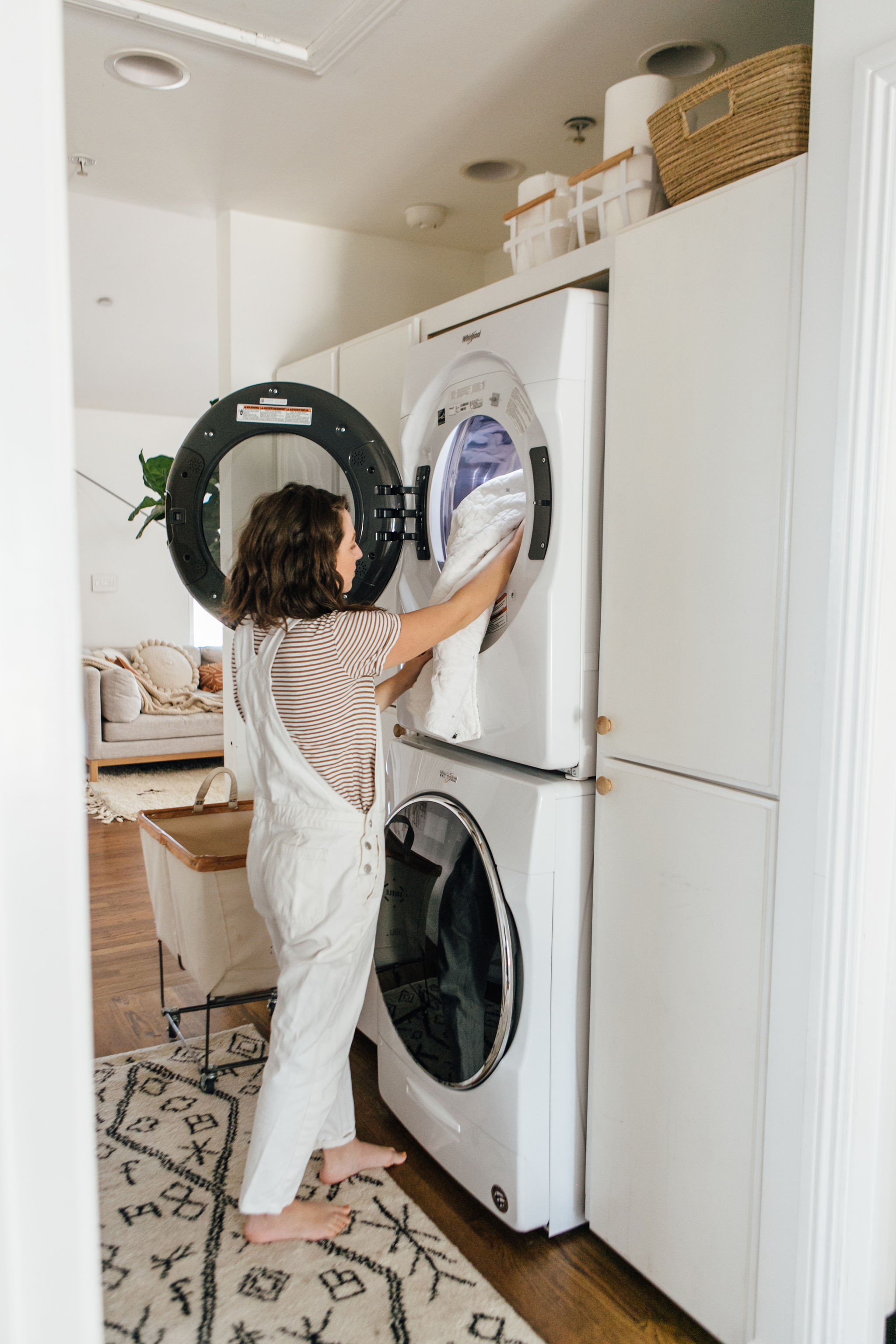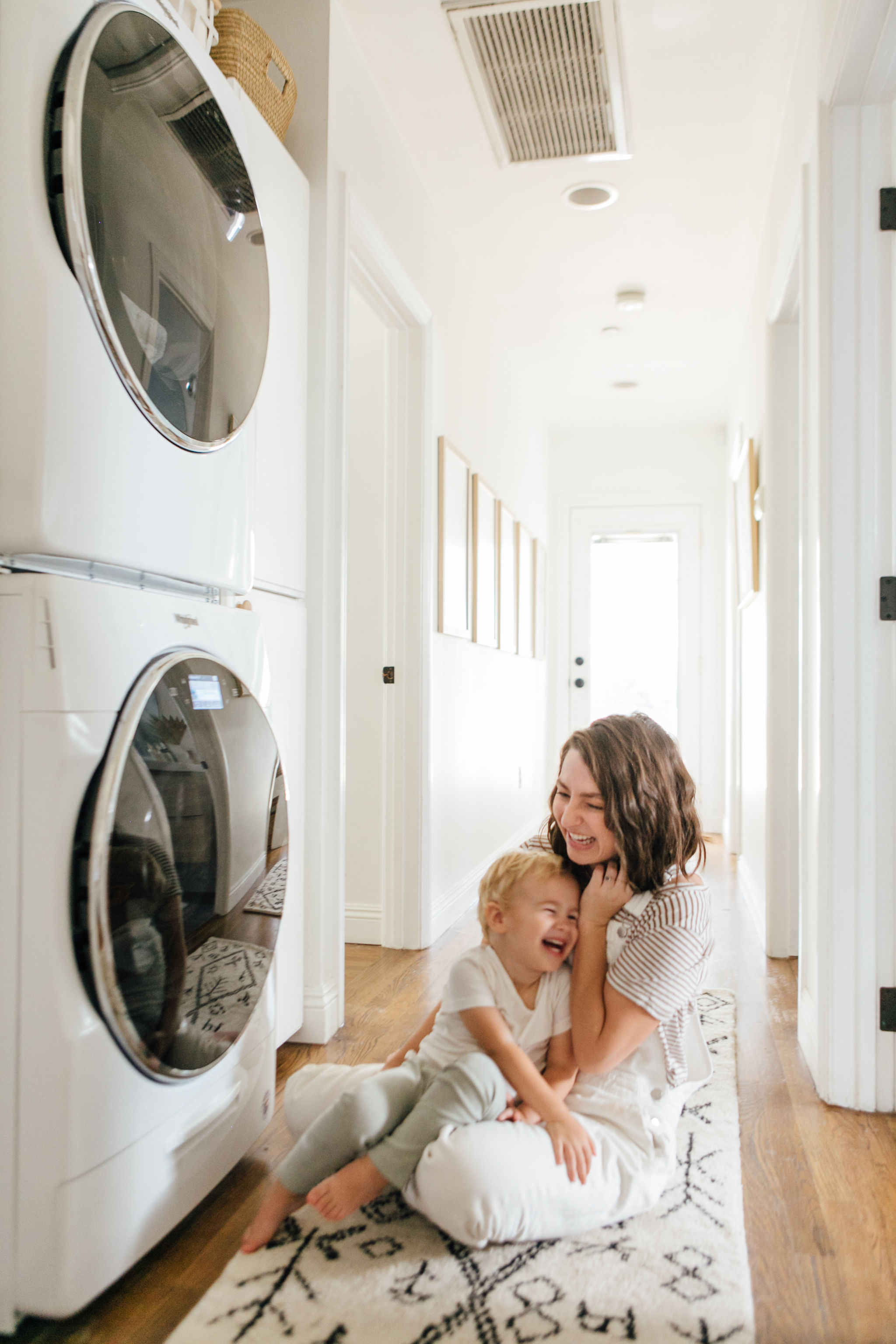 and click here if you want to learn more about the Whirlpool® Smart Front Load Laundry Pair!!
*based on an 8-lb load. actual dispenser capacity varies by model.