what's in my hospital bag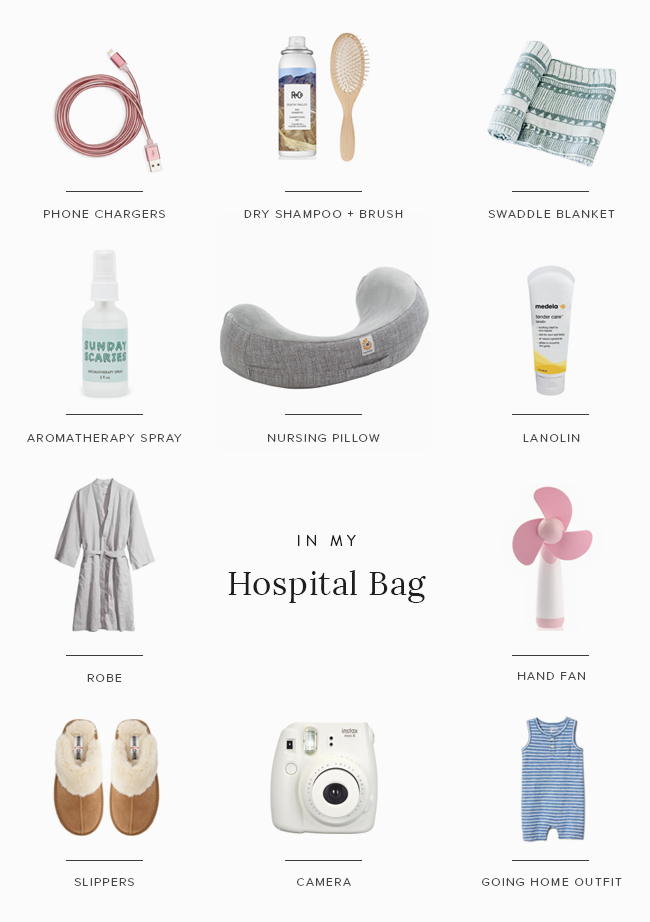 while i'm very afraid that i'm totally going to be delivering a human any day now, today i'm just focusing on what my hospital bag essentials are. (i've never even spent the night in a hospital before, so i'm really a wimp with all this stuff)
but i've read countless lists and we've taken labor classes and i think our hospital bag is pretty properly packed — hopefully without too much excess crap we don't need. we live 5 minutes from the hospital, so i'm not worried about under packing, but we'll see what we end up using. from what i've read, i'm going to focus more on what i can take home with me from the hospital versus bringing enough for a week (the mesh underwear, diapers, peribottle…)
for laboR
i put everything for labor in a large pouch i've packed within the suitcase, right on top. this includes tennis balls in a sock which gid massaged me with in labor class and it was pretty cool.
aromatherapy spray i love the way this smells and if there's any chance i need to try to relax, i'd be happy to have this on me.
portable hand fan i've been running hot during this whole pregnancy thing, so this seemed like it might be useful.
bluetooth speaker if all goes well, we decided to play music during labor. not sure if we're gonna do my music or just do some spa music to keep the vibe relaxed, but either way we liked the idea of there being something besides my screaming to listen to.
camera self explanatory — we packed our travel digital camera and our instant camera (but i might remove the instant because i'm trying to keep this thing minimal!)
for me
pillows like i said, i've never spent the night in a hospital before, so i'm planning to bring some comfier pillows from home to help me sleep. bring them in non-white pillowcases so you don't mix them up with hospital ones!
robe / slippers / nightgown i'm bringing a lightweight robe which isn't my favorite one (just in case), and these super comfy nightgowns i only discovered in my third trimester and now can't live without.
nursing bra i've struggled with finding the right nursing/maternity bras that are not only comfortable but also flattering under a shirt. this one has definitely been my favorite.
nursing pillow we just threw this into my trunk to bring with us.
lanolin i'm bringing a bottle of lanolin but i'm also bringing these silver cups that my night nurse swears by. i can keep you posted if you'd like.
dry shampoo / hair brush / mascara / face wipes / evian spray / basic toiletries while maybe getting myself decent looking will be my last concern, during my least comfortable days of pregnancy, it's been really nice to put on some makeup and feel a little less disgusting.
phone charger bringing multiples!
for husband
swimsuit we heard this will be crucial if he needs to assist me in the shower or anything like that.
pajama pants / thick sweater clothes wise we're not packing much for him besides this, underwear and socks.
change for vending machines we might toss in a couple of granola bars too, but we have a little pouch full of change for him if he wants something late night.
for baby
going home outfit i originally had like 4 adorable little outfits in the bag, but went back in and removed them all after i realized that was a waste of space. more likely we're just gonna get him dressed to go home right?
swaddle blanket i also just packed one swaddle, don't know if we'll need this but it's nice to have a soft cloth with us right? i also put a small burp cloth in there so we can rub it all over the baby and maybe have my brother take it home to have the cats smell it.
car seat we [properly] installed our car seat a couple of weeks ago to make sure they'd let us leave with our baby in tow. no idea how to put a baby in one of those though… or how to remove the car seat, or how to attach it to the stroller… oh jeez.
---
that's it! very minimal, especially for me who always always overpacks for everything. hopefully i'm not missing anything vital, what'd you pack in yours/wish you didn't/wish you did?