now that we've sent out our save the dates and i'm so so close to done with vendor booking – we're starting to setup our registry! while we would love to just register for a house, i don't think it's very polite to ask for money. so instead, we're gonna mostly go with stuff that can be placed in said future house.
uncommon goods is an online shop that sells a bunch of unique home decor and art prints, that i always look at when i'm holiday gift shopping, but since i'm in the registry market, they asked me to take a look at their stuff and see what i liked. well unfortunately there's a ton. this teak root mirror immediately screamed out "buy me". doesn't it look just like the one in the ace hotel palm springs lobby?! also anything we can do to feel like we're in new york is good with us, so i would love to get a couple of those porcelain coffee cups.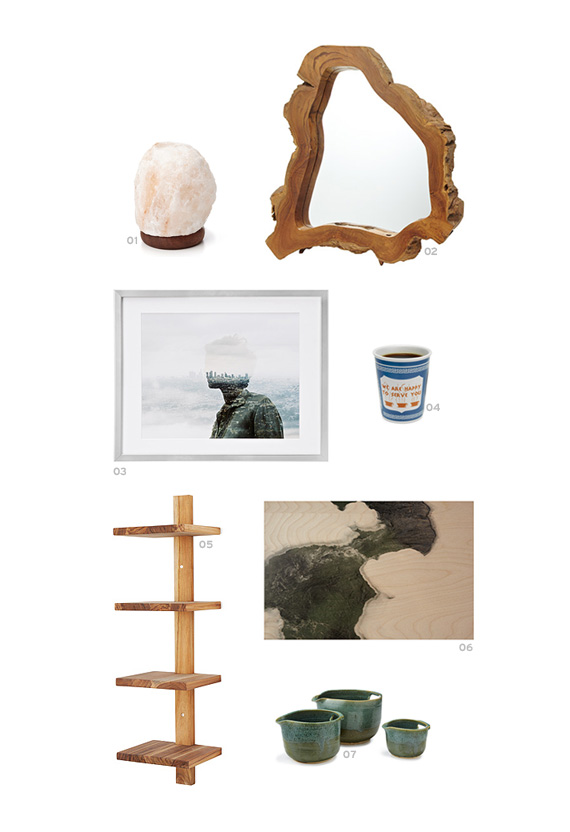 01 i've always wanted salt lamps, they give off super warm mellow light just like i like.
02 teak root mirror. gimme.
03 part of being a grown up is having real art. love this city of angels double exposure print.
04 i can handle no handle (PUN) with these greek mugs
05 this minimalist teak wall shelf is the perfect size for those weird unused corners
06 you know i like wood. so naturally (PUN) i love this photography transfer wood wall art.
07 the prettiest nesting mixing bowls i would ever own for sure.
this post was sponsored by uncommon goods. all opinions are 100% my own.