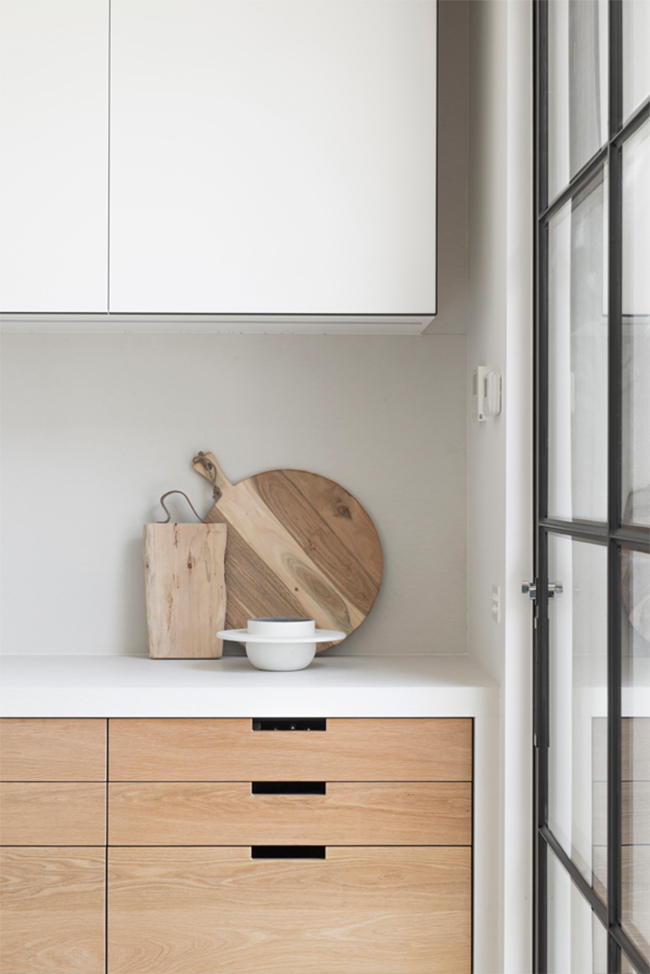 so your first thought might be "wtf you just finished the backyard, why are you starting on the kitchen now?! are you crazy!?" yes. yes i am.
we have a great room (open concept as they would say on property brothers), so the second you walk in the front door, you see the kitchen. so i think i'd also be in less of a rush if the kitchen was tucked away somewhere, hidden behind doors. but it affects the entire great room, which will be 80% greater once it's pretty. it's also a really dark room due to a huge tree in our front yard, so i think the brightness of the new kitchen will brighten up the room tremendously. the kitchen will be our last huge project, so i just want to be done with it.
so here is our kitchen, before we moved in — in all it's horrible glory. these photos were taken prior to painting everything white, to removing the huge light fixture and ceiling fan, and as you can see we demo'd the upper cabinets above the sink prior to even moving in.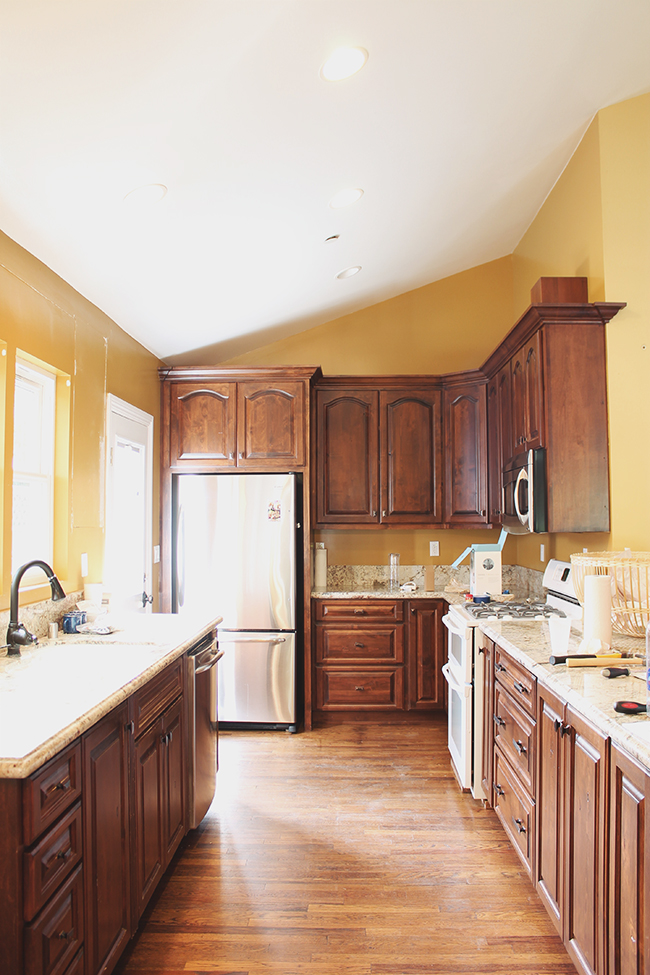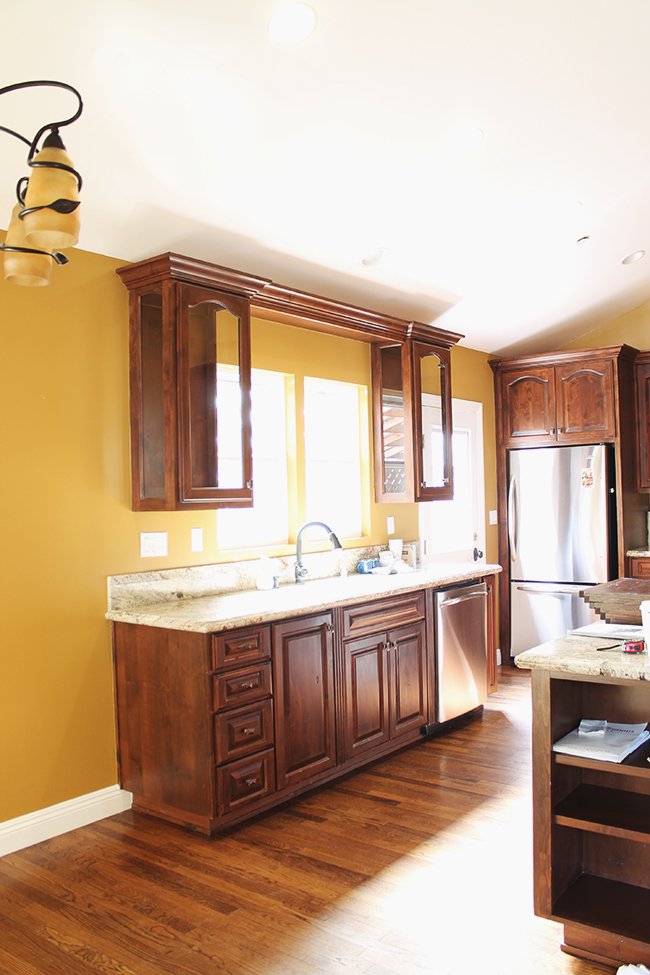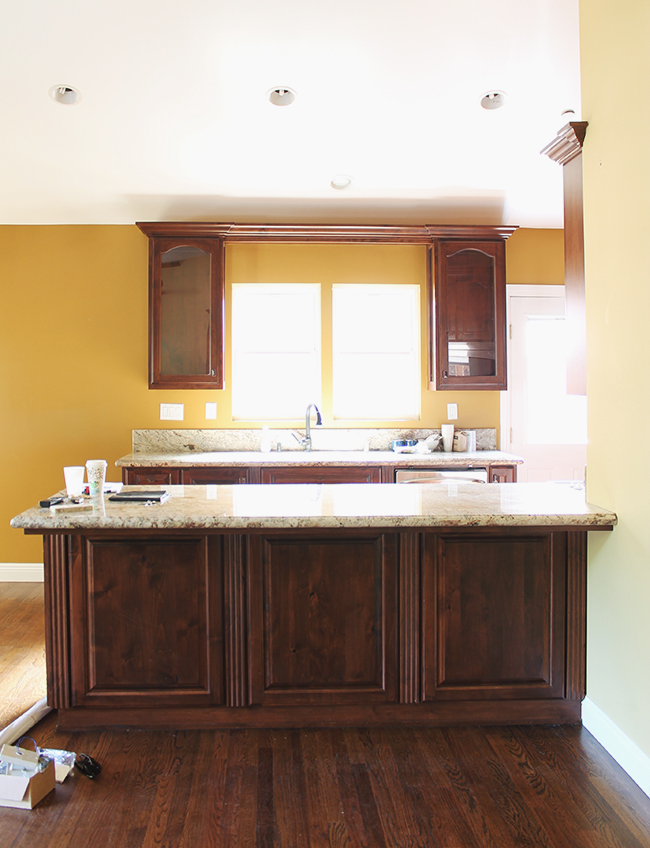 cuuuuuute? as you can tell, the kitchen literally couldn't be less my style.
the process has been pretty stressful so far and we haven't even begun, but it's really hard to figure out every step and every detail when you've never done anything like this before. just like i struggled and learned a lot during the backyard, there has been a lot of googling "how to source this", or "how much should that cost", or even actually signing up for a consumer reports account.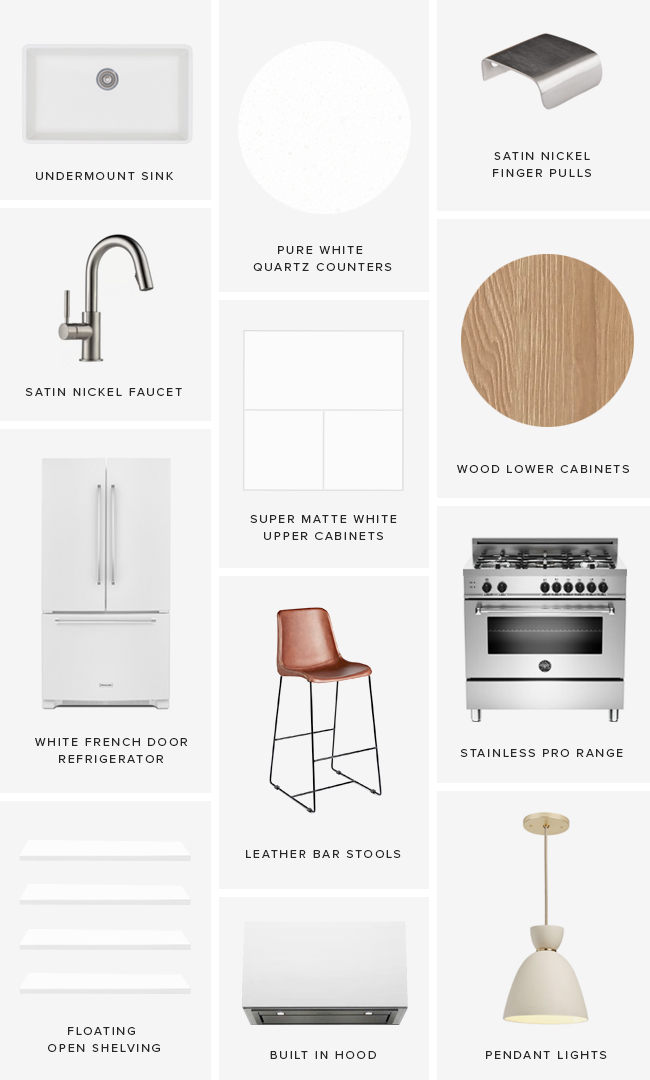 what we're planning
cabinets
we weren't sure for a while what to do for our cabinets, but ended up feeling ikea was the best for us. i've never actually had a drawer organizer that properly fit inside the drawer — so i was super excited about all the ergonomics and organizing accessories they offered. we're customizing them ours with semi handmade doors and drawer fronts. we're doing matte white upper cabinets and wood lower cabinets. at first i wanted to do all white, but we decided ultimately this combo would be more visually interesting.
appliances
we're replacing literally all our appliances, we got a gorgeous bertazonni range which wasn't the cheapest option – but i have always dreamt of a pro style range, and i feel like it makes a kitchen. i only wish we could have changed the footprint of the kitchen a bit to highlight it more — but we ultimately decided to keep everything where it is. we got the rest of our appliances on super sale on july 4th, like that white fridge which makes me drooooool. and it filters ice, which is a huge deal when you live in the valley and your ice tastes like butt.
also, we decided to do a built-in hood after hashing out what to do about range hoods with high ceilings — we're just going to build a panel to match our upper cabinets and hopefully have no issues with that.
floating shelves
the upper cabinets we already removed above the sink will be replaced by some floating shelves. the only thing is that they'll be totally uneven, the right side will be much longer than the left. think that'll look ok?
countertops
we're planning pure white counters (caesarstone maybe?), which will for sure brighten up the room and be so photogenic, hopefully. also planning a waterfall on the edge which i've always dreamt about.
other things
even though i originally had my heart set on a matte black faucet, we decided to go a little less hip and do satin nickel — this way it'll match the stainless appliances better as well as the door hardware. so i think we're gonna stick with that for simple hardware as well.
---
SOURCES
sink / hardware / faucet / fridge / bar stool / pendant light
---
that's basically all i know right now. the reno is scheduled to start in like two weeks! so excited. any advice? any thoughts? kisses!