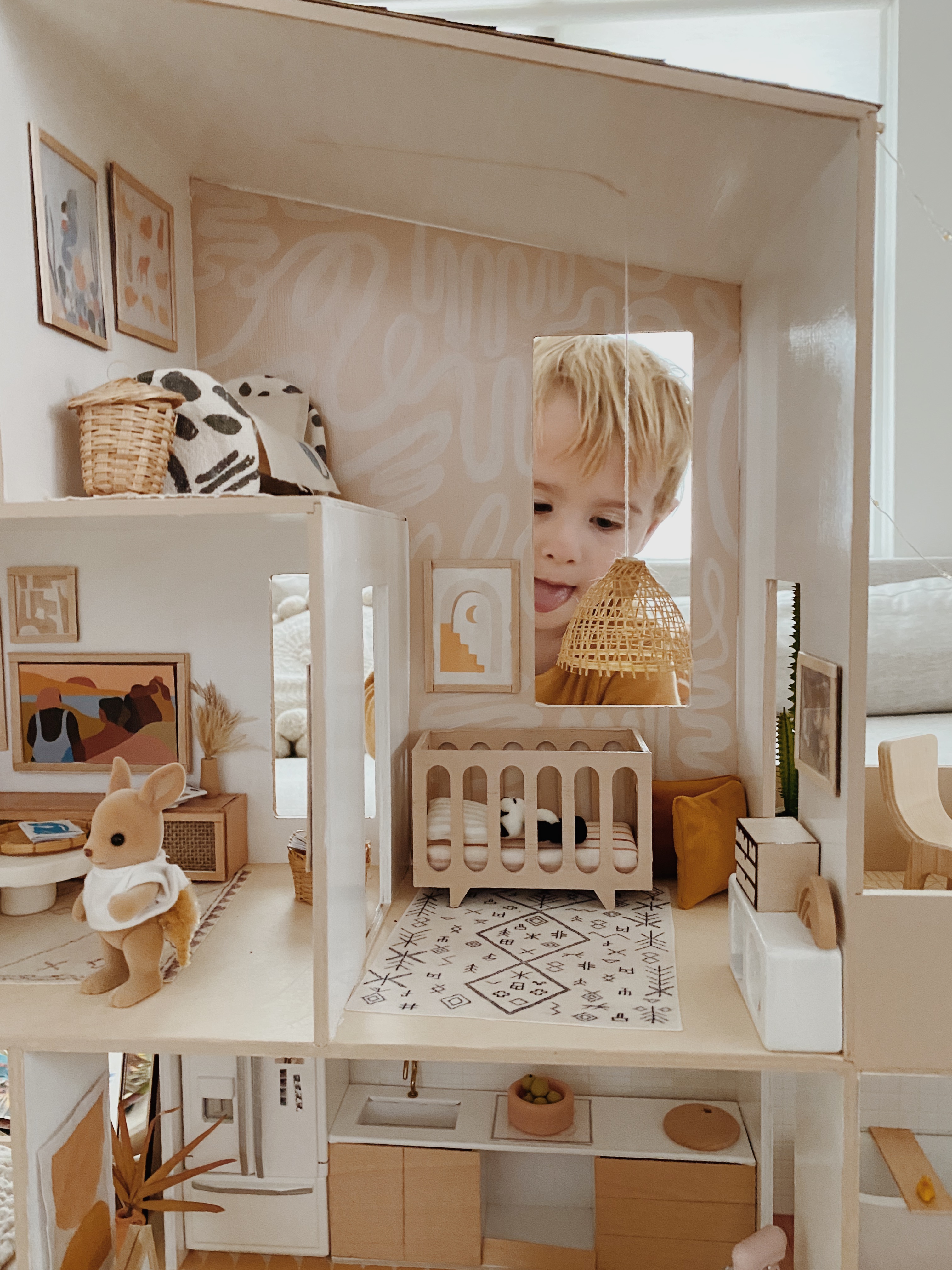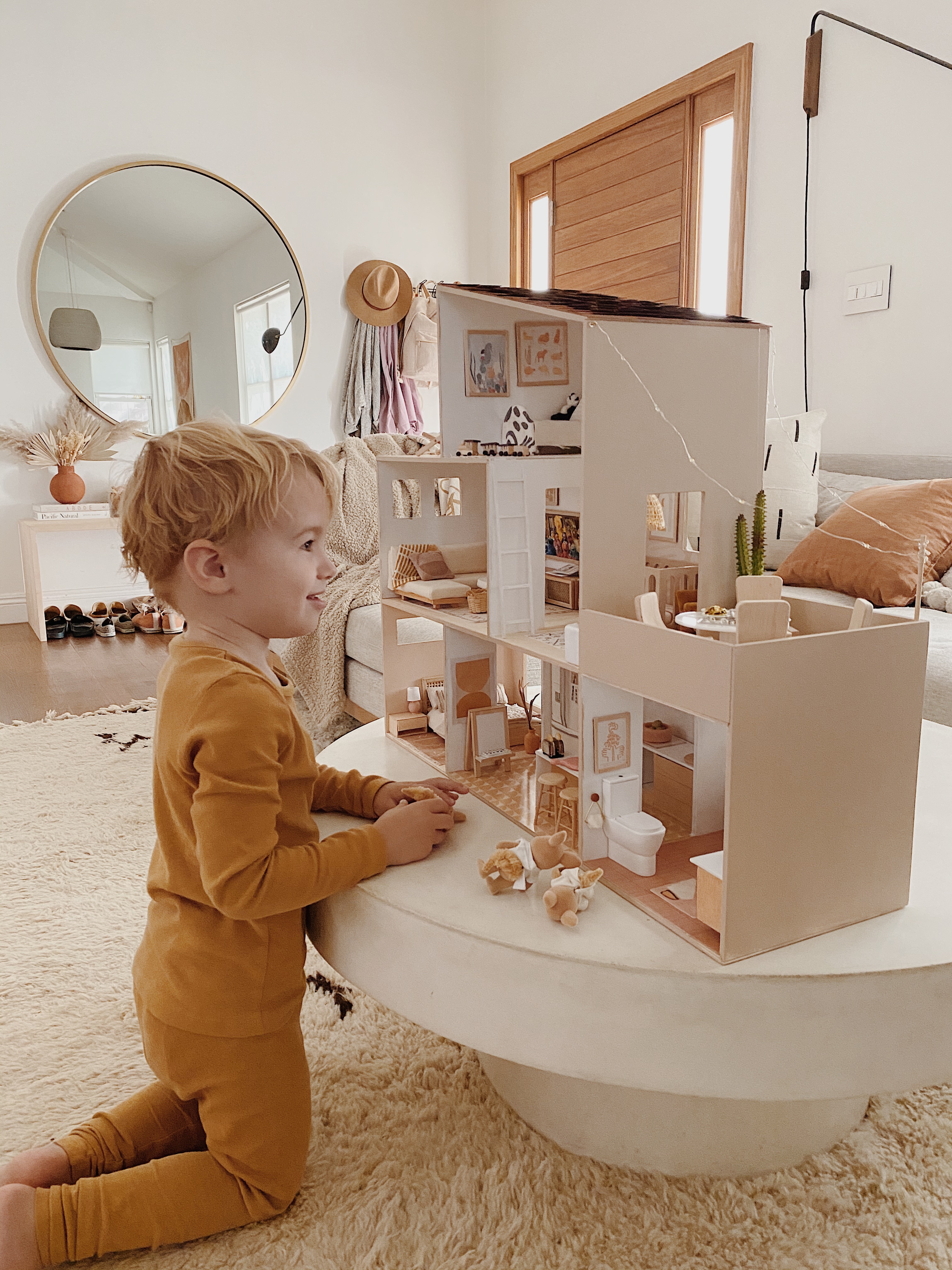 i don't want to burst your bubble– i'm not going to be doing a massive tour YET, instead i've decided to do room by room so i can really explain and link everything thoroughly. so stay tuned for the first room tour. and i just did an IGtv video walkthrough which you can see here.
but in the meantime, for those that need an introduction, i decided to do a dollhouse for arlo's 3rd birthday! i wish i had decided a little sooner than a month out but i was able to finish pretty much in time for the big reveal. it was really stressful for a bit there because i was keeping it a surprise, so i was pretty much only working on it during naps and when he'd go to bed, but somehow i finished!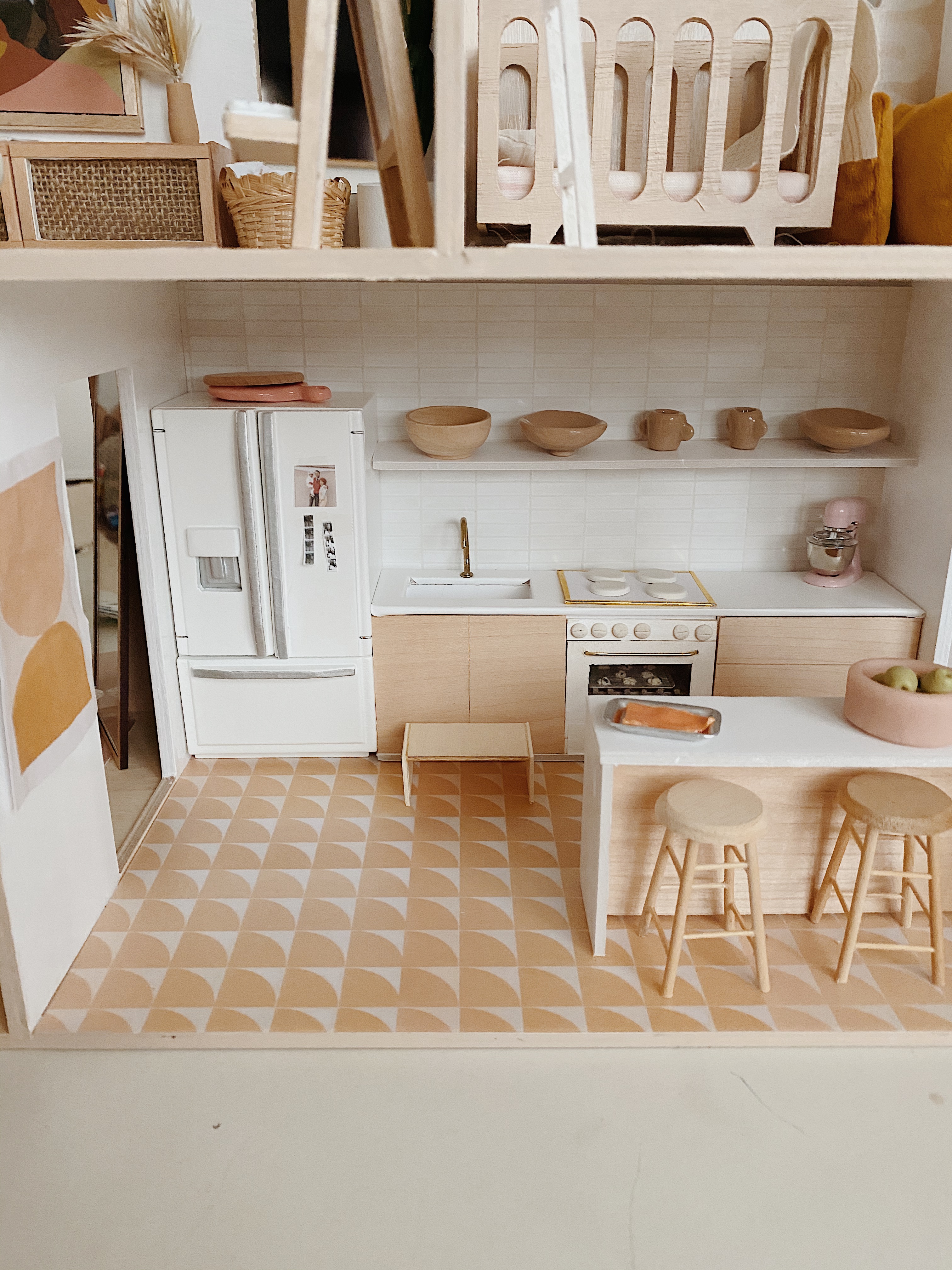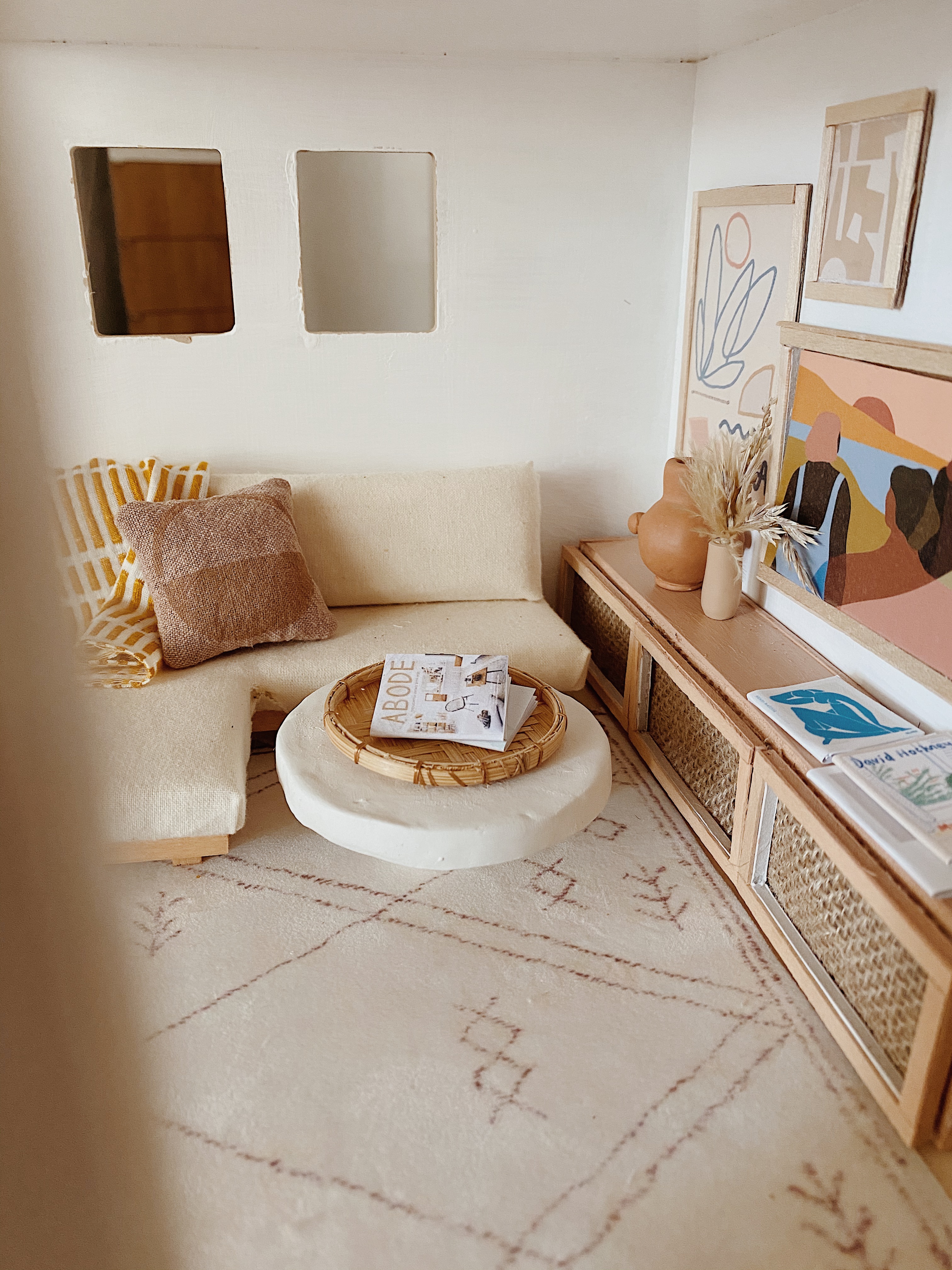 this is the house i purchased. it seemed to be normal 1:12 dollhouse scale but i noticed very quickly that standard dollhouse furniture didn't seem to look right and that the rooms were all pretty small. sooo i decided to just make almost all the furniture. there was a lot of learning involved and f**king up and starting over but WOW i've never done any project that was so gratifying.  there is something about miniatures that is SO SATISFYING. the fact that i can fully renovate a kitchen in a few hours or change out the rug or tile floor in seconds is just the best. i really feel like i found a calling of mine!! i don't think i am particularly great at construction yet, but i definitely would like to do another dollhouse. and because i was in such a rush i didn't get to slow down to really document as much as you'd want me to– so definitely i would like to take it slowly next time!
i got a lot of questions asking if i went to architecture school, how i knew what i was doing, etc. i did go to art school and in our freshman year everyone takes a class called "form & space" but i was actually terrible at it! i still don't have a steady hand and i find it really hard to cut straight lines (even with metal t-squares), but somehow with the small size you can't really tell. i watched a lot of youtube videos (just would search how to make a kitchen, a couch, etc) and i bought a giant box of coffee stirrers. the majority of the furniture is built from foam core and then trimmed out with coffee stirrers! the sofa was actually the second one i built after i spent an entire day on the first one, but just building that one couch was such a giant learning experience for me. then i saved the more challenging stuff like the kitchen until the end when i was a little better with execution.
also it's such a fun quarantine project because it was so nice to keep my hands busy and off my phone. i highly recommend if you need a little escape.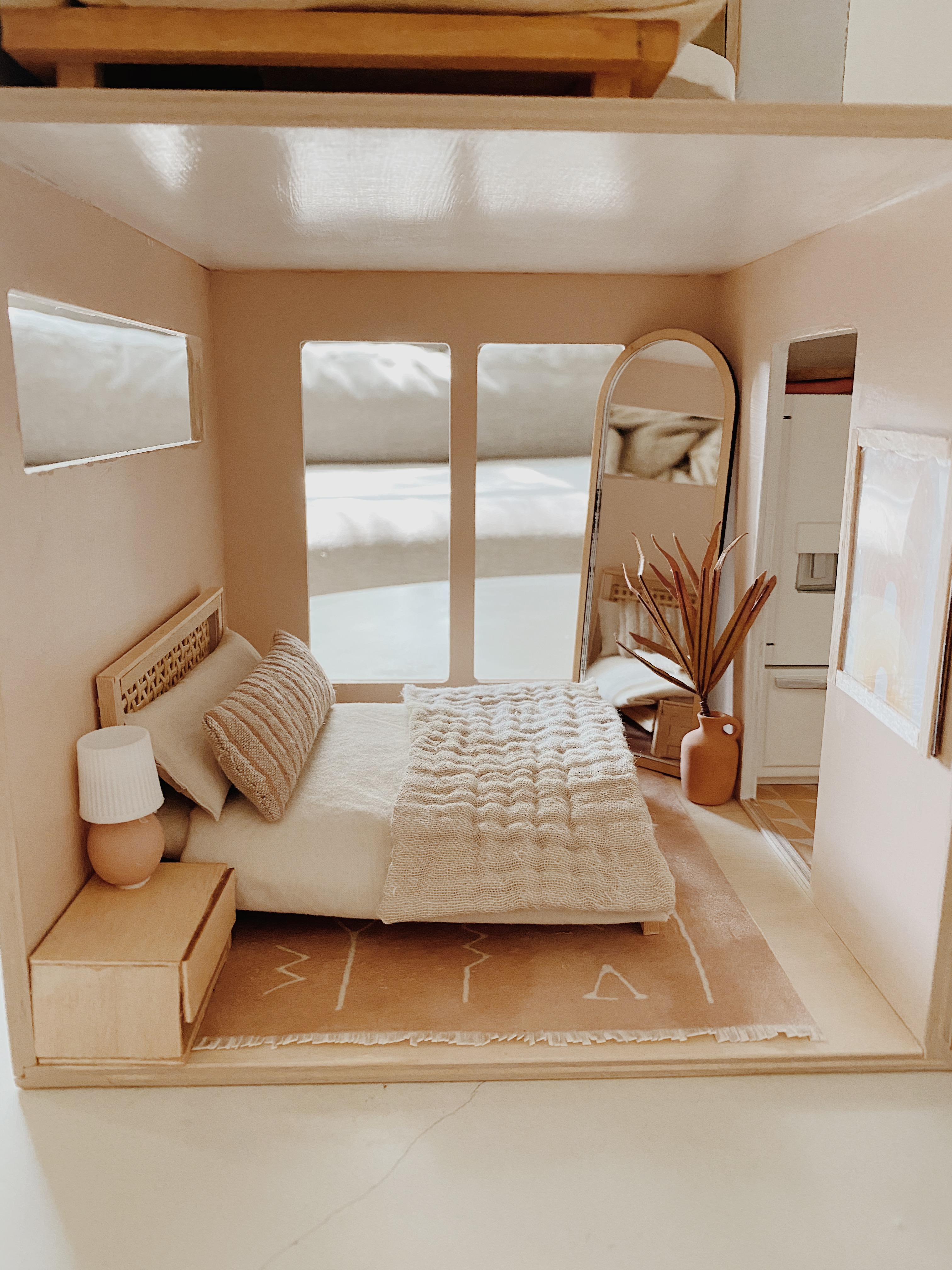 i've ALWAYS dreamt of doing a dollhouse for my child, and tbh there were times i talked myself out of it because arlo was a boy. but i am so glad i trusted my gut and made it for him anyway, he is obsessed with it and we play with it daily. and i got so many messages from straight men who said they were so happy to watch this progress and let them vicariously live out their dollhouse desires they never were able to.
and if you missed all the progress — i shared tons of IG stories here:
dollhouse highlight pt 1 / dollhouse highlight pt 2

---
sources
if you want sources for furniture, i made most of it but will link everything thats for sale on the future posts!