our dollhouse : living room tour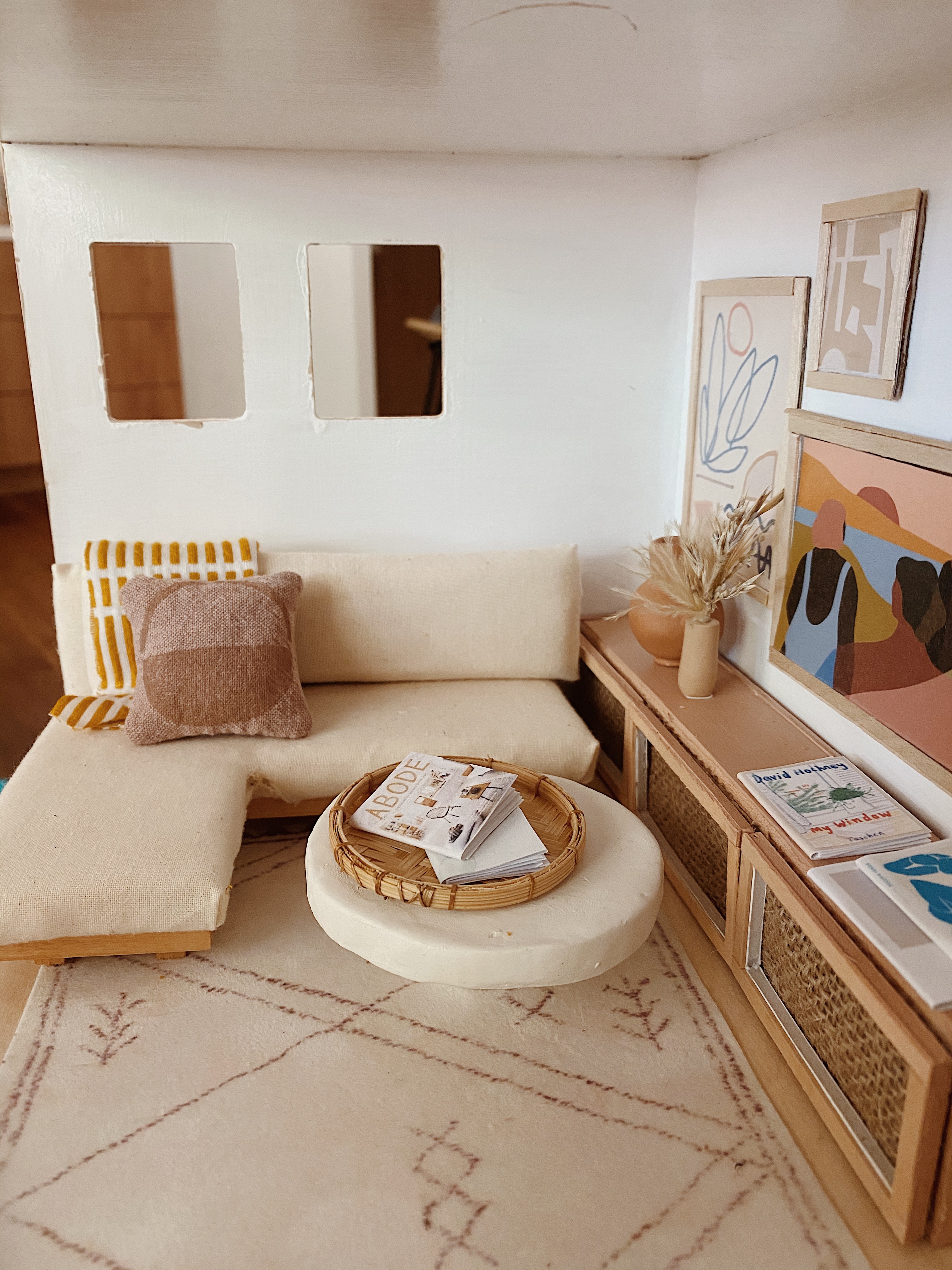 woo! sorry for the delay, but the day has finally come that i'm going to start sharing dollhouse room tours! i decided to do it room by room because otherwise i'll be too overwhelmed. so first up is the living room! one of the first rooms i finished, but honestly i want to do more to it. i planned on making a lounge chair but just kept pushing it further and further down my to-do list until i skipped it. i also really want to make a wall sconce for over the couch but it never happened. and now that i have a second house to work on, i probably won't get to those things but the room is cute as is!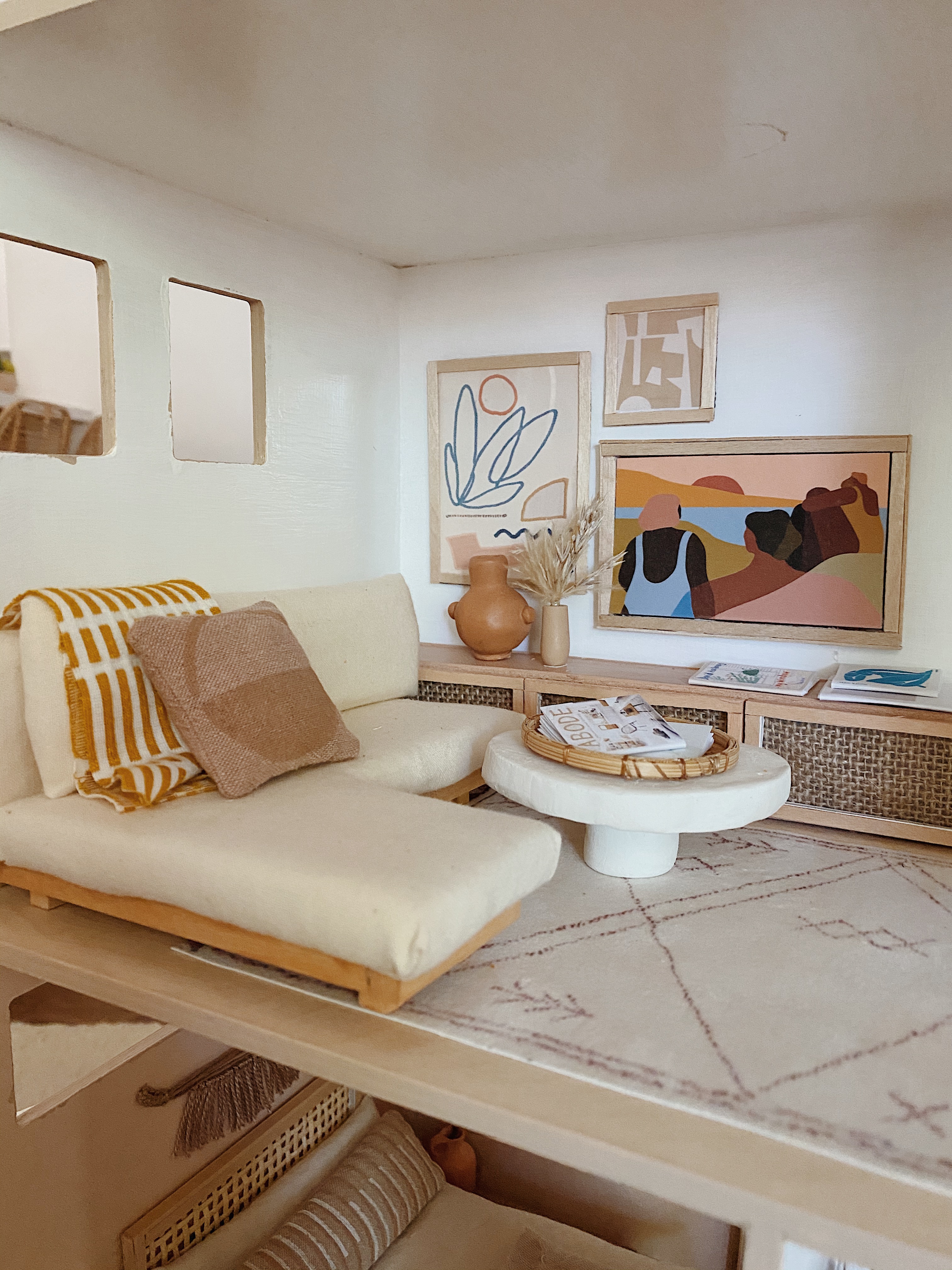 the sofa
because the rooms in this house are on the small scale, the first sofa i made in true 1:12 scale felt enormous and although i really didn't want to build a second sofa the day after i spent all day on the first one, i am so glad i did! i learned so much from building that first sofa and the second one turned out so much better and so much more style.
i used foam core, and then wrapped with cotton batting before upholstering with fabric from a shoe bag. for the base, i used wooden dowels which i painted with a light wash of brown paint and water. this is the video that i watched for the first couch i made, and even if you wanted to do a different design than this, its really helpful just for the fundamentals of construction. instead of making a bottom cushion, i decided to keep it lower profile and just add a back cushion only.
i am so happy with how it turned out!! the only real visible mistake is the tiny little corner that i tried soooo hard to avoid doing wrong but i guess next time haha.
the coffee table
for the coffee table i just mimicked our real coffee table with air dry clay. it is pretty wonky and definitely has good angles and bad ones, but overall it came out cute. i did it after i constructed the sofa so that i was able to make it the perfect size to fit!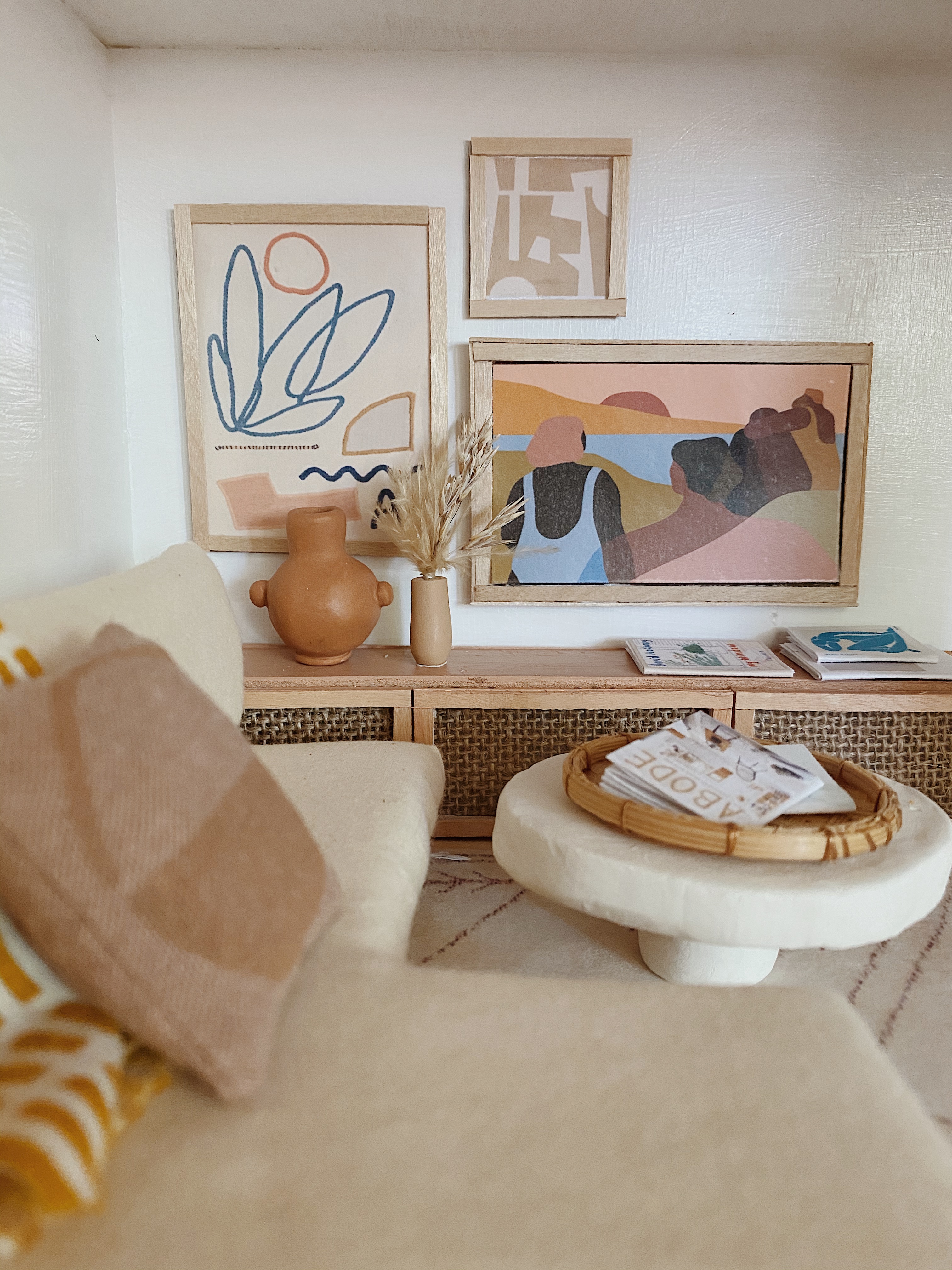 the credenza
for the media cabinet, i built the base with foam core. i really like working with foam core more than balsa wood because its so much easier for me to cut easily with an xacto. i made three cabinet doors that i lined with coffee stirrers, and then cut out the centers and covered with burlap for a faux-cane type look.

the rug
for all the rugs in the house, i just found rugs i love like this one and printed onto velvet paper (i got the coconut color)! so easy and so inexpensive for decorating the entire house! i was able to just print on my regular printer. i just measured the space and scaled the image down to that size in photoshop to print, then cut out (some of the rugs i added a fringe but this one i left plain).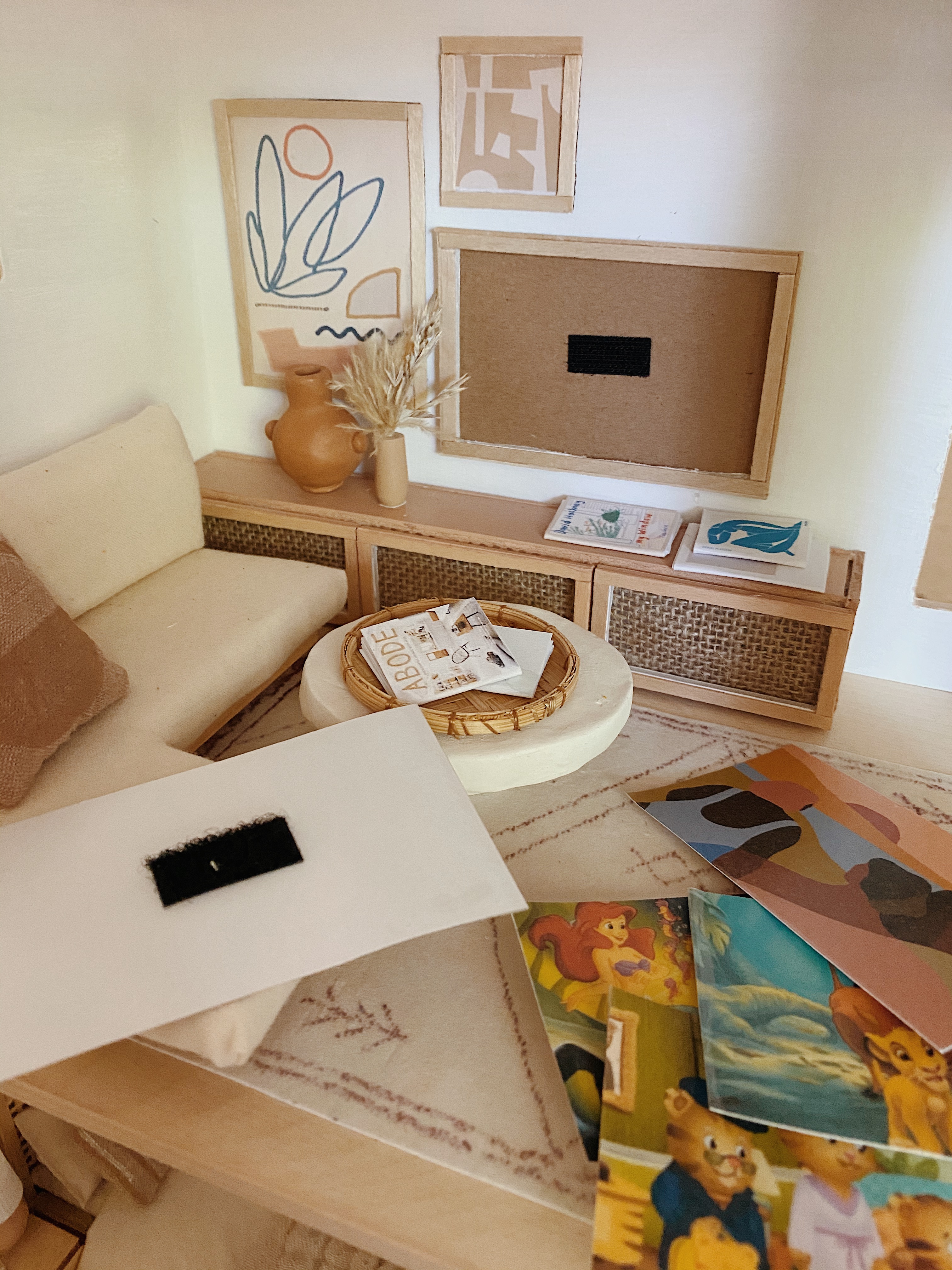 the tv
for the TV, i wanted it to be like ours with the art mode but also have some shows and movies arlo loves to swap out. i created the tv with cardboard and coffee stirrers and then measured and printed out a bunch of shows to fit inside. i wrapped each one in contact paper on both sides, and added velcro on them. this was totally worth doing, he loves being able to put different things on to watch and have us all cuddle on the couch!!
the gallery wall
for the rest of the art in the house, i made them all with a piece of cardboard as the backing, a printed out piece of art and then added a small piece of plastic to the top to be the glass (i just collected from random packaging we had). then trimmed with the coffee stirrers. to hang the art i used a dot of hot glue.
books
i became obsessed with making teeny tiny books, i made a bunch of arlos favorite books for his room and then some fun grownup coffee table books for here. i just scaled the covers way down in photoshop and then printed them with a back cover, cut them out and used a long piece of scrap paper folded up accordion style inside, added glue along the edge and clamped to dry. these take less than 2 minutes to make so they were so SATISFYING!!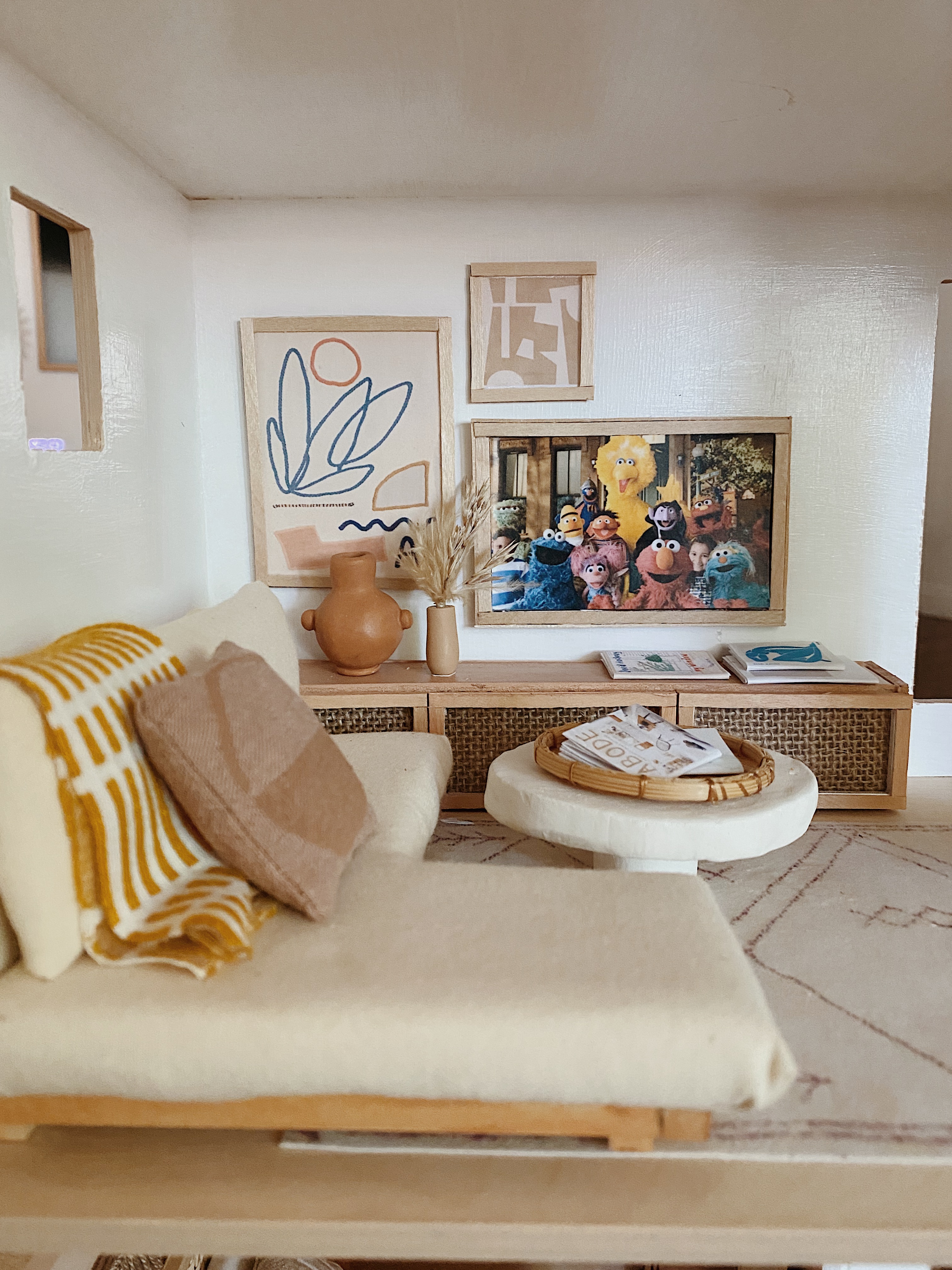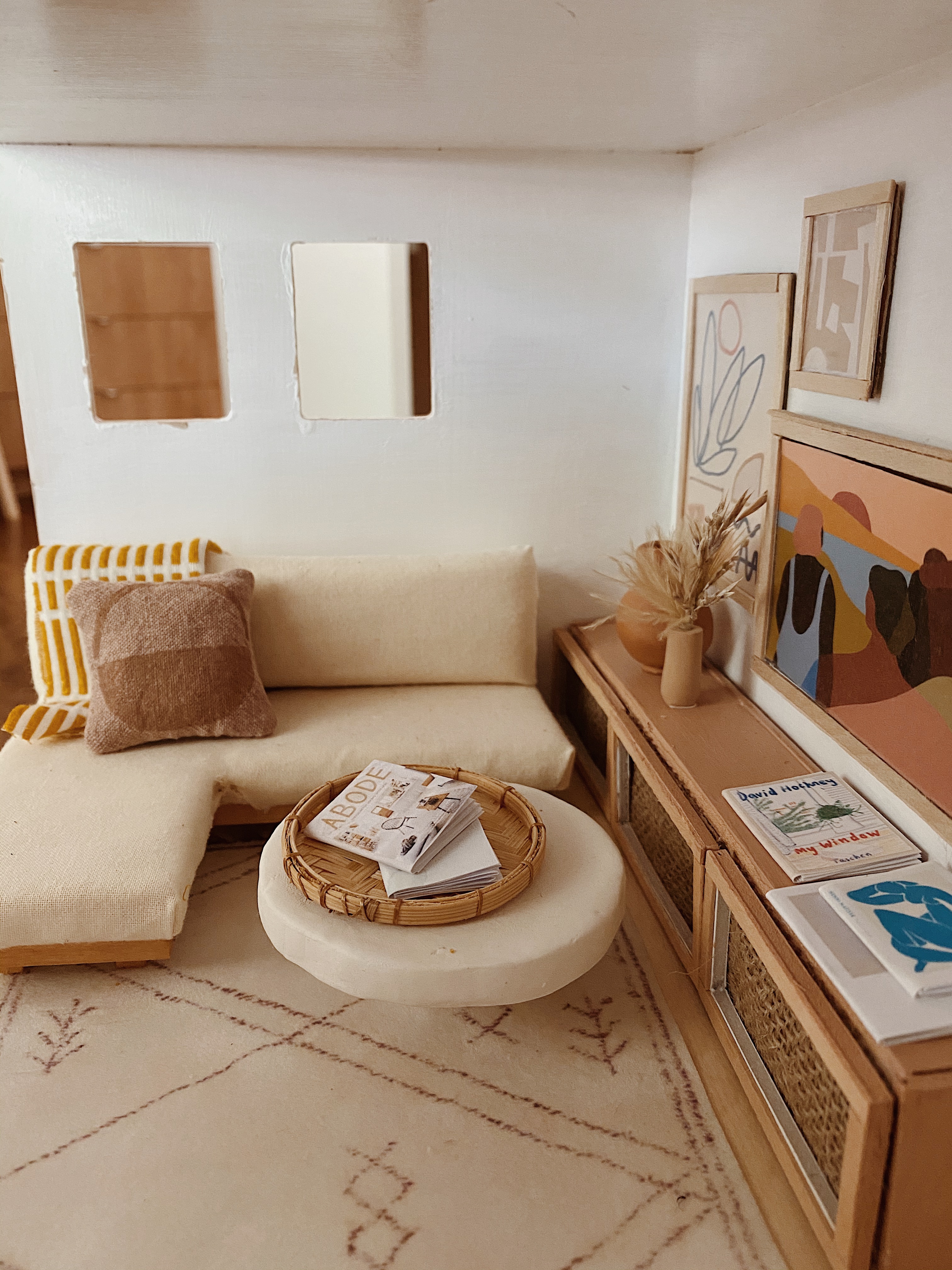 sources