how we babyproofed our house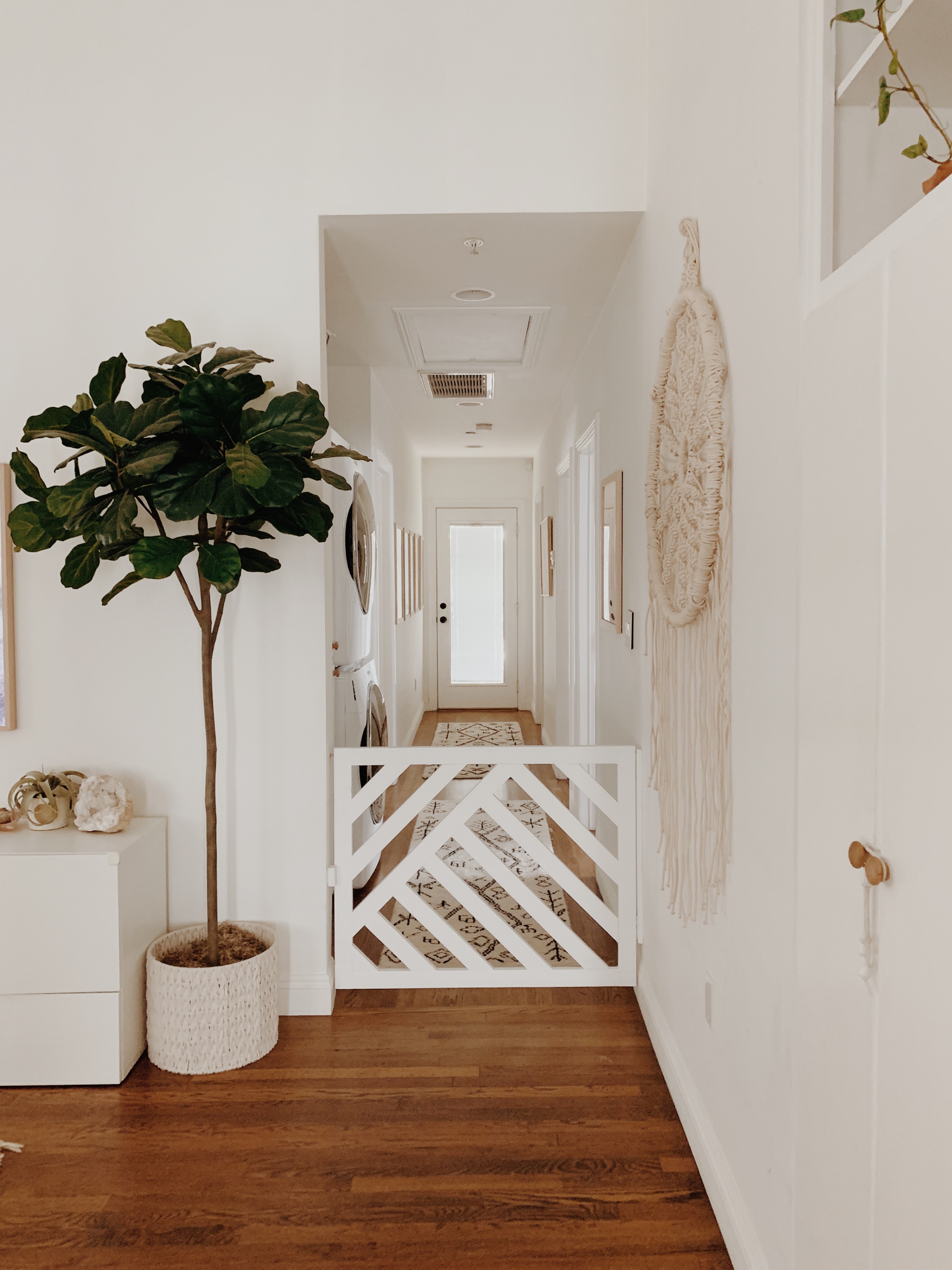 such a long time coming, i've been meaning to do this post for about a year and i get asked about it regularly. SORRY! we actually didn't throughly go through the whole house at one time on a baby proofing extravaganza, and as time goes by we might still sometimes decide a cabinet needs to be baby-proofed, etc.
we've left certain cabinets and drawers unprotected, because arlo enjoys going through them. now they're certainly not even close to organized like they once were before arlo, but i also don't mind him playing with certain drawers because if it means he'll stay in there and be occupied while i do my makeup in the bathroom or cook dinner, fine by me.
this post has become less relevant now that arlo is more of a capable toddler and less of a baby, but thought i would still share for those of you baby-proofing now!
also, every kid is different. if arlo was climbing on every piece of furniture in the house, or sticking everything he found in his mouth– we might be more adamant about specific safety precautions, so this is just what worked for us!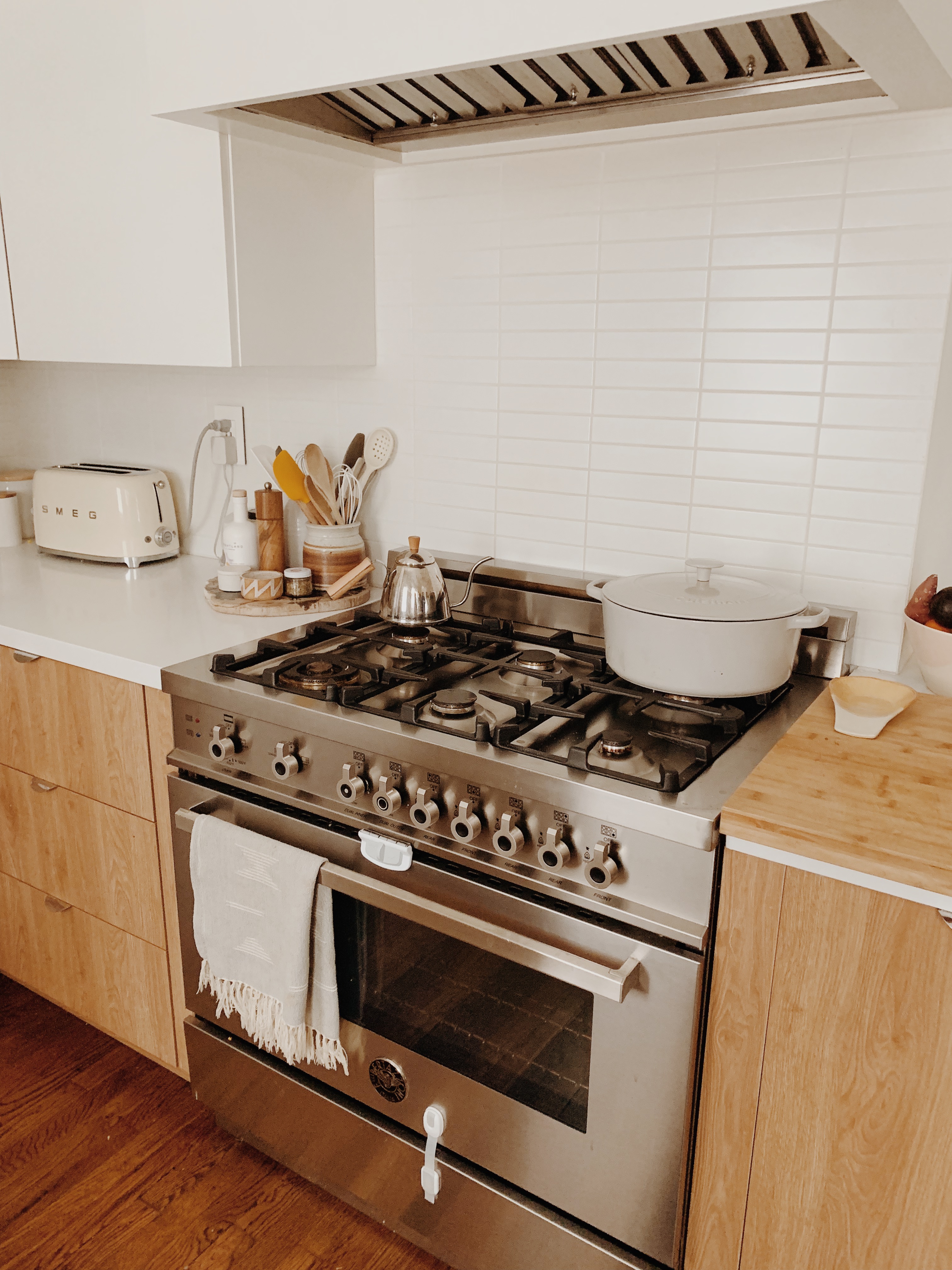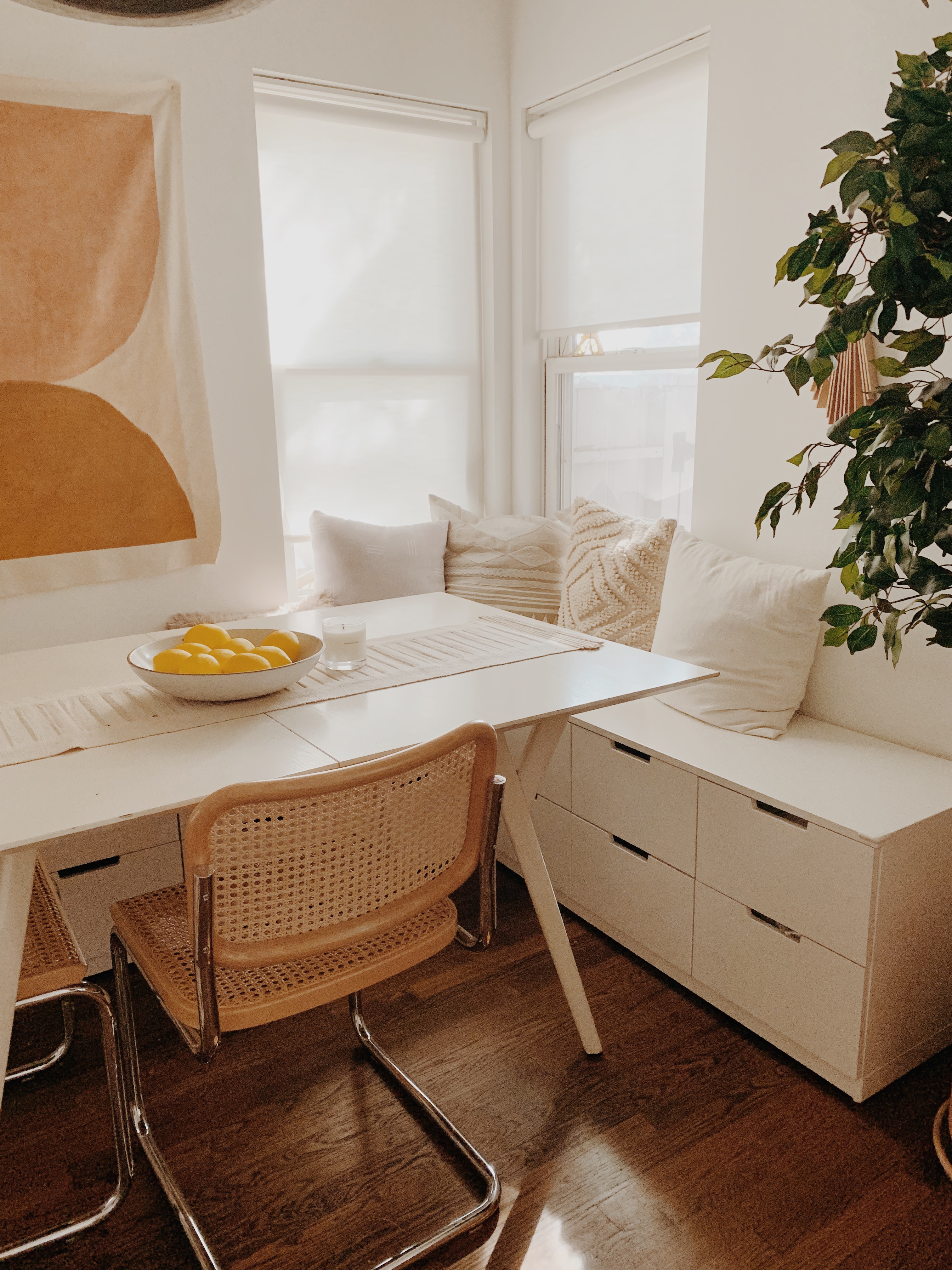 the kitchen & dining nook
the oven
right before arlo's birthday party he put his finger under the oven (for some reason our range has an accessible little gap perfect for tiny fingers) and burned his cute little fingers. so we immediately got a lock for the bottom broiler area (which actually wouldn't stop him from doing that again, but he seems to have learned his lesson) and another lock for the oven door itself. that thing has been a pain to open and close the oven door but worth it.
under the kitchen sink cabinet
obviously you need to lock up wherever you keep your cleaning supplies, we keep them below the kitchen sink and we put these locks on the cabinet doors. they aren't a giant pain to open, you just have to open the cabinet and click down– but they feel really secure. my brother has the magnet kind which they seem to like, but to me that seems like a headache having to account for another part.
reorganizing
for the dining nook drawers, we put anything too fragile or special out of reach for arlo, but for the most part they're all filled with serving stuff that he does have access to. when he was smaller, he definitely opened and messed with the drawers more but he doesn't fit as comfortably under the table these days haha. the outside drawers that are most accessible are filled with table linens mostly!
for kitchen drawers, i let him have access to mostly everything that was safe and reorganized a couple of drawers here and there. i put the tupperware in one of the lowest drawers for him to play with, moved serving platters up higher, kept most of the cooking stuff as is but moved all the glass measuring things up higher for a few months.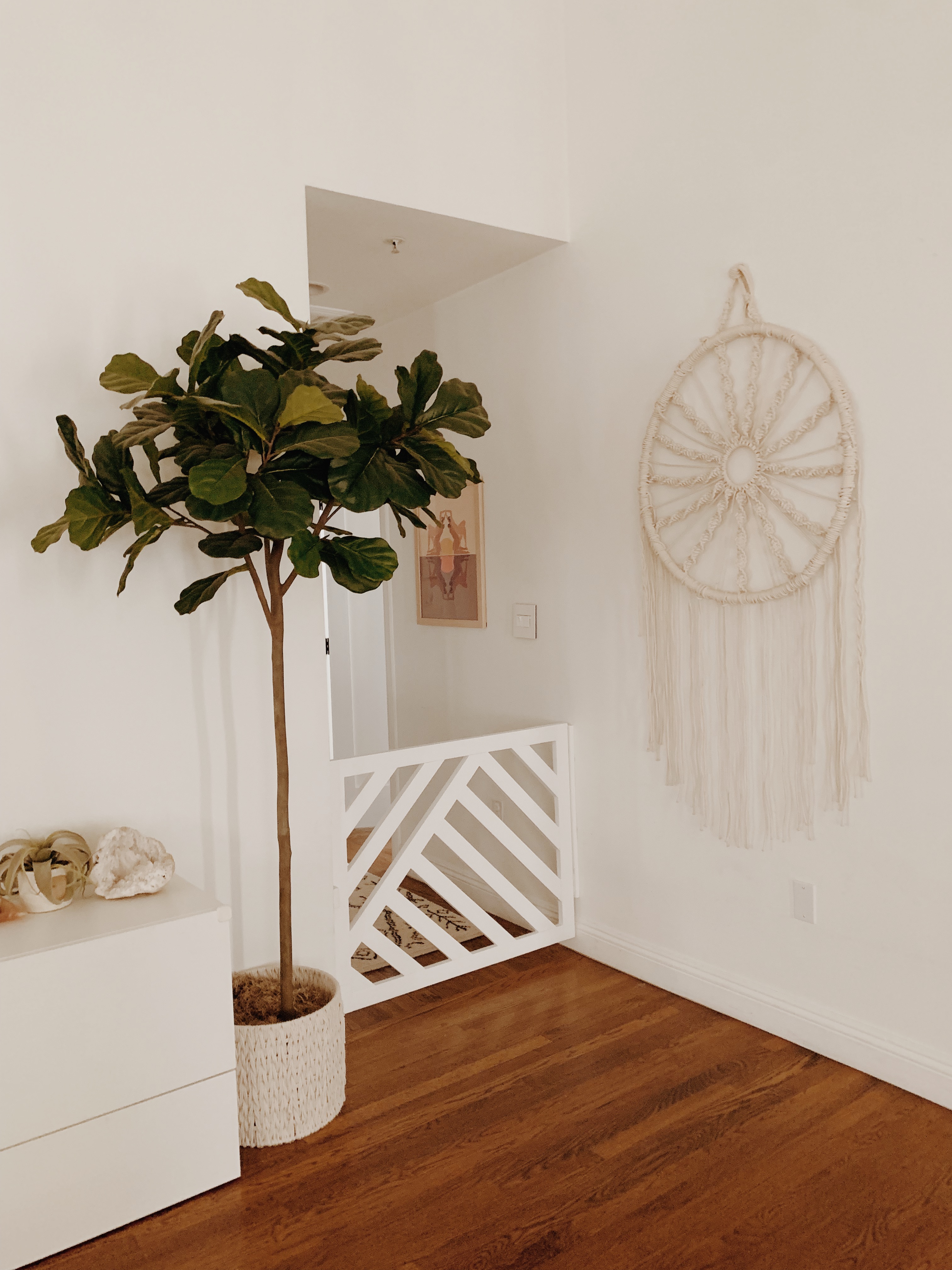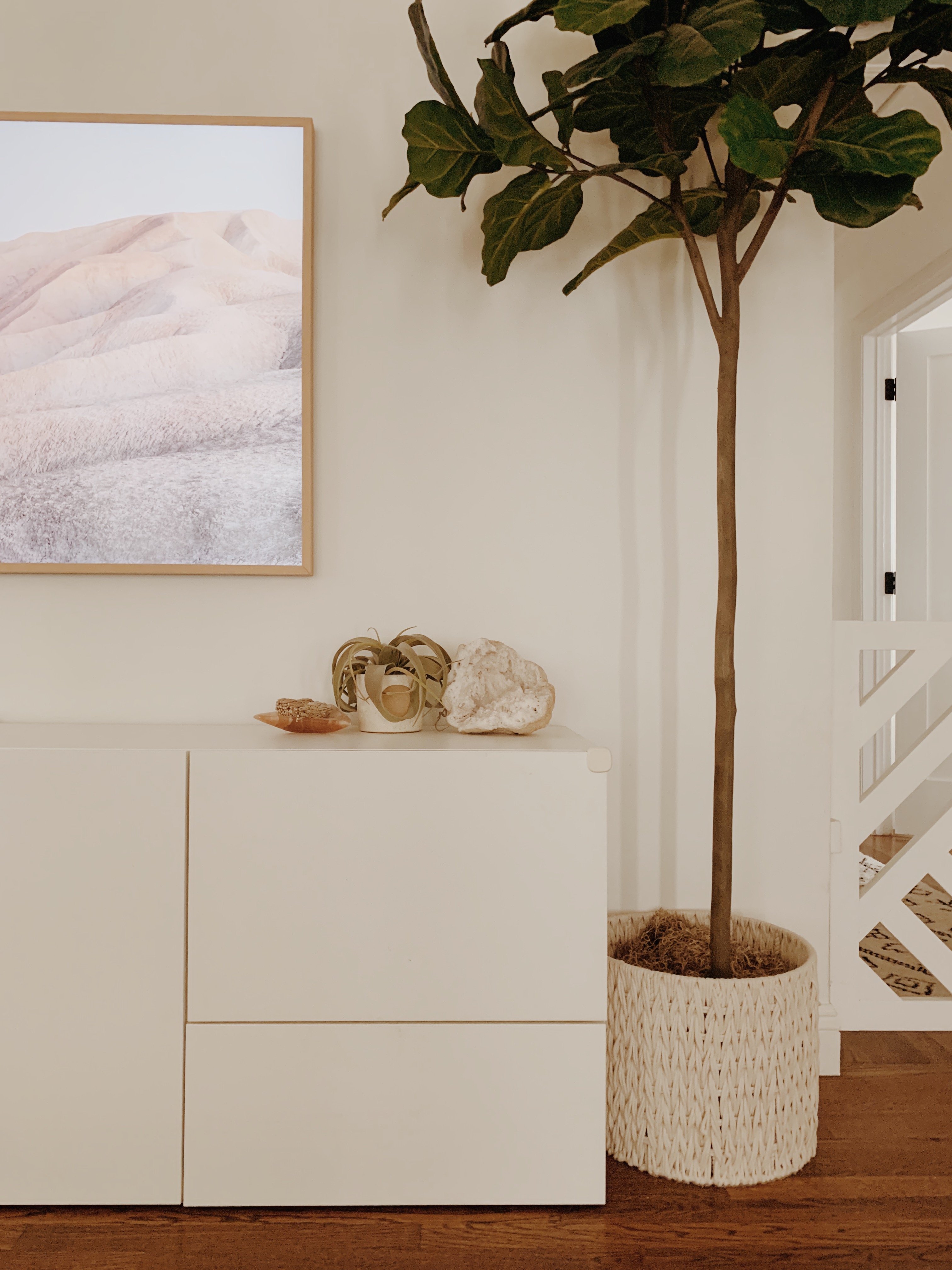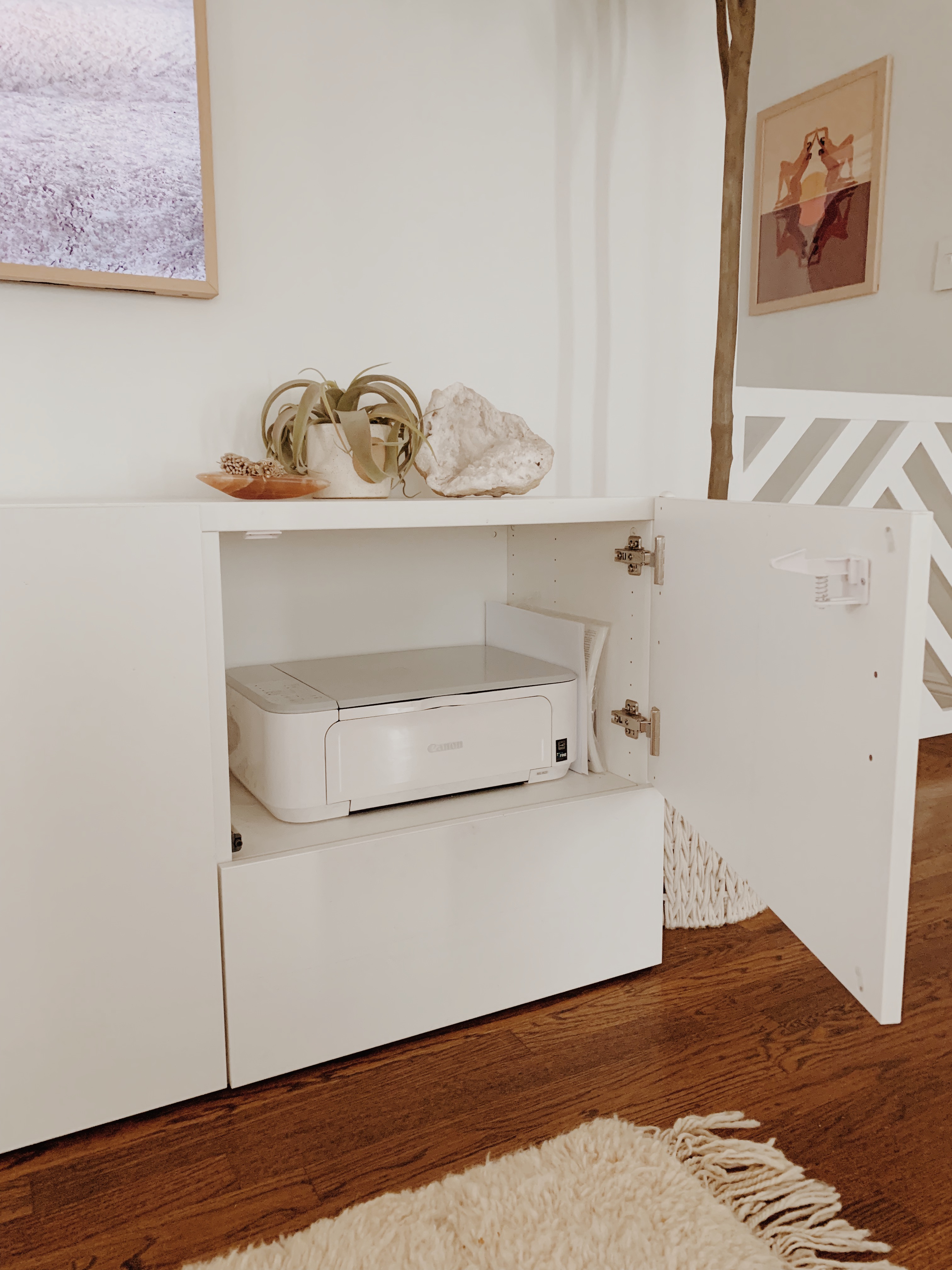 main living areas
media cabinet
we have the cabinets that house our tv equipment locked– here we use the same kitchen cabinet locks, they come in a large pack and you can use them all over the house (gid installed them but based on the lack of complaining, they didn't seem to big a big deal to install). i also keep my printer in one of these cabinets, which i actually don't even use if he's in the room because i don't want him to remember its there hahah– this is a replacement printer after he broke the last one.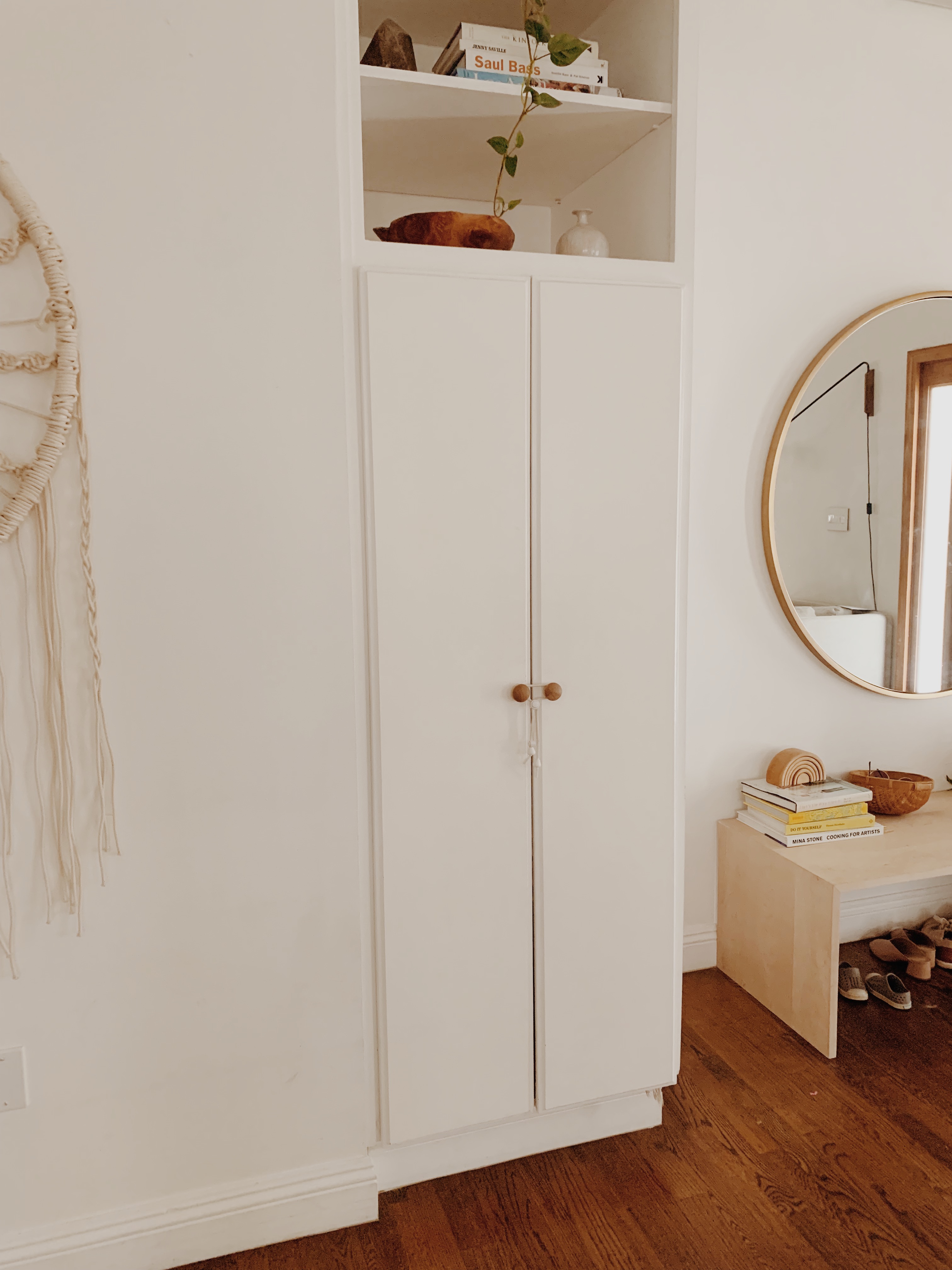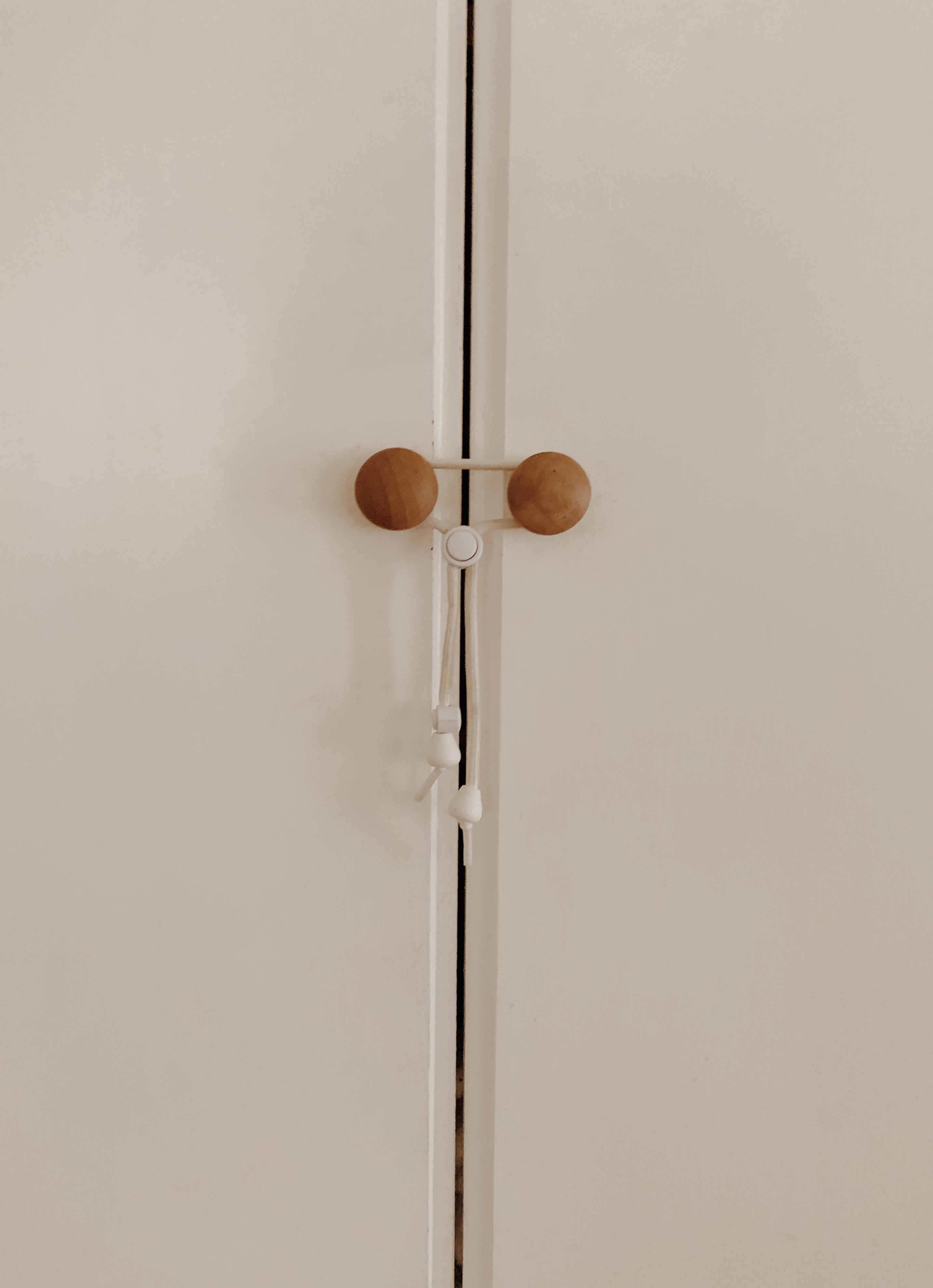 entryway cabinet
we have our large cabinet here with double doors, so we opted to just tie the doorknobs together here with this thing. it's worked well, i like that it's easy to get on and off.
coffee table
we tried putting a rubber bumper along our coffee table edge, but arlo discovered it within an hour and peeled it off immediately. so we scrapped that idea, luckily we do have a round coffee table which seems to be the safest shape you can opt for, but ours is made of a thick stone which is a little scary. he's bonked his head into it a couple of times and gotten some pretty gnarly goose eggs, but it is what it is. if i were really a paranoid peter, i'd probably swap it out for an ottoman for the next couple years, but maybe if there's another baby. my best friend got this one for her new baby and i love it!! (been meaning to do an ottoman roundup post for a while, i'll do it i'll do it)
sharp furniture corners
we put these little corner bumpers on the furniture where it seemed like he'd bump his head more frequently. they're really easy to stick on anywhere, but they leave a gunky residue that you need to clean when you remove them.
furniture mounting
we decided not to mount our TV cabinet because we think it's not tall enough to topple over– but if you do have one that is, here's what we use for our other furniture.
outlets
obviously plugs everywhere at perfect baby height level is scary, we went through the house and stuck these in them.
baby gate
i looked around for a long time for cute baby gate options before realizing they don't really exist, so i had my handyman build one for me. our hallway is straight across from our front door so i didn't want an eyesore, so i designed a modern look for it and i'm really happy i did (although it wasn't cheap, with materials and labor i think i spent over $500 on it which is obviously a much larger investment than buying one for 60 bucks). we actually don't even use it much now that he's older, but we can use it for the next baby too and it looks so pretty!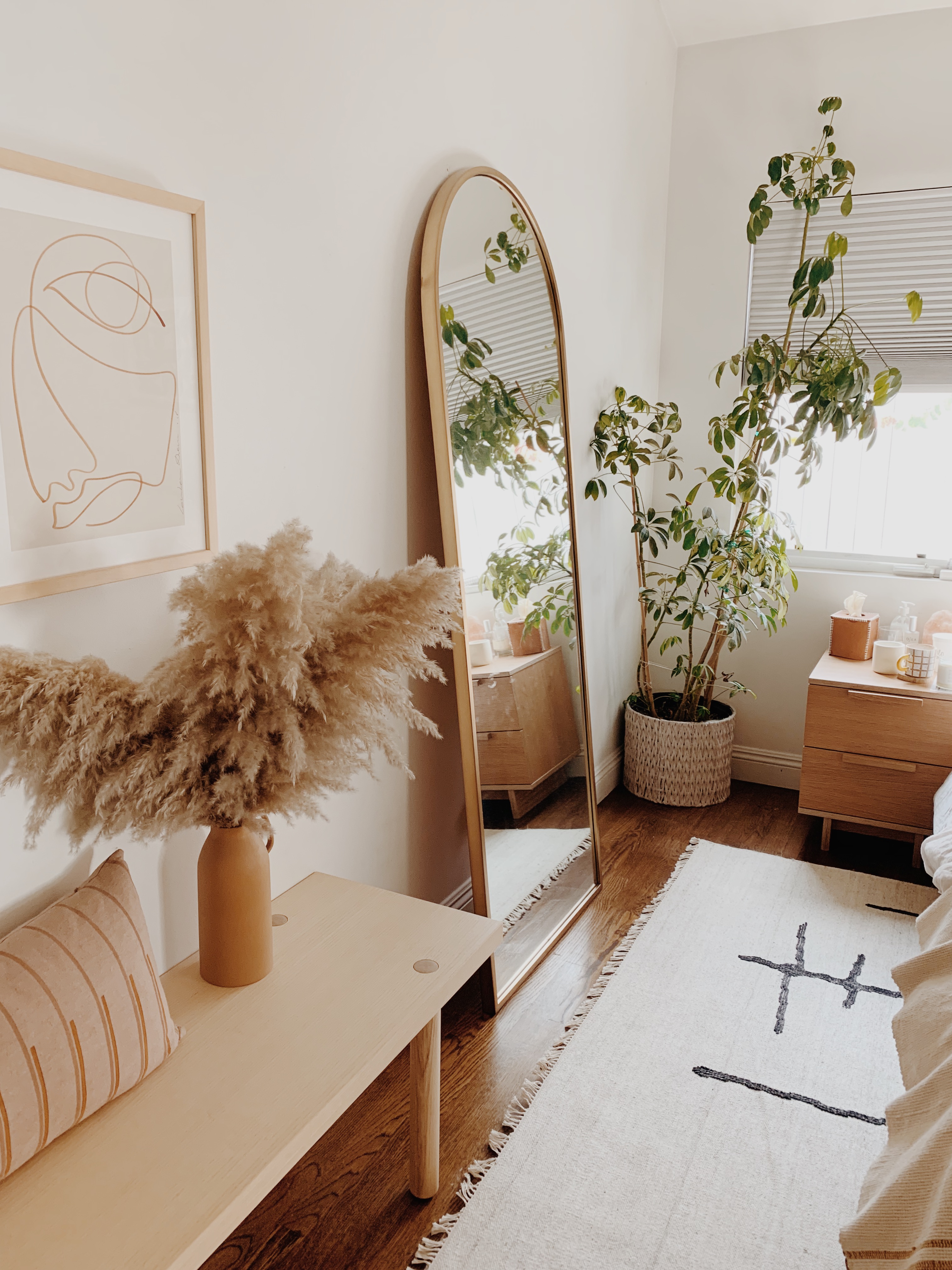 our bedroom
our leaning mirror
while it looks incredible precarious, you can still have a leaning mirror if you mount it to the wall! it does move a little bit when he's messing with it, but it's mounted safely. we used the hardware that came with the mirror, but this one is pretty much the same.
our nightstands
again, our nightstands came with furniture mounts but they are pretty much these same as these ones.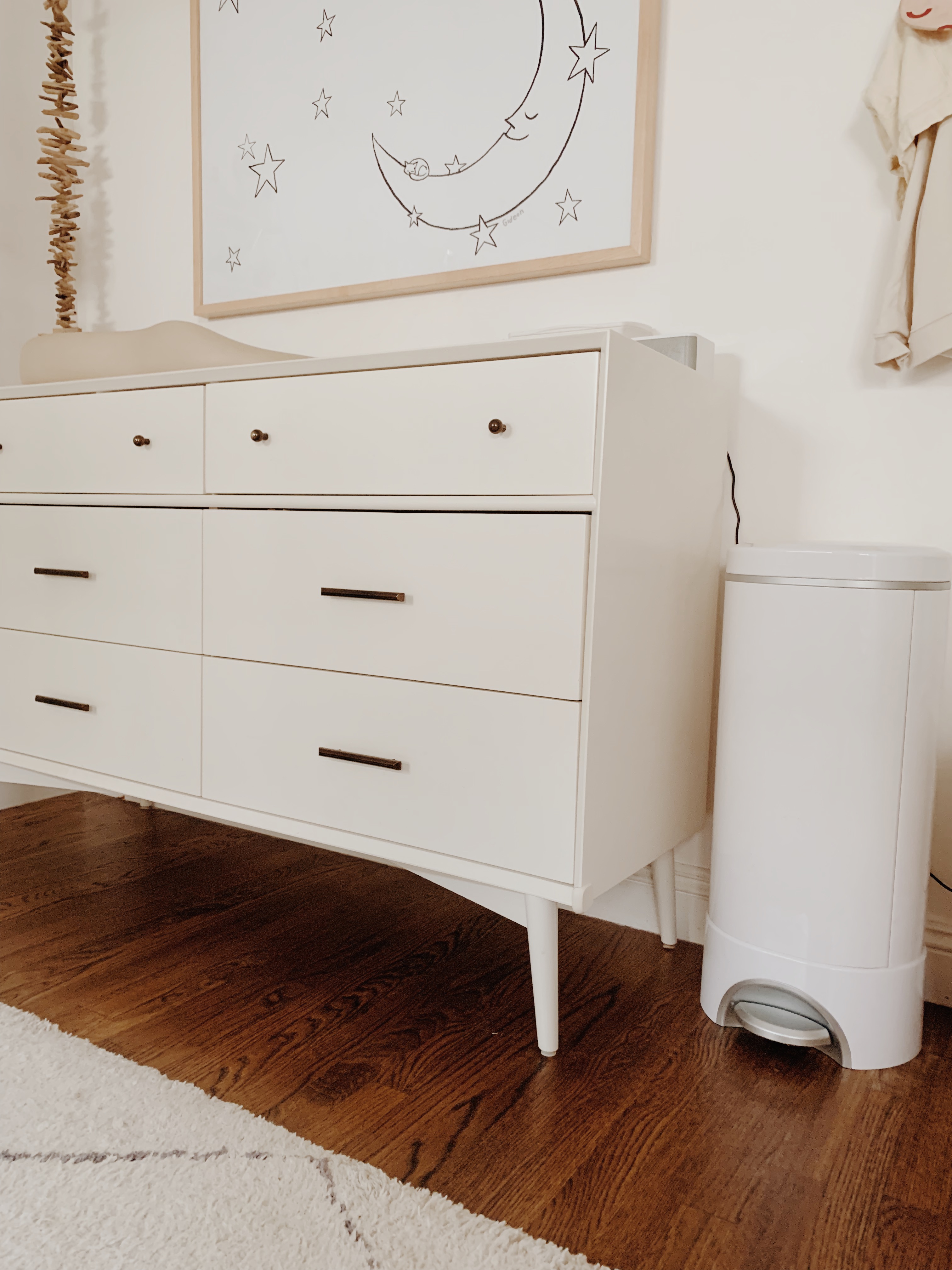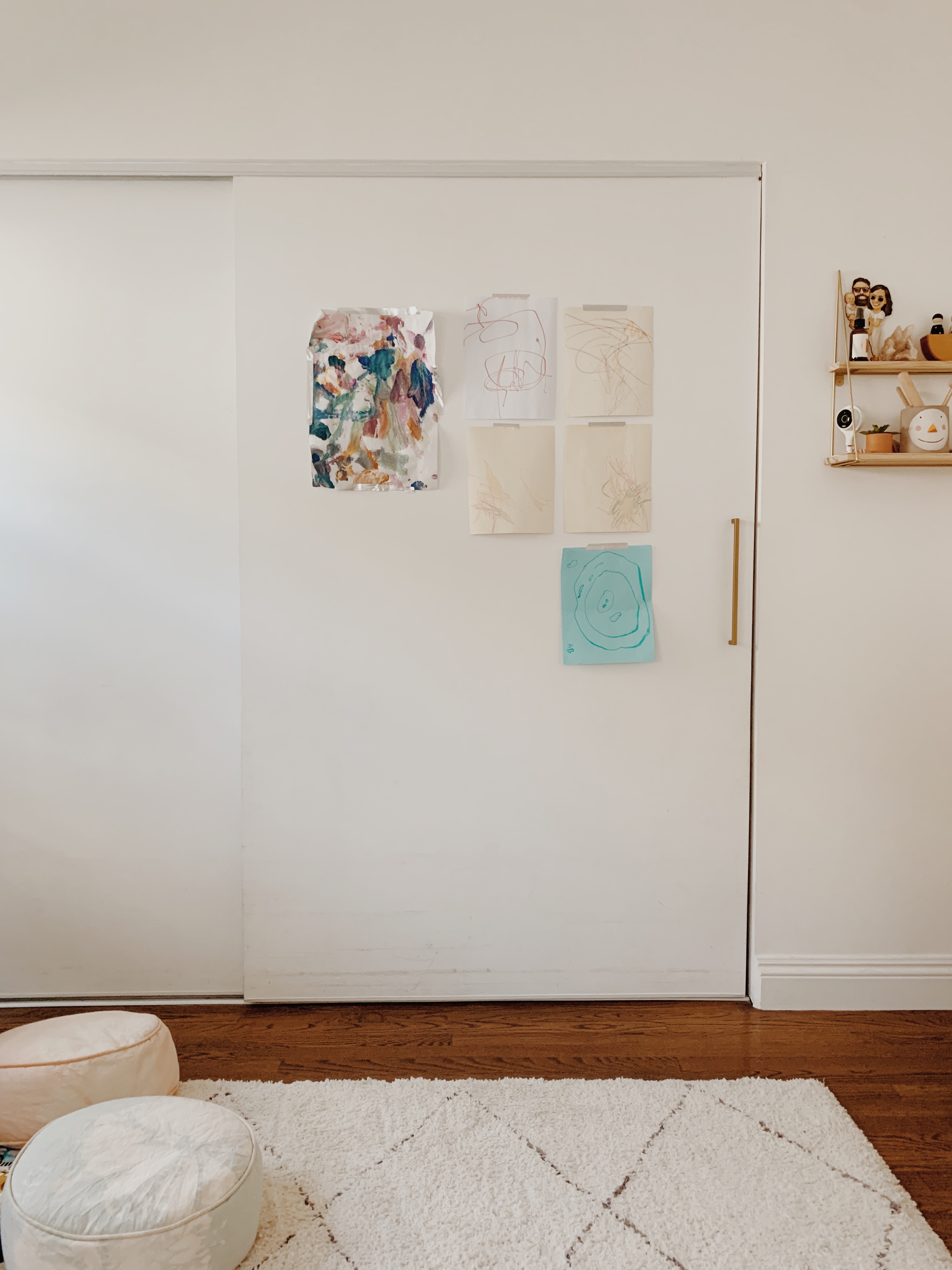 his bedroom
furniture mounting
we mounted arlos dresser with these furniture mounts. and then i put those little corner bumpers on the bottom corners for when he was crawling around.
closet doors
our house came with mirrored closet doors in both smaller bedrooms, we haven't replaced the guest room ones, but we did get worried about the mirrors in the nursery when we were pregnant. the closet width was super large and we struggled to find anything to replace them with that didn't cost a ton, so we decided to just remove the mirrors from the doors and continue to use them. (we had our handyman guy do it) the closet doors feel nice and light without the mirrors too! and i love how they're a big white surface we can display his art on 🙂
window shades
if you aren't using cordless shades, you can use these to hold the cords up out of reach. but we put the window treatments in throughout our house, so we used the same cordless blackout shades in all the bedrooms. we love them.

the bathrooms
general drawer reorganizing
arlo went through a long phase where he'd go through all our bathroom drawers everyday, and destroy a ton of my makeup– but instead of locking the drawers, we mostly just moved things out that could be messed with. when we redid our bathroom, our new vanity requires more strength to open the drawers and doors so he sort of gave up which is great.
furniture mounting
we mounted our tall storage shelf to the wall using the bracket that came with the piece, just a basic corner bracket like this (since the bottom of it is sort of visible, i just painted it white to blend into the wall– but when i went to take a pic i saw how that didn't last long hahah)
toilet safety
so for about 2 weeks arlo started throwing toilet paper rolls into the toilet and i was seriously considering baby proofing the toilets but i reaaaally didn't want to, i actually asked instagram for recommendations but ended up not getting anything and he stopped messing with it luckily! but this one was highly recommended.
---
ok that's all! i hope this helps. there are a million things to baby proof and i'm sure you can go absolutely bonkers with it– there are also so many different types of houses with all sorts of different dangerous elements, we live in a relatively kid safe house. my moms house, for instance, is an old spanish house with hard tile floors, staircases with kid-size gaps in the railings, and 2nd story windows that start at the floor — so obviously if i were baby proofing that house, i'd probably call in an expert and do a lot more lol. but for little our one story house, this was all we needed!