this blog is like sooo about me. so i thought i might mix it up a little!
here is a new column where i'll feature other bloggers i'm into to learn what they're pining over, what their favorite possession is, and their dream destination.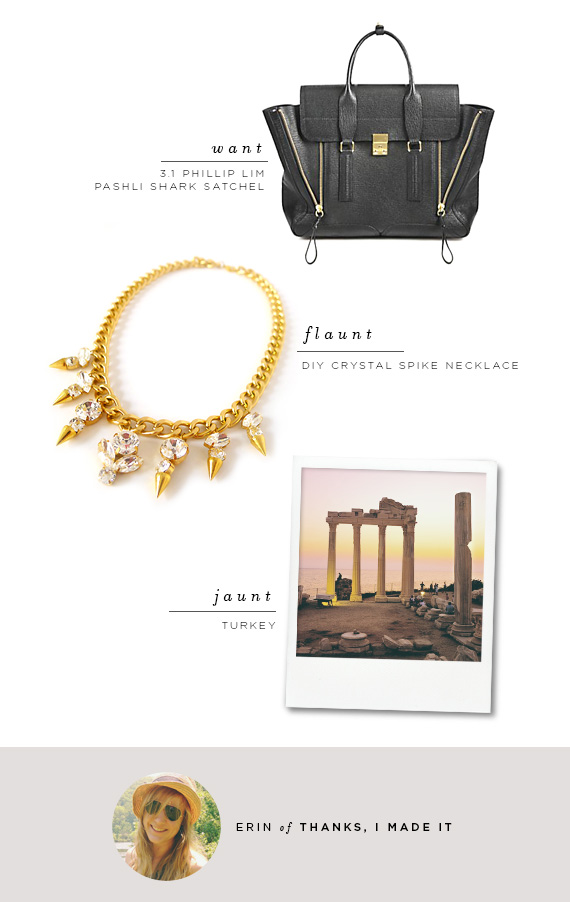 WANT i'm crazy pragmatic about everything i buy (minus the occasional item bought on a whim– hello floral palazzo pants!), so even my dream-ticket item is practical. i'd love to have a gorgeous philip lim pashli satchel. big enough to haul my life around, with enough hardware to keep things interesting, it's my dream bag.
FLAUNT one of my favorite DIYs was this crystal spike necklace. it's so pretty, i wish i had more occasion to wear it.
JAUNT current unrest aside, i've been dying to get to turkey. it seems like an absolute feast for the senses, and i'm especially enchanted by the country's textile traditions. (image via)
~
erin's blog thanks, i made it is full of gorgeous jewelry DIYs that are awe inspiring while feeling accessible. i don't wear a ton of jewelry, she has a perfect balance of glam and simple. some of my favorites are this knotted rope bracelet, this rope and chain braided necklace, this DIY fiona paxton necklace, and these no-sew business card holders. go check them out!
+ erin's blog / twitter / facebook / instagram
thanks erin!