the things great bathrooms are made of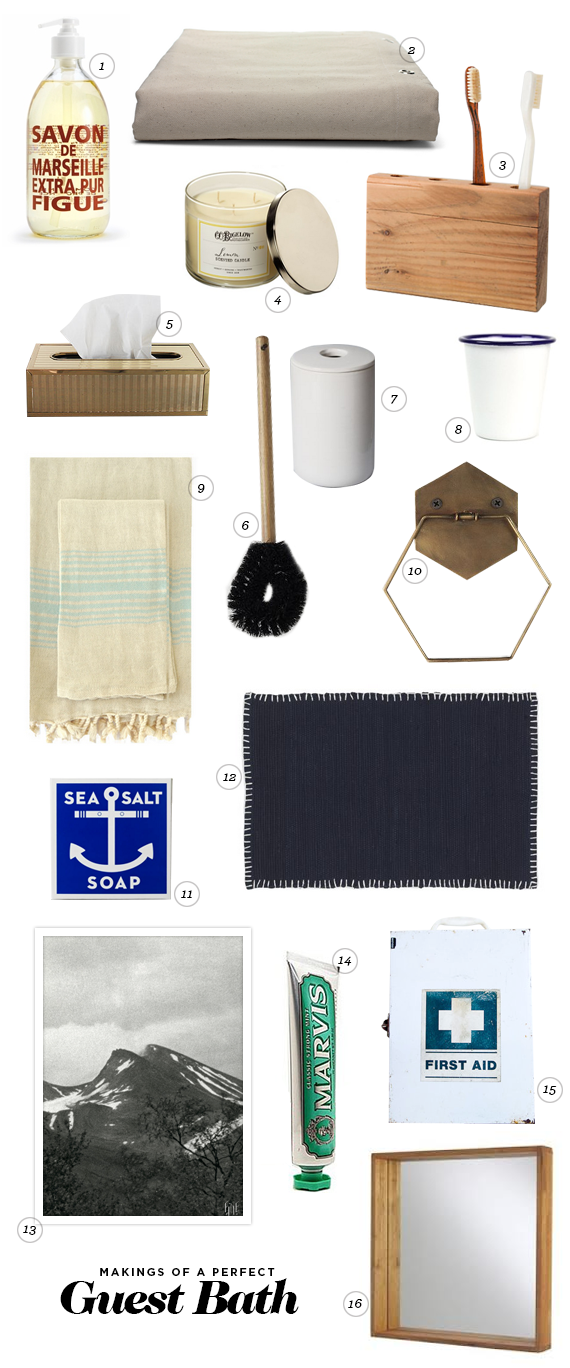 now that we have TWO bathrooms, (COUNT THEM PEOPLE… TWO!) i am weighing out what pretty stuff goes in what bathroom. do i pretty up the one i look at first or the one the non existent guests do? tough one. maybe the best way to do this is make BOTH OF THEM PRETTY. oh what.
THE STUFF
one : the best soap ever. savon de marseille extra pur liquid soap. (and already in both.) / two : natural shower curtain from old faithful shop / three : if you can't have pretty toothbrushes (gideon refuses to have less-functioning things despite their looks), you can at least put them in something pretty like this timber trail toothpaste holder from anthropologie / four : the bathroom should smell good but not in that overwhelming hey you made your bathroom smell good way. lemon is pretty good for that. lemon three wick candle from c.o. bigelow / five : add a little gold or brass and you've classed up the joint big time, like this vintage gold tissue box cover from my shop / six and seven : just because it's for your poop doesn't mean it can't be pretty. west elm's toilet cleaning devices look so nice you forget what they do (maybe). ceramic toilet brush holder and bowl brush / eight : a classic enamel tumbler like this one from brookfarm general store adds some vintage charm in a tiny way / nine : of course, the easiest way to add a little cute, a nice set of hand towels. make sure they work or your boyfriend will be mad. linen hand towels from taigan. / ten : love this hexagon towel ring from urban outfitters so much / eleven : if you keep pretty bar soap like the ever popular sea salt soap in the box, you'll never have to buy more. / twelve : a perfectly simple little rug without being super bathroomy like this recycled rag floor mat from west elm / thirteen : having a real piece of art (or five) makes the room feel like you put a little thought into it. up poster from fine little day / fourteen : not only is this the prettiest toothpaste ever, it also works. can you believe it? marvis toothpaste / fifteen : adding a unique and functioning accent piece like this vintage first aid kit to the wall adds character and storage. / sixteen : the perfect molger bathroom mirror from ikea. it adds a little storage and looks great.