i finished my taxes yesterday, so i'm feeling very very ready for the weekend. i'm assuming everyone else did theirs like… weeks and months ago?! well good work. we're sttttill working on the wedding invitations and the website, so i'm going to try to spend as much time actually finishing those this weekend as i can. it is SO hard to design for yourself, but it's especially hard when it's your wedding and nothing feels perfect enough, for our vibe and personalities and all that we have to consider. but we did lock down how they'll be printed! hope you have a lovely weekend!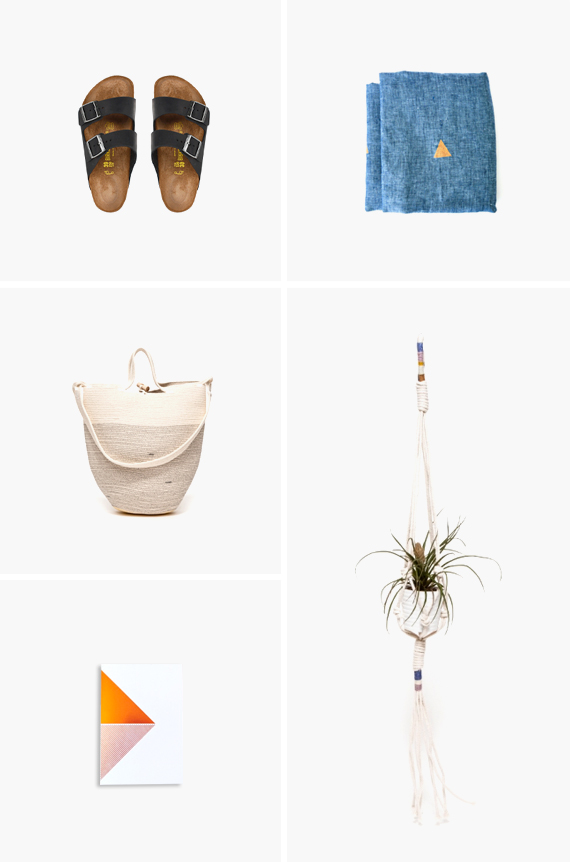 01. i was obsessed with birkenstocks when i was a kid. everyone at camp was replacing their adidas sandals with them, and i had to have some. so i subscribed to the catalog and would daydream about my own pair. i finally got some and never took them off. when birks started coming back a few years ago i was like "BLEGH" but i've now seen them on enough cute people that i want some again. this is how it works right? very easily brainwashed.
02. denim + triangles. i mean. so naturally i want this throw blanket.
03. the perfect beach / farmers market / summer / vacation bag ever.
04. i want every hanging planter i see, but especially love the color blocked yarn accents on this one.
05. who doesn't need a pretty new notebook? well, probably me, but still i can want them.