olive oil cake with cream cheese frosting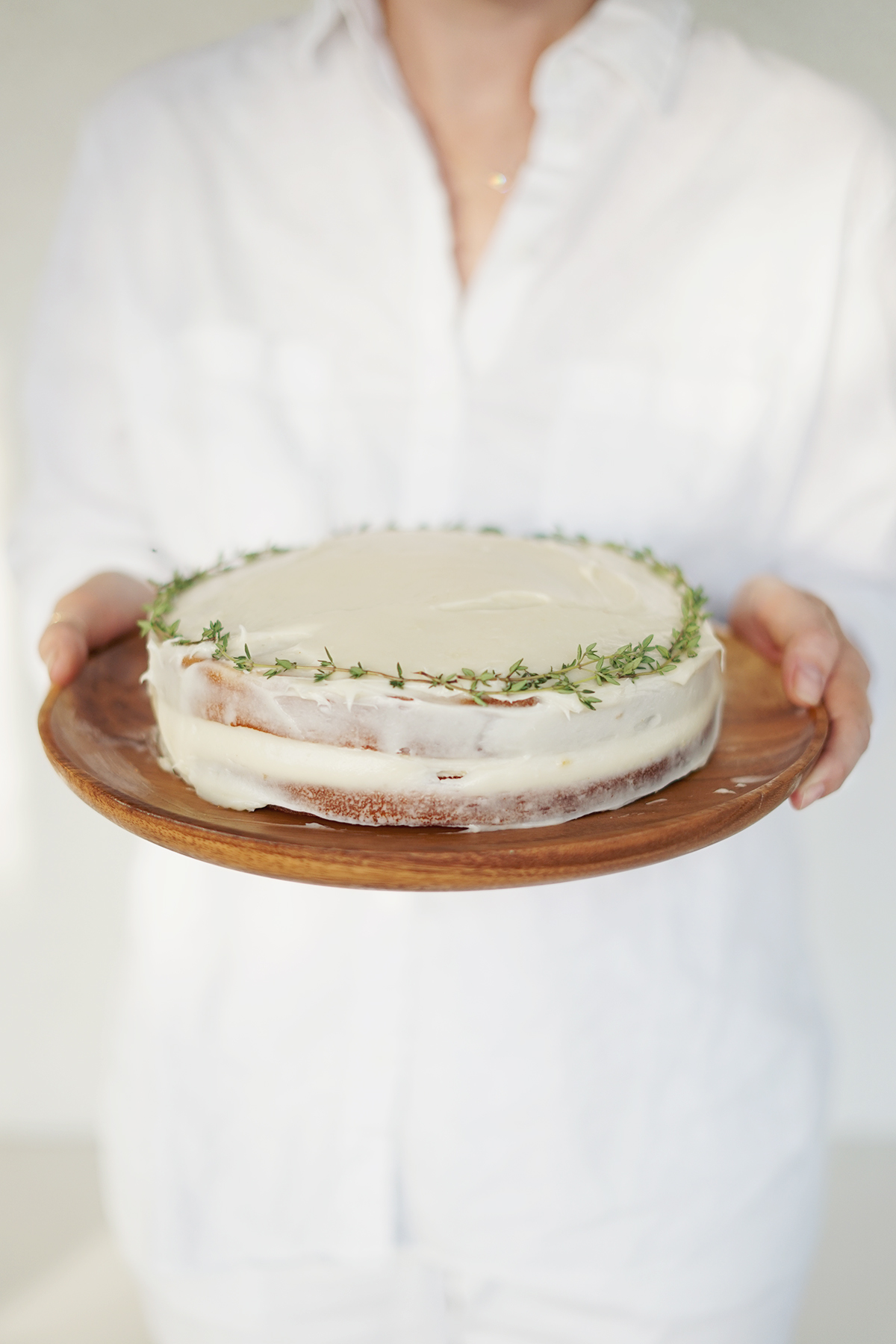 i got asked so many times for this recipe so i thought i should share! i went to an easter party at a friends and she served the olive oil cake from little flower bakery and OMFG it was soooo good. gid and i were obsessed, and we talked about it for days until i tracked down the recipe. not exaggerating.
they serve theirs with a brown butter frosting, but gid really thought it would be good with cream cheese instead — and it is! it's a very grown up cake and it is so moist and special. it's also super easy to make, so it's perfect for a dinner party you're throwing or attending.
olive oil cake
ingredients
2 cups all-purpose flour
1 ¾ cup granulated sugar
1 ½ teaspoons sea salt
½ teaspoon baking soda
½ teaspoon baking powder
3 eggs
1 ¼ cups extra-virgin olive oil
1 ¼ cups whole milk
½ cup fresh orange juice
1 tablespoon orange zest
recipe
preheat oven to 375°F. lightly grease 2 9″ cake pans with olive oil or butter. sift together flour, sugar, salt, baking soda, and baking powder and set aside.
in the bowl of a stand mixer with the whisk attachment, beat eggs on medium speed. slowly pour in olive oil and continue whisking until mixture thickens slightly, 2 to 3 minutes. pour in milk and orange juice and mix until just combined. add the orange zest. add dry ingredients on low speed until just combined, about 30 seconds. use a rubber spatula to scrape bowl to ensure all dry ingredients are incorporated. batter will look similar to pancake batter.
pour batter into prepared pan. bake until cake begins to dome, about 30 minutes. rotate pan and continue baking until top is golden brown and an inserted toothpick comes out clean, 30 to 35 minutes. cool cake at least 2 hours before unmolding.
cream cheese frosting
ingredients
1/2 cup unsalted butter, slightly softened
1/2 cup salted butter, slightly softened
1 8oz package chilled cream cheese
2½ teaspoons pure vanilla extract
4 to 4½ cups confectioners' sugar, spooned in cup, leveled off & sifted
recipe
using a stand mixer with the paddle attachment (or handheld mixer) beat butter on medium speed until creamy.
add cream cheese and vanilla, beat until fully incorporated. gradually increase mixer speed to high and continue beating until light and fluffy, scraping down the sides of bowl as necessary with rubber spatula.
gradually add 4 cups of confectioners' sugar, beating on low speed until well combined. add additional confectioners' sugar until desired consistency for spreading and level of sweetness is reached.
beat on high speed until well combined and smooth while scraping down sides of bowl as necessary, about 1 to 2 minutes. before frosting cake layers, you can re-beat buttercream to ensure smoothness.
---
i hope you like it as much as we do!