eating this: french onion soup
I really don't make soup, but now that we own soup crocks, we gotta start making soups! I read this recipe in Bon Appetite at the hair salon and took a picture of it with my cell phone.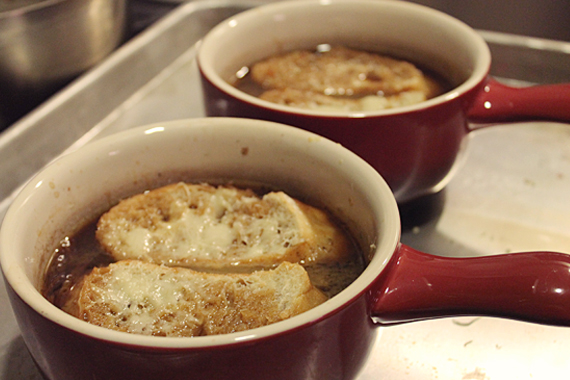 The recipe was for four servings. I will usually keep the recipe as is, but french onion soup leftovers sound whack. So I may have messed this up. Also, you have to caramelize the onions for 15 minutes, stirring the whole time. Longest 15 minutes of your life. I don't know how the danger dog ladies do it at 2am.
I don't know if you're supposed to fill the soup crock with bread completely so that the cheese doesn't sink to the bottom and actually bubbles on top, but the recipe didn't have photos so who knows!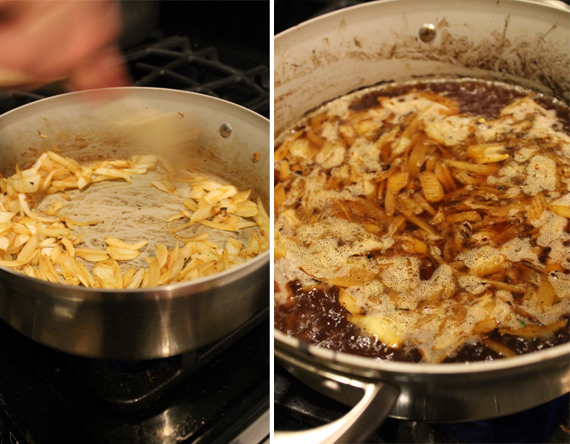 Classic French Onion Soup (serves two!)
1 medium onion, chopped (I kept them thick)
half a tbsp of unsalted butter
half a tbsp brandy
2 cups high quality, low sodium beef stock
1/2 cup grated gruyere
kosher salt and freshly ground pepper
4-6 1/2″ thick slices baguette, cut to fit soup crocks
Preheat oven to 450. Cook onions in a skillet over high heat, stirring constantly until soft and caramelized, about 15 minutes. Add butter and toss with the onions to coat. Remove the pan from heat and stir in the brandy.
Return to heat and cook until absorbed, about 30 seconds. Add beef stock and bring to simmer. Here is where we decided it didn't look like enough soup so we added another 3/4 cup. Simmer for about 5 minutes.
Season with salt and pepper. Place the crocks or ramekins on a rimmed baking sheet. Divide soup, top each with 2-3 slices of bread. Sprinkle 1/4 cup cheese on each.
Cook for about 4 minutes, until the cheese is browned and bubbly. Or in my case, not. Either way, it'll be delish.