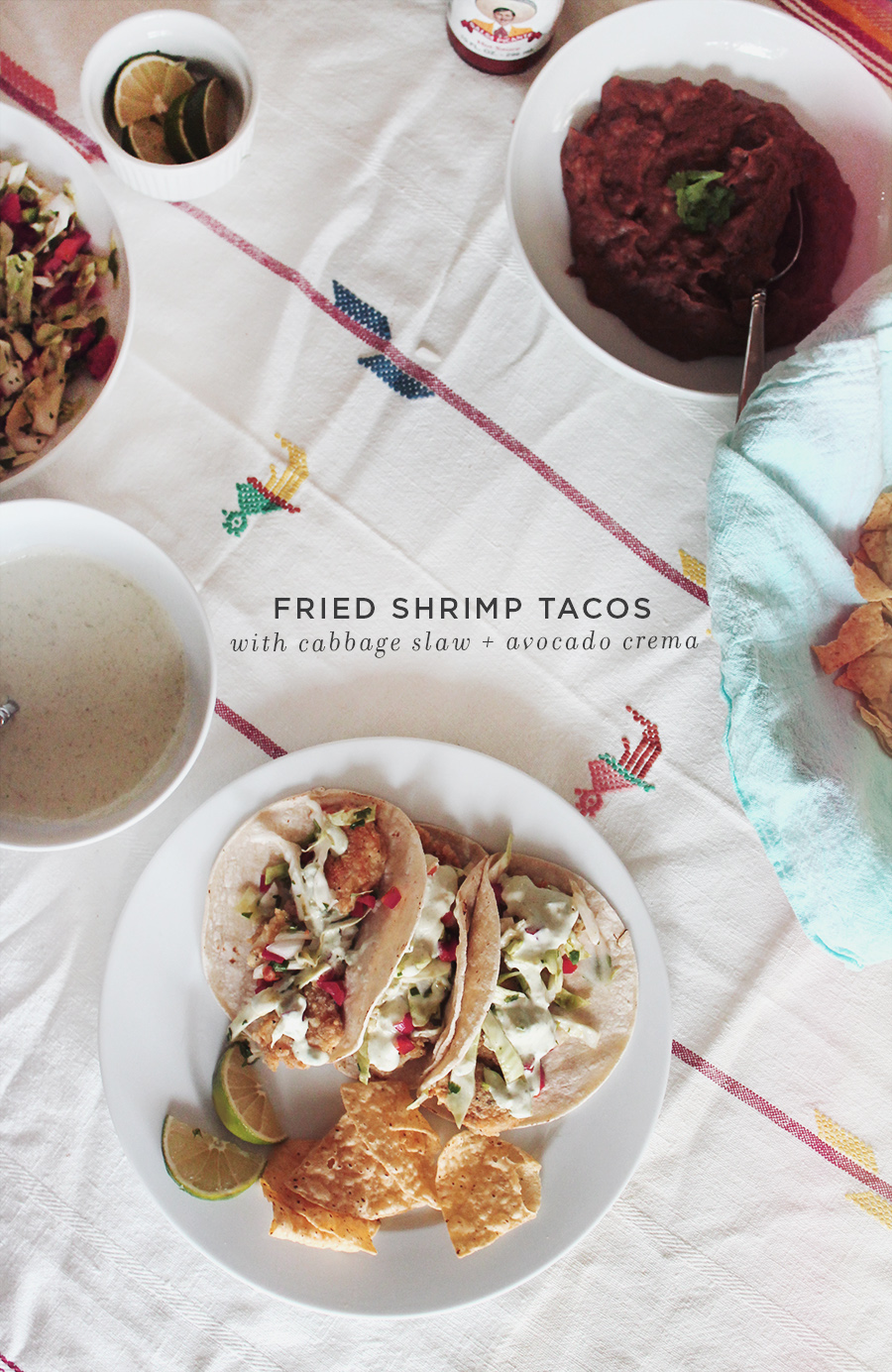 i am really really really into tacos. we eat tacos in our house a few times a week. sometimes a few times a day. i mean, we live near about 45 good taco places. and sometimes, we make tacos at home. and then SOMETIMES… i decide to share my absolute favorite taco recipe with you.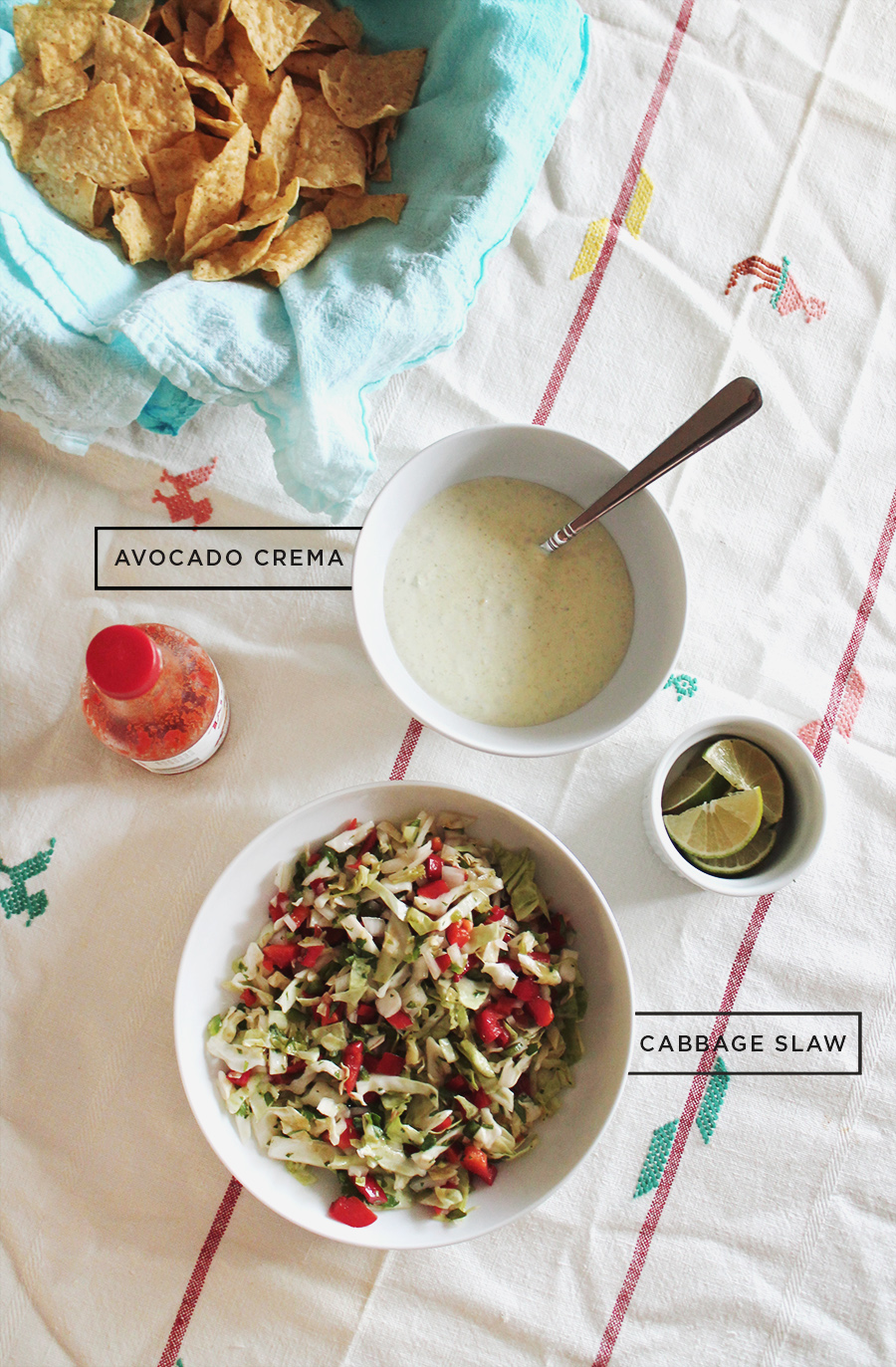 it takes a little time and a lot of mess to make these, you have to bread and pan fry the shrimp, make the cabbage slaw, and make the crema, but you will impress your taco enthusiast or just taco enjoying guests and i SWEAR it.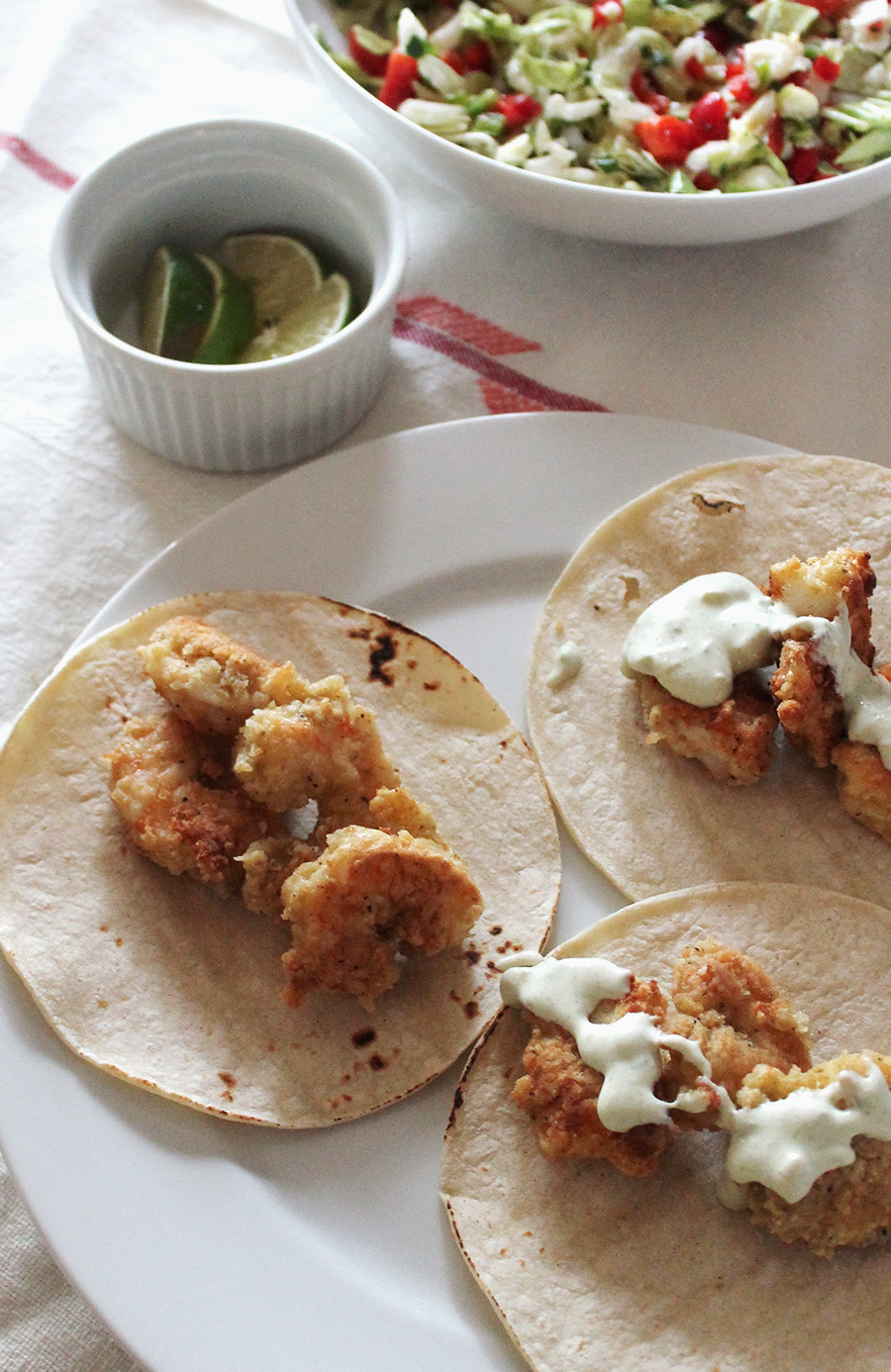 INGREDIENTS
for the crema & slaw
1 ripe avocado
1 cup crema
2 tsp. plus 2 tbs. fresh lime juice
1 1/4 tsp. ground cumin
1/2 tsp. salt, plus more, to taste
2 cups shredded savoy cabbage or green leaf lettuce
1/2 cup diced english cucumber
1/2 cup diced red bell pepper
1 serrano chili, seeded and minced
3 tbs. chopped fresh cilantro
2 tbs. minced onion
freshly ground pepper, to taste
for the shrimp
12-16 ounces peeled and deveined shrimp with tails removed
3/4 cup flour
2 tsp salt
1 tsp cumin
1 tsp greek seasoning
2 tsp garlic powder
1 tsp cayenne
1 tsp black pepper
2 eggs, beaten
canola oil for frying
flour tortillas
* 1 ripe lime
AVOCADO CREMA
halve and pit the avocado and scoop the flesh into a food processor. add the crema, the 2 tsp. lime juice, 3/4 tsp. of the cumin and 1/4 tsp. of the salt. blend just until smooth. transfer the crema to a bowl, cover and refrigerate for up to 2 days.
CABBAGE SLAW
in a large bowl, combine the cabbage, cucumber, bell pepper, the 2 tbs. lime juice, 1 tbs. of the olive oil, the chili, cilantro, onion, the remaining 1/2 tsp. cumin and the remaining 1/4 tsp. salt. stir to mix well. cover the slaw and refrigerate for 1 to 6 hours.
SHRIMP TACOS
rinse the shrimp with cold water and pat dry with a paper towel. mix the flour and spices together in a shallow bowl.
in a second shallow bowl, beat the eggs. dredge the shrimp in the flour, then in the egg wash, then back into the flour and coat well. place on clean plate.
cook shrimp in batches on a hot skillet with oil over medium high heat. the shrimp take about 1 1/2 – 2 minutes per side.
cook tortillas straight on another burner on medium heat for about 30 – 45 seconds per side, carefully flipping with tongs.
once the shrimp are all cooked, assemble the tacos with 3 – 4 shrimp per tortilla and liberally add the slaw and crema.
* FINAL AND MOST IMPORTANT STEP : squeeze limes on top. i can't stress this enough, but ANY item of mexican food you eat will be better when it's covered in lime juice. whether it's tacos, burritos or tortas – they all taste that much better when limed. my boyfriend taught me this and changed my life. do not forget the lime.
(adapted from honest cooking and williams sonoma)