it's officially summer now! hope you had a warm weekend outside — i spent almost all of last week being sick and working, but i'm feeling better now and a tiny bit ready to get back into the swing of things.
we had a yard sale on saturday and our apartment feels so much emptier. i've been a hoarder for about 10 years now so i've been really trying to be better and only buy things i really love, but it would be so much easier to just start over. every closet and corner is stuffed to the brim with things. but the yard sale helped! and we're putting the money we made towards the honeymoon.
with our tiny patio, all i can do is daydream about al fresco dinner parties, which i do every summer.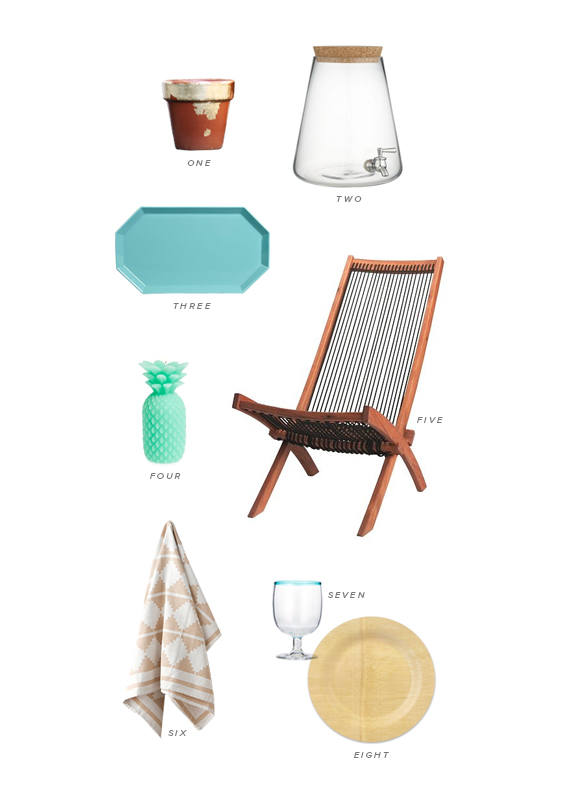 01 | these diy gold leaf terracotta pots would look amazing scattered around the table
02 | my all time favorite modern beverage dispenser, who doesn't want a big vat of spiked punch
03 | a rad serving tray that every food i'm currently thinking of would look amazing on
04 | a pineapple citronella candle? i mean. these would totally double duty as decor and skin savers
05 | someday when i have room, i'm buying a couple of these chairs
06 | cute patterned throws for when it cools down
07 | plastic cups that don't look plastic, so in.
08 | i'm obsessed with these bamboo plates
 – we used them for the shower and they are amazing quality and amazing looking for disposables, i'm now never not going to use them.