friday came fast this week — i've been a little overwhelmed with all the holiday everything. while being consumed with blog ideas, i haven't even had a chance to think about christmas shopping or getting OUR tree yet. it is driving me nuts seeing all the trees getting decorated on instagram! but hopefully, we're getting one this afternoon! we're also have a birthday dinner tonight for my brother at one of my favorite pasta joints. we're also participating in a chili cook off. definitely my first.
we've been avoiding putting the heat on in our apartment for weeks now because our bill gets so high, but i did it yesterday and am proudly no longer shivering. probably for the best. hope you have a great weekend!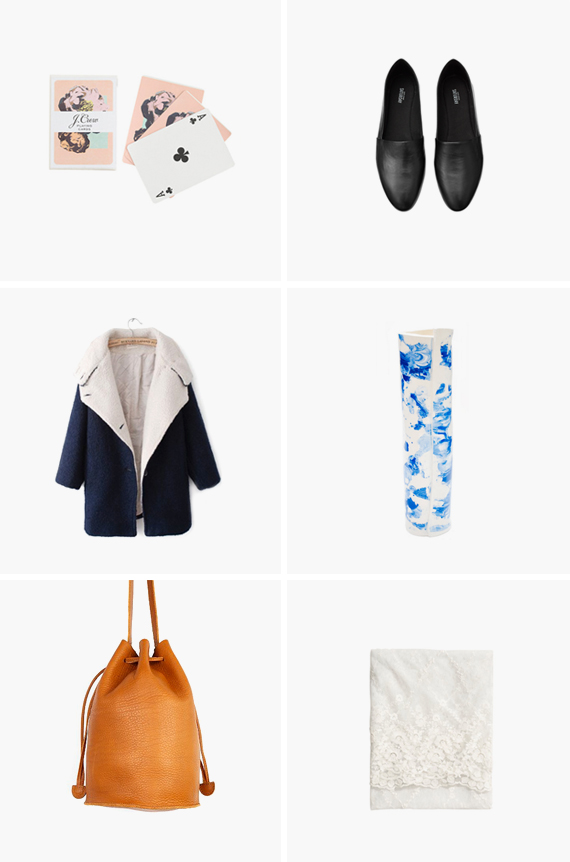 01. i am one of those people that buys playing cards every time i travel – you can't have enough decks. how cute are these ones?! i'm a sucker for salmon colored anything.
02. they look like toms. but they're leather. therefore i could wear them and feel like i dressed up. love.
03. i'm all about the huge drapey clothes – the more like a potato sack i look, the better. i want this jacket.
04. i love the shape and pattern on this narrow vase, how cute would it look with some simple roses?!
05. love this baggu drawstring bucket bag, it's small but big enough to hoard too much in.
06. there's something i love about lace tablecloths – it's kinda … grandma chic? so i was so excited to see this.