eating this: mushroom marsala pasta with artichokes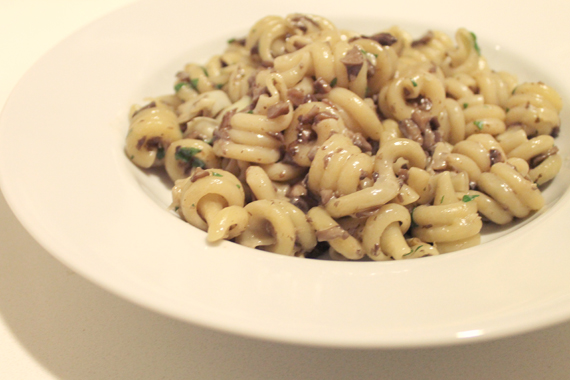 This is my second time making this recipe, and both times I've declared it's maybe my favorite pasta recipe.
The original recipe calls for snail shaped pasta. Unfortunately, the grocery stores we go to have a limited array of pastas, last time we went with some sort of snail shaped we found, but this time we went with a trottole. We thought it would absorb the sauce well, but I'd say it was better with shells like it is supposed to be. It was still good, but go for the shells if you're making this for company. It will look less like hamburger helper.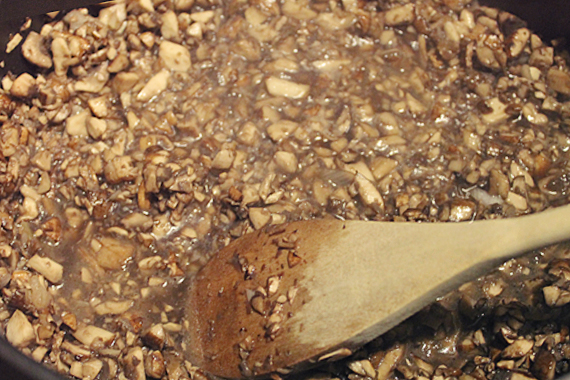 Mushroom Marsala Pasta with Artichokes
(Adapted from Smitten Kitchen, adapted from Giada De Laurentiis)
Serves 4-6
3 tb olive oil
1 small onion, finely chopped
1 pound mushrooms, trimmed, cleaned and chopped into small bits (I've tried it with creminis and baby bellas, both were great.)
1 teaspoon kosher salt, plus 1 tablespoon for pasta water
1 cup dry Marsala wine
1 pound pasta, thimble-shaped or snail-shaped (or really, whatever you want)
1/2 pound frozen artichoke hearts, thawed
3/4 cup grated Parmesan
1/2 cup cream
1/2 cup chopped fresh flat-leaf parsley
1 tsp freshly ground black pepper
Place the olive oil in a large, heavy skillet over medium-high heat. Add the onions and cook for one minute. Add the mushrooms and one teaspoon of the salt. Sauté, stirring occasionally, until all the moisture has evaporated and the mushrooms have cooked down. Both recipes say it takes 10 minutes or LESS. Maybe I have a much less powerful stove or something, but both times I've cooked this, it's taken much longer! For me, it wasn't fully evaporated for about 20 minutes.  Add the Marsala and continue cooking until almost all the wine has evaporated, about 5 minutes.
Meanwhile, bring a large pot of water to a boil over high heat. Stir in remaining salt. Add the pasta and cook until tender but still firm to the bite, stirring occasionally, about 8 to 10 minutes. Drain pasta and add it into the mushrooms, Marsala and onions. Add the artichoke hearts, Parmesan and cream and cook until the artichokes are heated through, about 5 minutes. Stir in the parsley and pepper, then season to taste. Transfer to a serving bowl and serve.