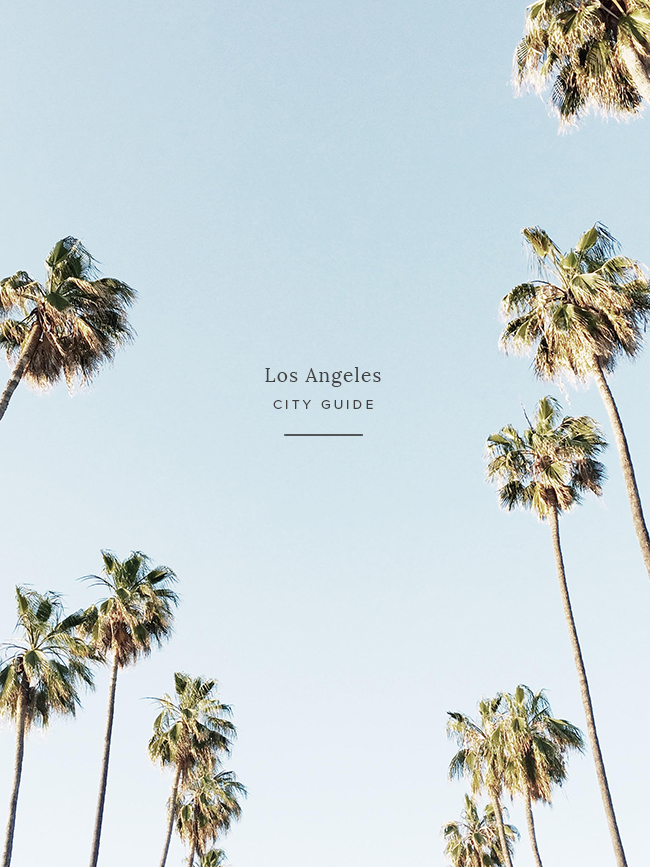 in case you live in LA or are visiting from out of town — i love collecting a list of my favorite spots.
* and i've recently updated this list to now be broken up by sections of LA, for way easier navigating!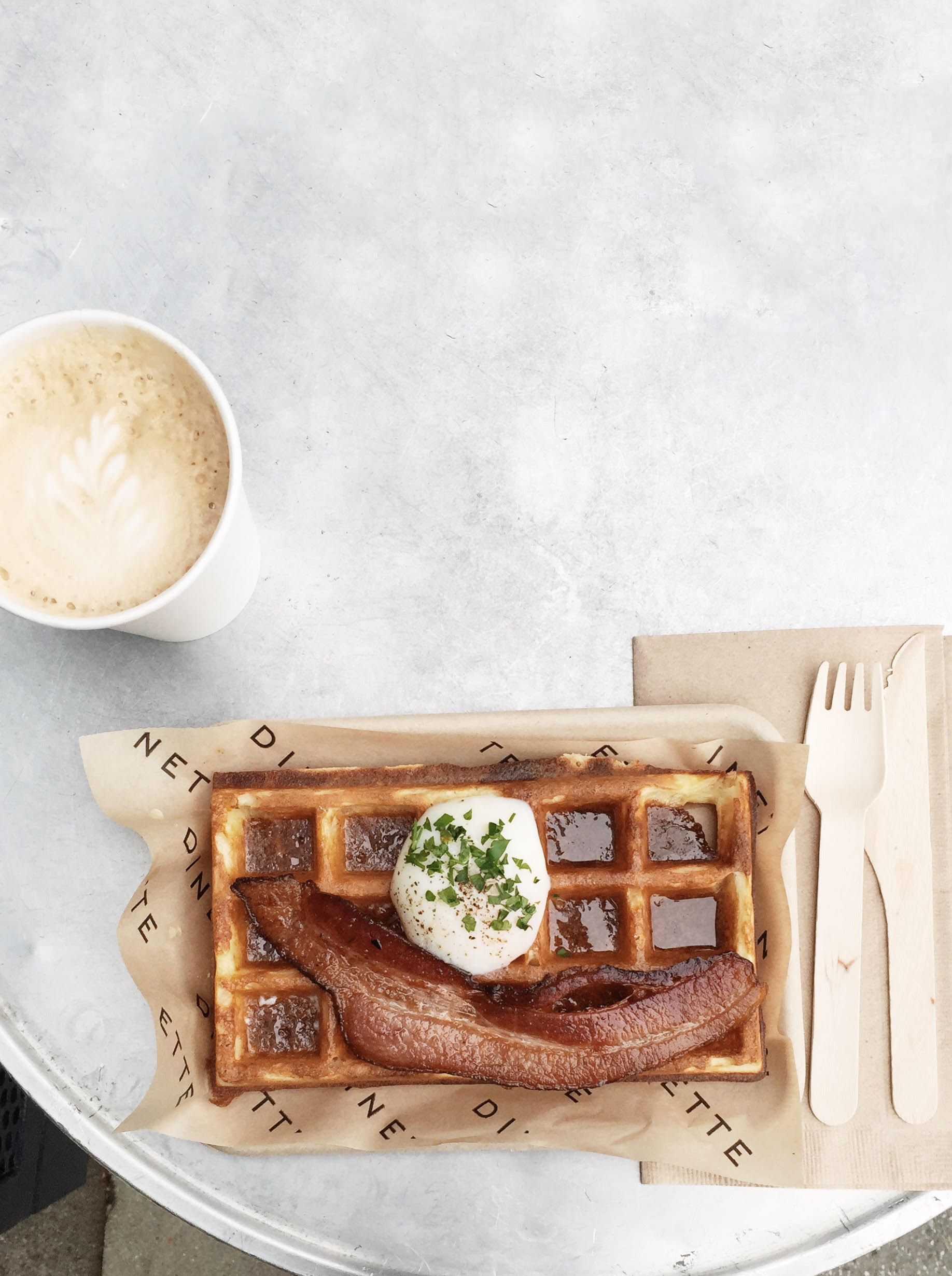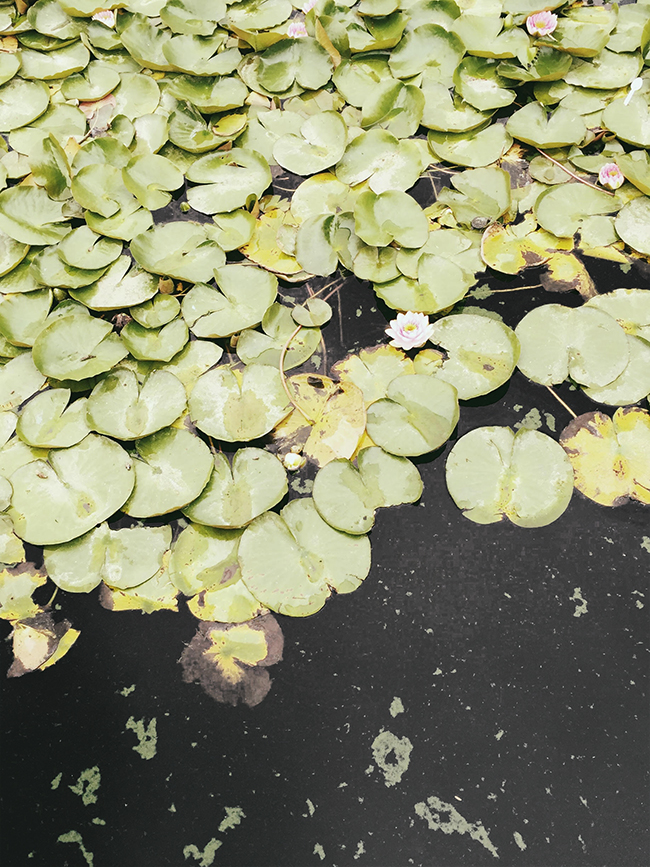 THE EAST SIDE (SILVER LAKE + ECHO PARK)
EAT :
dinette you've seen it all over instagram so you were probably planning on going anyway. i could eat the waffle with bacon and an egg all day everyday.
ostrich farm my favorite new little neighborhood restaurant, all the food and all the decor.
night & market super spicy thai in a pink kitschy atmosphere.
cliff's edge my go-to for a romantic date or birthday meal, and they have $1 oysters on thursdays.
knuckle and claw the parking is not ideal, but the lobster rolls and martha's vineyard theme make me really happy
l&e oyster bar a very cute date spot with my favorite oyster po' boy and i love all their wines.
pho cafe it can get crowded, but it's the best on a chilly night. i love the #17 : a warm bowl of noodles, steak, shrimp and egg rolls. and the banh xeo crepe is a must-order. cash only!
SHOP :
dream collective gorgeous housewares, jewelry and gifts
yolk my go-to for gifts for everyone. no really, i go here almost every time i'm shopping for someone.
broome st general store packed to the brim with gorgeous housewares, kitchenwares and pantry items. you can't leave empty handed.
hemingway and pickett another perfect shop for gifts and inspiration.
SEE :
echo park lake we love setting up a blanket and relaxing here, you can also rent peddle boats but boys don't seem to like them. get yourself some mint lemonade and a cookie at the boathouse cafe.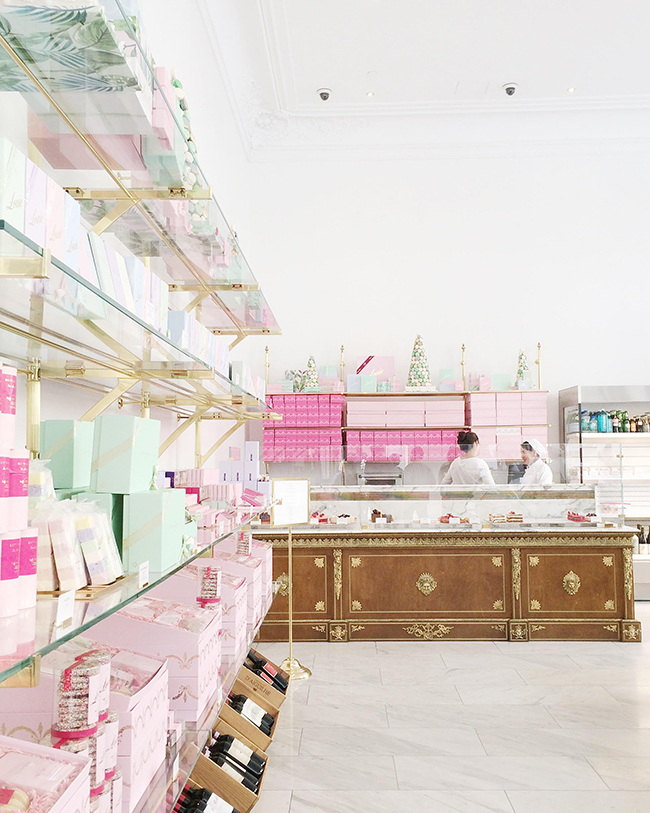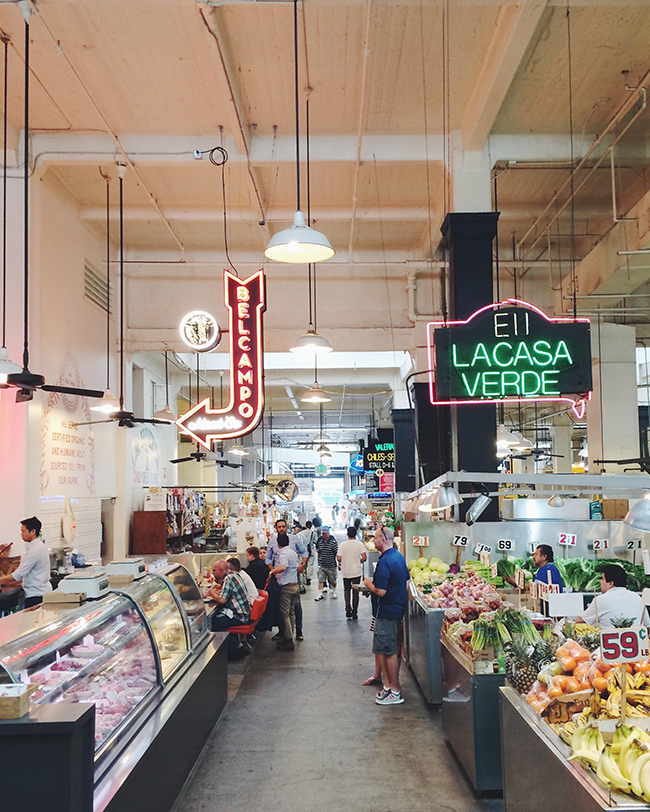 DOWNTOWN
EAT :
wurstküche exotic sausages with an exciting amount of sauce options. we get excited about sauce.
the pie hole i can't go downtown without stopping in for a slice. i swear by the maple custard. i also love the chocolate crostata.
bottega louie another overly-instagrammed spot, but it is as beautiful as it looks in photos.
sugarfish perfect and simple sushi, i recommend ordering the "trust me" and let them serve you whats best. and it's next door to bottega if you want to eat here and pick up dessert there.
marugame monzo a tiny little spot with huge bowls of delish udon.
bestia if you can splurge, it's worth it for a fancy dinner. this place lives up to the hype and every dish on the menu is amazing.
SHOP :
grand central market if you're not shopping for food or stopping by for a bite, i actually still find walking around the market really fun.
poketo a store that just makes you happy when you walk in. full of gifts.
alchemy works a gorgeous shop that's perfectly curated.
DO :
little tokyo i always take visitors to walk around and browse the shops for way too many items i don't need under $5.
olvera street my favorite street for strolling around and scoring cheap dreamcatchers and mexican blankets.
the MOCA one of my favorite museums in LA, and they have free admission on thursday nights.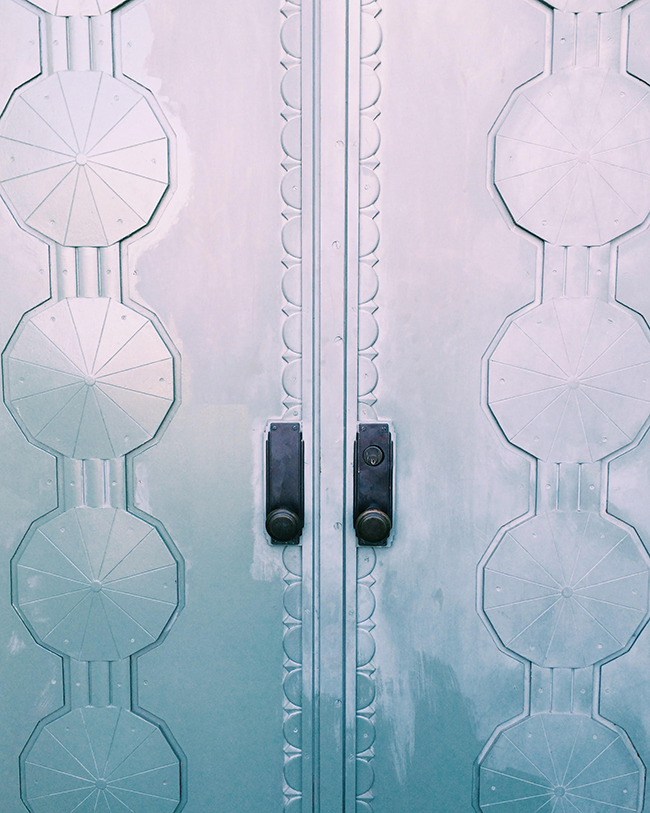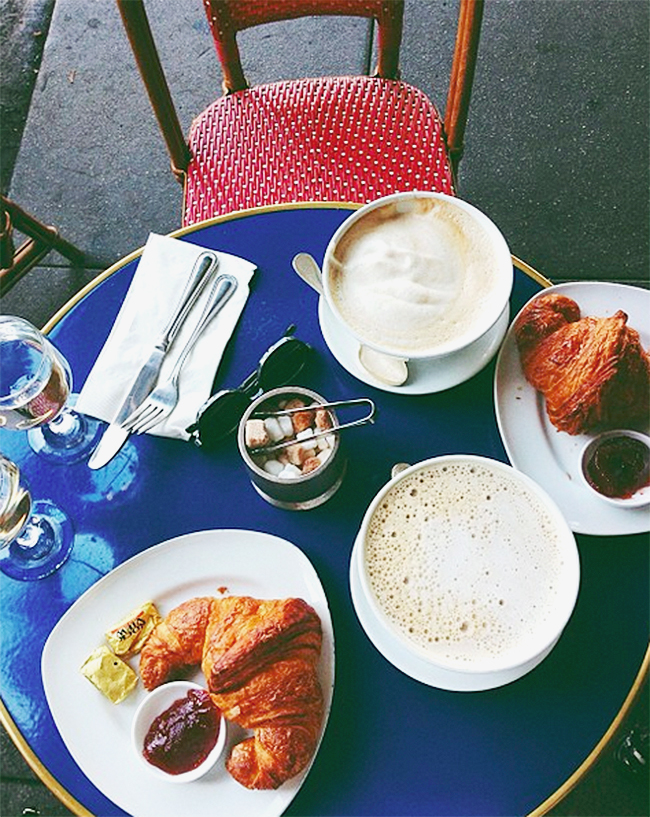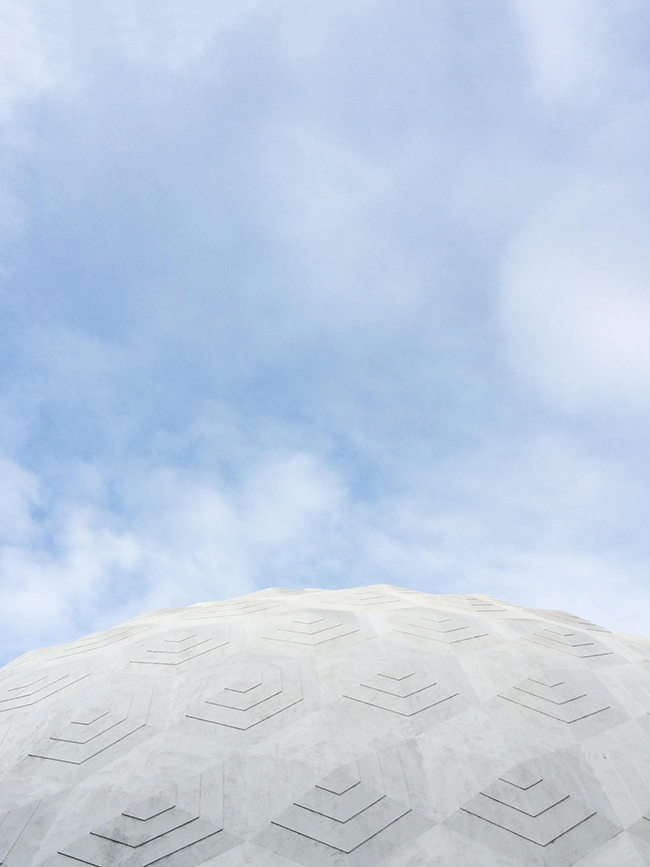 LOS FELIZ + HOLLYWOOD
EAT :
umami burger los feliz there's an ongoing debate of what the best burger is in LA, and a lot of people don't like umami. but i swear by this exact location only. the other ones aren't as good! (i love the cali burger and the hatch) 4655 hollywood blvd.
figaro cafe my favorite croissant in the city, and you'll feel like you're in paris as you sit on the sidewalk and people watch.
the hungry cat one of my favorite date spots, love the entire menu – but they have amazing oysters and i love their lobster roll.
square one a perfect spot for al fresco brunch. i promise you : order the bourbon pecan french toast and you can thank me later.
jitlada spicy authentic southern thai, it's a little hole in the wall that has a bit of a wait, but it's worth it. and once demi moore ate next to us.
SHOP :
wacko you can easily spend an hour browsing through their huge inventory of books and strange gifts.
skylight books has always been my favorite book store. you can get lost in this tiny space because it's packed with books and magazines you'll want to pick up.
vermont avenue when i was 16 without a car, i'd walk from my moms here almost daily, and shop all down the street. the stores have changed since then, including the boutique where i worked in college, but it's fun to stroll around here and pop into shops.
DO :
arclight theatre my favorite movie theatre for the comfy seats and the assigned seating. and you see celebrities here all the time if you're into that sort of thing.
amoeba records if you like shopping for music, then you already know about amoeba. they've got. every. thing.
UCB theater this little comedy theater doesn't charge more than $5-$10 and they have tons of good shows with big names. and byob.
cinespia during the summer, the hollywood forever cemetery plays classics and cult classics on the grass while you picnic on weekends.
the griffith observatory for the best views in the city and a little education.
the dresden go have a drink and feel like you've been transformed into a way different era. (also, you can see marty + elaine perform your song of choice ala swingers)
barnsdall arts park one of my favorite picnic spots, it has another gorgeous view of the skyline and it's pretty quiet too!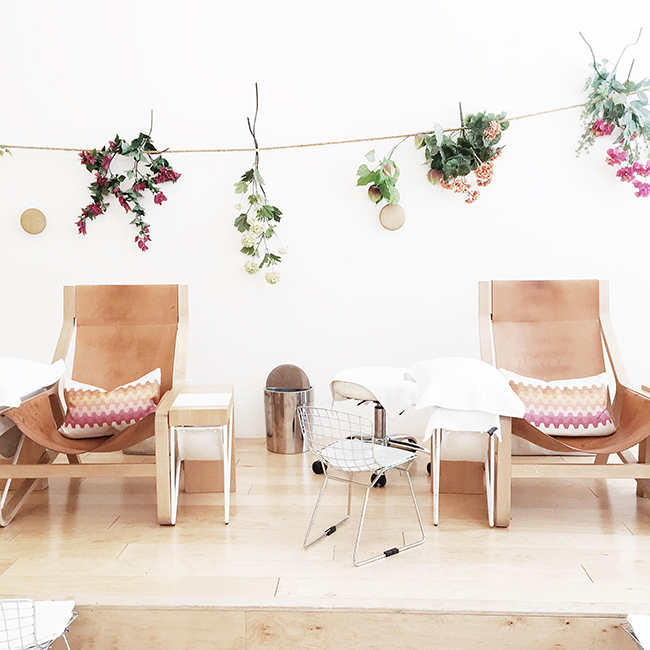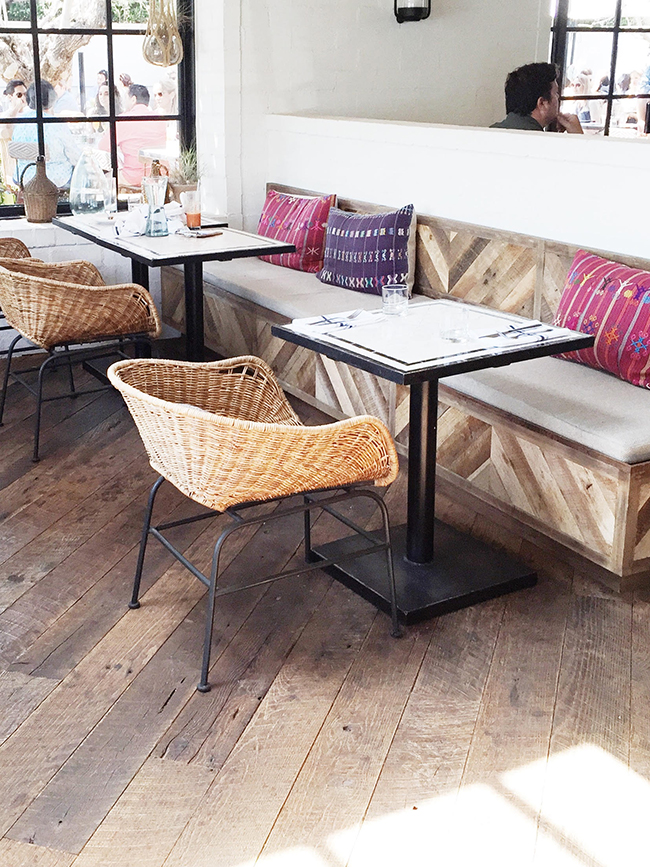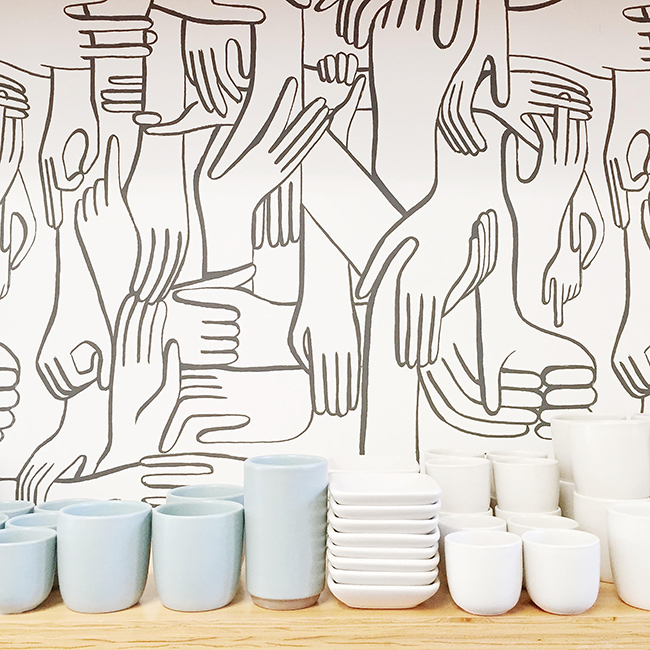 WEST HOLLYWOOD (+ A BIT FURTHER WEST)
EAT :
red o delicious fancy mexican food, the goat cheese cheesecake and margaritas are amazing.
larchmont wine + cheese my absolute favorite sandwiches in LA. it's only open for lunch, order the salami on baguette. seriously. (and then stroll down larchmont to shop and people watch)
lucques a romantic and cozy date spot with a sweet garden in back and delicious food.
animal lots and lots and lots of meat. like serious meat. serious delicious meat. the menu changes pretty frequently, but everything is great.
son of a gun the seafood equivalent by the same guys as animal. fun nautical themed decor. my favorites are the chicken sandwich, lobster roll and shrimp toast.
angelini osteria a splurge for a special occasion, but it's a tiny italian restaurant that's romantic and you feel fancy eating here. especially if you get the pasta with truffle.
gracias madre it's not only gorgeous decor, but the vegan mexican food is insanely good. and the drinks are worth getting drunk on.
SHOP :
heath ceramics you'll want to buy everything, but in case you can't – it's worth walking around because it's all so pretty
new stone age a really unique little boutique with quirky gifts, jewelry and homewares.
A+R super modern housewares and some affordable priced items too!
DO :
olive and june (beverly hills) the prettiest nail salon you'll ever see.
museum of jurassic technology (in culver city) the weirdest exhibits you may ever see. this place is kind of like a spoof of museums.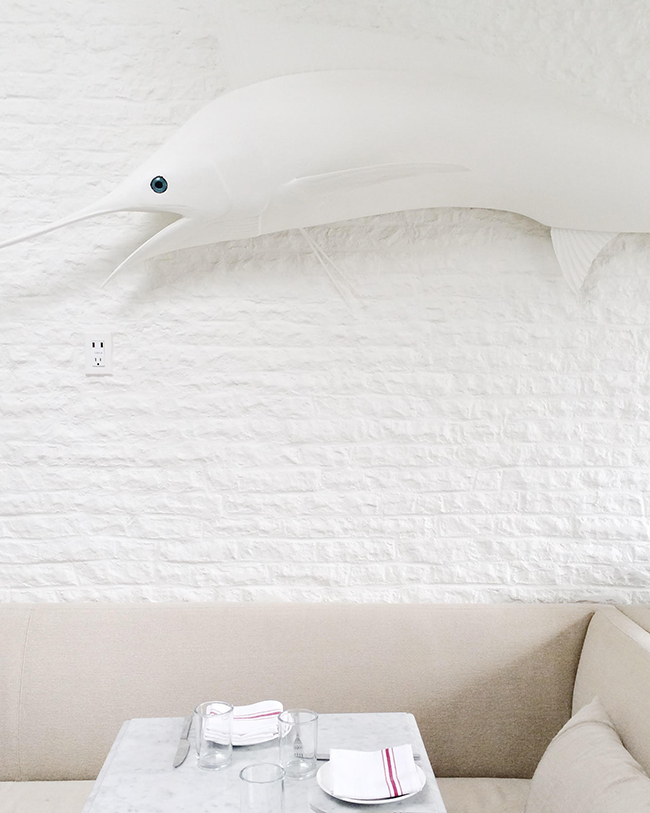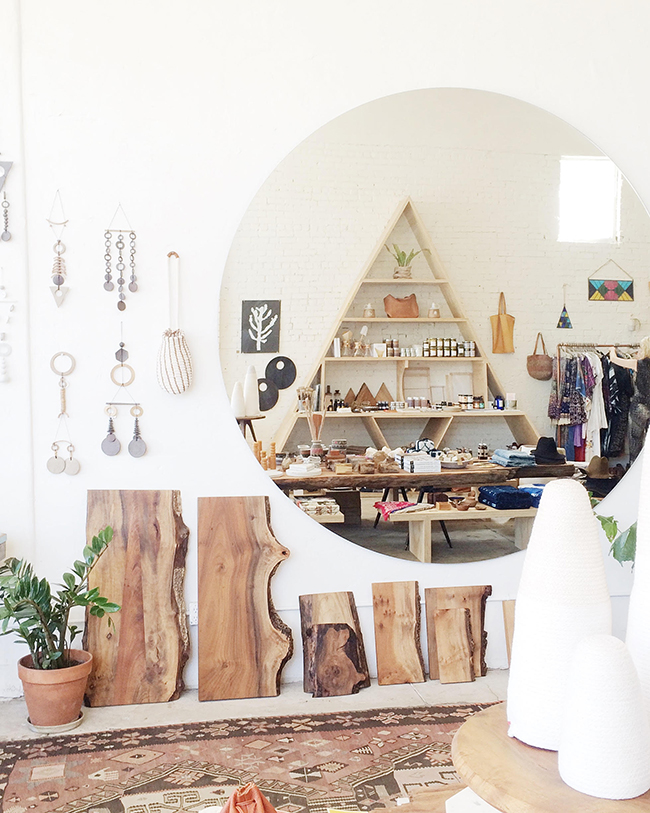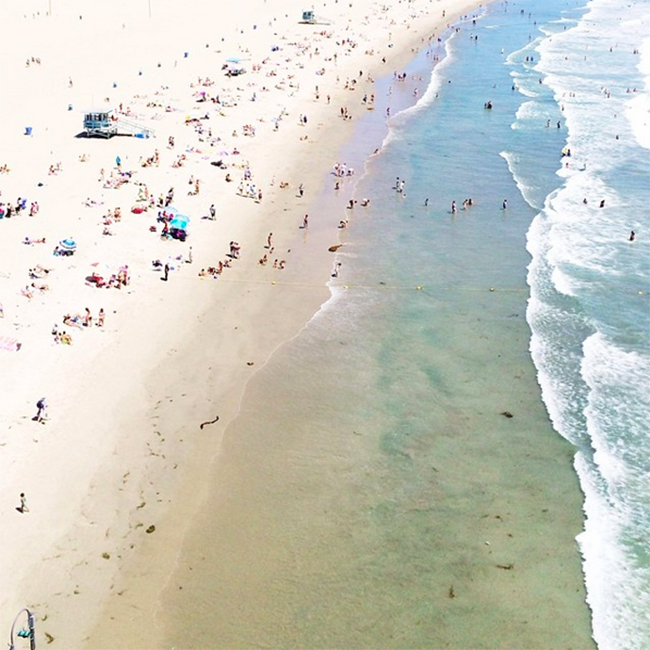 VENICE
EAT :
gjelina pretty much where we always try to eat when we're in the area. they also have a to-go option. i love the pizzas and the butterscotch pot de creme.
salt air it's a little pricey, but it's a gorgeous space for brunch or drinks.
SHOP :
general store i love browsing here, but have never actually bought anything from general store. someday when i'm rich i totally will.
the piece collective a dreamy shop full of home decor items you will convince yourself you need.
burro (formerly firefly) i have never walked around abbot kinney without spending at least 20 minutes in this shop. so much to see and buy here.
DO :
the venice canals a beautiful historic spot that you shouldn't miss if you're visiting venice for only a day.
the beach my favorite actual beaches are el matador in malibu and manhattan beach, but the venice boardwalk and the santa monica pier are fun to walk around.